Cisco Systems, Inc. (NASDAQ:CSCO), the designer, manufacturer and seller of internet protocol-based networking and other communication and information technology products and services, is trading at a five-month high price of $23.21. The stock is recovering from a dip that sent the price spiraling to $20.24 mid-December 2013; however, the stock performance during the year remained very volatile.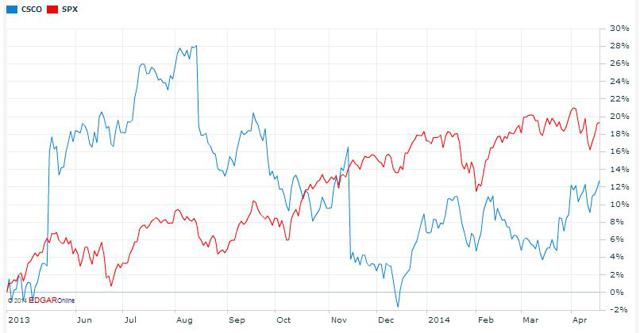 Source: Nasdaq
Cisco Beats the Estimates in the Second Quarter
Cisco has performed quite consistently over the years; the four-year average revenue growth remained around 7.7%, and earnings were boosted by a four-year average growth rate of around 13%. However, in the latest quarter, Cisco faced a revenue drop, despite beating analysts' estimates. In the second quarter of fiscal year 2014, Cisco generated $11.16 billion in revenue, while analysts were expecting flat $11 billion. Despite that, the revenue dropped 7.8% from $12.10 billion in the same quarter of the previous year. This was primarily due to an 11% decrease in revenue from the products segment, partially offset by a 3% improvement in revenue from the services segment. Cisco experienced a revenue decline in all of the markets. Revenue from the Americas dropped $0.7 billion, driven by lower product sales, revenue from the EMEA region dropped $0.2 billion, and a $0.1 billion drop was experienced in the APJC region.
Cisco also managed to beat the earnings estimate; the earnings of $0.47 per share were a penny above the analyst consensus, but four cents below the results of the same quarter of the previous year. On a GAAP basis, second-quarter net income declined a whopping 54.5% to $1.4 billion, resulting in earnings of 27 cents per share by GAAP measures. The GAAP net income includes a pre-tax charge of $655 million related to the remediation of issues with memory components in certain products sold in prior fiscal years.
The obvious factors that proved to negatively affect the growth were reduced spending by service provider customers, weakness in the emerging markets, and products transition. Apart from that, one significant factor for investors was the dividend increase for the quarter. Cisco increased the quarterly dividend by 2 cents to $0.19 per share, reflecting a 12% increase from the previous dividend; this translates into an annual dividend of $0.76 per share, with a quite strong dividend yield of 3.27%.
For the third quarter, Cisco's performance is expected to remain mixed. The company expects revenue between $11.2 billion and $11.5 billion, whereas the analysts expect $11.3 billion, on average. Apparently, the next quarter will not reflect a major change for the company due to challenges from the service provider customer market and emerging countries. These challenges may continue to impact Cisco's earnings growth for the next few years.
Cisco Enters The Cloud Computing Market
Over the past few years, Cisco has been rethinking its business aspects, including the formal program to boost top line and bottom line growth. With the increasing shift towards cloud computing in the recent years, Cisco has announced it would enter the market with the expected investment of $1 billion over the next two years. The cloud market will hit $107 billion by the end of 2017. Although Cisco is a bit late, there is still growth potential for Cisco. For cloud computing, Cisco will be spending the committed amount to construct the data centers that will run Cisco cloud computing. Cisco does provide products that are used in data centers, and this will benefit the company. The company is also making its products compatible with software from companies like Microsoft (NASDAQ:MSFT), VMware (NYSE:VMW), and SAP AG (NYSE:SAP).
Part of the plan is that Cisco will be selling its cloud services to the telecommunication companies. Telstra Corporation (OTCPK:TLSYY) of Australia, who happens to be Cisco's partner in Australia, will be using these cloud services. Likewise, Canada's Allstream Inc. will also use these services. These potential opportunities will put Cisco in a position to compete with other cloud services providers. However, Cisco needs to inject more sum of money after this planned $1 billion to build up its competitive edge in this market.
Cisco's Data Center will be its Strength
Data center has been Cisco's fastest-growing major product category over the last few years. In the latest quarter, the data center products have seen a growth of 10.4%, with $605 million revenue. The performance of the last six months was strong, as this category generated $1.21 billion revenue, with a growth rate of 25% compared to the previous year six-month period. Total data center spending is expected to grow by a 4% compound annual growth rate throughout the forecasted period of 2012-2017. Cisco has enhanced its unified computing system through software innovation with investments in the data center and cloud management software via acquisitions such as Cloupia. Cisco has further strengthened its data center portfolio with the addition of the Nexus 1000V InterCould offer, which provides the architectural foundation for a secure hybrid cloud. Through new product offerings, the data center category is expected to bring growth for Cisco, along with the security products earnings growth.
The Extensive Share Repurchase and Dividends
Cisco is quite investor-friendly, and this is clear from the company's announcement to return around 50% of free cash flows annually to shareholders through dividends and repurchase of common stock. Cisco returned $6.1 billion to shareholders in the form of dividends and share repurchases in fiscal year 2013. At the start of 2014, Cisco completed an aggregated $84.9 billion repurchase in response to the previous authorization of $82 billion. Despite the lackluster first-quarter results, Cisco authorized a new $15 billion repurchase program. In the second quarter of fiscal year 2014, the company returned $4 billion in share repurchases and approximately $900 million in quarterly dividends. The share repurchases drove an approximately 100 million share decrease in diluted share count.
Conclusion
Cisco is trading at a trailing twelve-month PE of 15.37x, which is inexpensive compared to VMware, which is trading at 44.09x, and Juniper Networks (NYSE:JNPR), which is trading at 29.27x. Over the next five years, the earnings per share growth is expected to remain around 8.18%, which is higher than the past five years' growth of 7.3%. Cisco expects that this growth will come from SDN, security, data center, and Internet of Everything. Cisco has attractive fundamentals, huge cash reserves, and is committed to enhancing shareholders' value. Given the situation Cisco is a long-term buy stock.
Disclosure: I have no positions in any stocks mentioned, and no plans to initiate any positions within the next 72 hours.
Business relationship disclosure: The article has been written by a Gemstone Equity Research research analyst. Gemstone Equity Research is not receiving compensation for it (other than from Seeking Alpha). Gemstone Equity Research has no business relationship with any company whose stock is mentioned in this article.