In the past year or so, a lot of references have been made to quality in a stock, particularly in the dividend growth investing area where I spend most of my time.
That got me wondering - Just what is quality? How do you measure it? Is there a generally accepted definition? Or is it more of a Potter Stewart-ish "I know it when I see it" characteristic?
I searched SA for the word "quality." I got 118,000 results in less than half a second. I began looking at them from the top down. Branching out to links from those results led me to worlds I had not explored before. I thought that I would share some of my results.
What immediately became apparent is that lots of writers call something "quality" without stating what it means. They simply declare that a stock is, say, a "high quality dividend growth stock" without explaining the term.
I decided that those were subjective conclusions rather than definitions or tests. What I wanted was more specificity, including examples of places that investors can go to find quality stocks.
chowder
One of the most popular and articulate writers on SA regarding dividend growth investing goes by the name of chowder. Here is how he described his approach to quality in a recent comment:
I'll use Value Line when I have access to it. I like the way they rate their companies for safety from 1 to 5, with 1 being the safest rating. I look for 1 or 2 for safety with Value Line. My next source is the M* bond rating system where I look for BBB+ or better. I also check out S&P Capital IQ. I try to get ratings from 3 various sources if I can. The ratings will vary from company to company, but I want to try and get at least two companies to confirm how financially sound a company is. For example, Value Line gives a 1 for safety to VZ. VL is the rating I've used longest and I usually assign a higher credibility rating to them. M* shows BBB and S&P shows BBB+. So, I have two out of three companies confirming investment grade for consideration to add to my portfolio. Once a company passes the high quality criteria, I will then start my due diligence. If I don't have the quality, I go no further.
I do not subscribe to Value Line, but chowder told me that there are about 115 companies rated #1 for safety, and all but 8 of them pay a dividend. Ranked by yield here are the top 25 of those.
Name

Ticker

Yield %

(from Morningstar)

GlaksoSmithKline

GSK

5.4

AT&T

T

5.3

Southern

SO

4.6

Con Ed

ED

4.5

Verizon

VZ

4.5

Northwest Natural Gas

NWN

4.1

Paychex

PAYX

3.5

Intel

INTC

3.4

New Jersey Resources

NJR

3.4

Lockheed Martin

LMT

3.3

McDonald's

MCD

3.3

Unilever

UL

3.3

Wisconsin Electric

WEC

3.3

ConAgra Foods

CAG

3.2

Cisco

CSCO

3.2

Chevron

CVX

3.2

Novartis

NVS

3.2

Procter & Gamble

PG

3.2

Sysco

SYY

3.2

General Mills

GIS

3.1

Kimberly Clark

KMB

3.1

Coca-Cola

KO

3.0

Bristol-Myers

BMY

2.8

Microsoft

MSFT

2.8

Johnson & Johnson

JNJ

2.6
Credit Ratings
High credit ratings - or more broadly, financial soundness - seems to be a near-consensus requirement for a company to be considered to be considered high-quality.
Corporate credit ratings are easy to find if you are looking up an individual company. They are available for free from S&P; Morningstar has their own that are also free; and FASTGraphs recently began to display S&P credit ratings for their charts.
What if you don't already have a company in mind, rather you want to construct a list of highly-rated companies? I wondered if there is a way to identify the companies with the highest credit ratings.
S&P has a new Ratings Portal, with access to their individual ratings. But I could not see a way to rank companies by rating. S&P did not respond to a request for information about how to do it.
Here is a brief description of Morningstar's methodology:
Our forward-looking credit rating methodology is underpinned by our equity analysts' fundamental research, expectations of future cash flows, and robust financial risk measures. Four key scores roll up into each company's rating: business risk, cash-flow cushion, solvency score, and distance to default.
Morningstar's credit ratings are listed beneath the "Bonds" tab at the top of each page. There is no way to rank them either, but the list was easy to view, so I scanned it to find the top-rated companies. They rank 623 companies at the moment. Here are the 40 companies in the top three rating categories.
Rating

Companies

AAA

Johnson & Johnson (NYSE:JNJ)

Exxon Mobil (NYSE:XOM)

Microsoft (NASDAQ:MSFT)

AA

3M (NYSE:MMM)

Chevron (NYSE:CVX)

Cisco (NASDAQ:CSCO)

Colgate-Palmolive (NYSE:CL)

Eli Lilly (NYSE:LLY)

Google (NASDAQ:GOOG)

Hormel Foods (NYSE:HRL)

Intel (NASDAQ:INTC)

Medtronic (NYSE:MDT)

Oracle (NYSE:ORCL)

Pfizer (NYSE:PFE)

Procter & Gamble (NYSE:PG)

Stryker (NYSE:SYK)

Wal-Mart (NYSE:WMT)

Zimmer Holdings (ZMH)

AA-

Abbott Labs (NYSE:ABT)

Apple (NASDAQ:AAPL)

Applied Materials (NASDAQ:AMAT)

AstraZeneca (NYSE:AZN)

Biogen Idec (NASDAQ:BIIB)

Bristol-Myers (NYSE:BMY)

Coca-Cola (NYSE:KO)

Costco (NASDAQ:COST)

Covidien (COV)

Franklin Resources (NYSE:BEN)

General Electric (NYSE:GE)

International Business Machines (NYSE:IBM)

Merck (NYSE:MRK)

Nike (NYSE:NKE)

Occidental Petroleum (NYSE:OXY)

PepsiCo (NYSE:PEP)

Roche Holding (NYSE:ROG)

Royal Bank of Canada (NYSE:RY)

Royal Dutch Shell (NYSE:RDS.A)

Sanofi (NYSE:SNY)

St. Jude Medical (NYSE:STJ)

Toronto-Dominion Bank (NYSE:TD)
S&P High Quality Rankings
This seems right on point. S&P has an S&P 500® High Quality Rankings Index.
According to its website, the index is designed to provide exposure to the constituents of the S&P 500 that are identified as stocks reflecting long-term growth and stability of a company's earnings and dividends.
The S&P Quality Rankings System measures growth and stability of earnings and recorded dividends within a single rank. Scores have been calculated on common stocks since 1956. S&P 500® High Quality Rankings are designed for exposure to constituents of the S&P 500 identified as high quality stocks - stocks with Quality Rankings of A and above.
How do they do it? Here is a description of their methodology:
The rankings are generated by a computerized system and are based on per-share earnings and dividends records of the most recent 10 years. Basic scores are computed for earnings and dividends and, then, adjusted by a set of predetermined modifiers for changes in the rate of growth, stability within long-term trends and cyclicality. Adjusted scores for earnings and dividends are then combined to yield a final ranking.
Grades are given out as follows: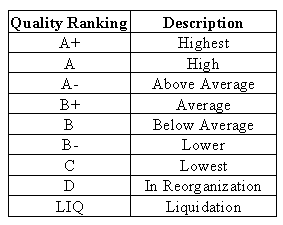 Within the index, stocks are weighted according to their grades: Higher-rated stocks get more weight.
There is an ETF (NYSEARCA:SPHQ) based on the index. The ETF follows the weightings of the index. Here are the current top 25 holdings sorted by weight: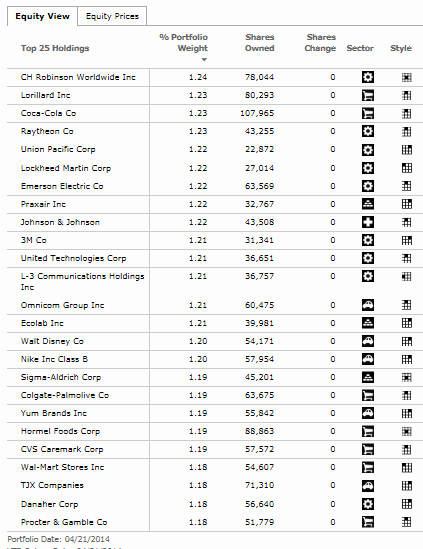 The New Academic Quality Factor
Those of you who have been following developments in the academic evolution of Modern Portfolio Theory (MPT) are probably aware that a quality factor has recently been defined.
One of the leading studies in pursuit of this factor is "Quality Minus Junk" by Clifford S. Asness, Andrea Frazzini, and Lasse H. Pedersen (2013). "We define a quality security as one that has characteristics that, all-else-equal, an investor should be willing to pay a higher price for: stocks that are safe, profitable, growing, and well managed."
Their formula for identifying such stocks uses four sub-factors:
i. Profitability. Profitability is the profits per unit of book value. All else equal, more profitable companies should command a higher stock price….

ii. Growth. Investors should also pay a higher price for stocks with growing profits. We measure growth as the prior five-year growth in each of our profitability measures.

iii. Safety. Investors should also pay, all-else-equal, a higher price for a stock with a lower required return, that is, a safer stock. What should enter into required return is still a very contentious part of the literature. We do not attempt to resolve those issues here, rather we take a simple common sense approach. We consider both return-based measure of safety (e.g., market beta and volatility) and fundamental-based measures of safety (e.g., stocks with low leverage, low volatility of profitability, and low credit risk).

iv. Payout. The payout ratio is the fraction of profits paid out to shareholders. This characteristic is determined by management and can be seen as a measure of shareholder friendliness. Management's agency problems are diminished if free cash flows are reduced through higher dividends (Jensen (1986))… [I]f a higher payout is associated with a lower future profitability or growth, then this should not command a higher price, but a higher payout should be positive when we hold all other factors constant.
As a dividend growth investor, I found the last factor - payout - interesting. It is the first academic study (that I know of) that puts a positive spin on dividends.
Not surprisingly, there is a new ETF that attempts to capitalize on the new quality factor: iShares MSCI USA Quality Factor ETF (NYSEARCA:QUAL). The underlying paper that the ETF cites to support its methodology refers to three factors as indicating "high quality earnings," and according to its site, the ETF seeks to track the investment results of an index that measures them. The three factors are return on equity, earnings variability, and debt-to-equity. (Note that these are not the same factors cited in the Asness paper earlier.)
Here are the top 25 stocks in the ETF.
| | | |
| --- | --- | --- |
| Ticker | Name | Weight (%) |
| XOM | EXXON MOBIL | 5.13 |
| JNJ | JOHNSON & JOHNSON | 5.12 |
| MSFT | MICROSOFT | 5.06 |
| AAPL | APPLE | 4.78 |
| IBM | INTERNATIONAL BUSINESS MACHINES | 4.33 |
| ORCL | ORACLE | 3 |
| QCOM | QUALCOMM | 2.6 |
| GOOGL | GOOGLE INC CLASS A | 2.55 |
| - | GOOGLE INC-CL C -W/I | 2.5 |
| HD | HOME DEPOT | 2.49 |
| WMT | WALMART STORES | 2.37 |
| V | VISA | 2.28 |
| MCD | MCDONALD'S | 2.25 |
| MA | MASTERCARD INC. CL A | 2.17 |
| GILD | GILEAD SCIENCES | 2.11 |
| MMM | 3M | 1.83 |
| BA | BOEING | 1.82 |
| ACN | ACCENTURE | 1.48 |
| BIIB | BIOGEN IDEC | 1.43 |
| LLY | ELI LILLY & CO. | 1.4 |
| PCLN | PRICELINE GROUP INC/THE | 1.28 |
| GM | GENERAL MOTORS | 1.25 |
| SBUX | STARBUCKS | 1.21 |
| TJX | TJX | 1.21 |
| CL | COLGATE-PALMOLIVE | 1.18 |
| ABT | ABBOTT LABORATORIES | 1.17 |
Personal Definitions of Quality
In perusing other authors' discussions of quality, plus the differences in the academic papers, it became clear that reasonable minds can differ as to just what constitutes "quality" in a company. In addition to the factors mentioned above, I found references to other factors (such as a strong brand, decent dividend yield, and good valuation) in relation to defining what quality means.
I imagine that some investors would say that factors beyond indications of fundamental financial soundness are not what should be meant by "quality." Some would certainly say that valuation is a separate consideration from company quality. (I would say that.)
Nevertheless, by using stock screeners, you can construct your own lists of high-quality stocks that fit your definition. Morningstar has several proprietary factors that seem to relate to fundamental quality. I constructed a screen that uses them. (I could not find a way to screen on its credit ratings.)
In this screen, I used Morningstar's financial health grade, moat rating, and fair value uncertainty rating, which all sound like quality factors to me.

I got 23 results: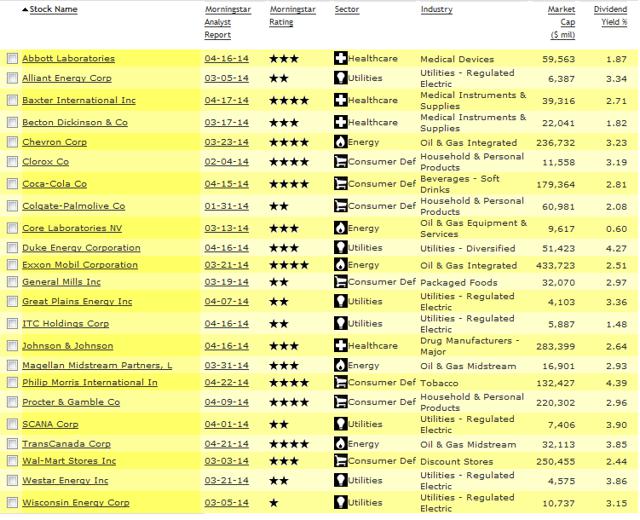 Summary
After reviewing everything, my conclusion is that quality is in the eye of the beholder. My own view is that many fundamental factors could be deemed to indicate quality in a company. Selecting different factors results in different lists of stocks.
I do distinguish a company from its stock, however, so I would not include valuation as a quality factor.
I know you are dying to know which stocks passed all five of the tests above. The answer is one: Johnson & Johnson. Here are the multiple winners.
AAPL - 2
ABT - 3
BIIB - 2
BMY - 2
CL - 4
CSCO - 2
CVX - 3
GOOG - 2
HRL - 2
IBM - 2
INTC - 2
JNJ - 5
KO - 4
LLY - 2
LMT - 2
MMM - 3
MSFT - 2
NKE - 2
PG - 4
MCD - 2
ORCL - 2
WEC - 2
WMT - 4
XOM - 3
Caution
Nothing in this article should be construed as a recommendation. Please do your own due diligence before investing in anything.
Disclosure: I am long JNJ, P, KO, CVX, MSFT, PEP. I wrote this article myself, and it expresses my own opinions. I am not receiving compensation for it (other than from Seeking Alpha). I have no business relationship with any company whose stock is mentioned in this article.