Emerson Electric Co. (NYSE:EMR) is a large-cap industrial stock that has experienced a 17% increase in its value over the year. The company's future prospects look bright too and some argue that Emerson is a better alternative to competitors like General Electric (NYSE:GE) or Rockwell Automation (NYSE:ROK). The company's first quarter results reported a decent outcome. During this article, we will have a look at that performance report and then I will divert your focus towards analyzing how Emerson offers investment gains for the future.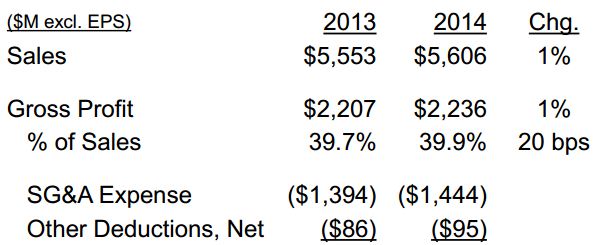 Source: Presentation
Net sales for the first quarter of 2014 rose 1% to $5.6 billion compared to the same period in 2013. However, a small further analysis revealed a better improvement in top line growth as underlying sales increased 3% ($177 million) from greater volume excluding the 3% ($173 million) negative impact from a divestiture and a 1% ($60 million) benefit from acquisitions.
Foreign currency translation had an unfavorable impact on Emerson last quarter. Geographically speaking sales increased 3% domestically and 4% internationally. The emerging markets continued to drive top line growth with underlying sales of the Asian market improving by double digits year over year and 9% in the Middle East/Africa region.
Latin America and Canada posted declining figures and sales were flat in Europe. Department-wise sales increased in all segments except Network Power led by Process Management that increased 8% aided by acquisitions. Divestitures had a negative impact on Network Power that shrunk 11%.
Cost of sales rose by 71 bps to $3,370 million resulting in a gross margin of 39.9% in 2014 compared to 39.7% in 2013. The improvement was a result of materials cost containment, lower pension expenses and the impact of the embedded computing and power business that was offset by greater inventory costs, higher warranty and an unfavorable product mix.
SGA, the other significant cost for the company, rose 70 bps as a percentage of sales. The company blamed volume increases and charitable contributions. The net result was diluted EPS growing 5% to $0.62 this quarter. It is evident that the top line remained healthy although the overall result wasn't that impressive. Volume jumps are critical because prices depend on the demand/supply factors and the company's own abilities to offer better products than its rivals. The table below shows the company's geographic growth.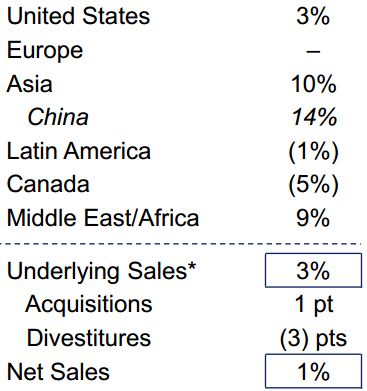 Source: Presentation
Emerging Markets Remain Key Players for Emerson
The table above shows where the company experienced the most growth. As you can see, emerging markets remain key players for the company. This is because Emerson is firmly positioned to profit from the long-term universal trend of infrastructure spending and improved energy efficiency that is likely to take place offshore. As the Chinese and similar economies grow they will progressively spend more on the set-up necessary to support a modern economy.
For example, the steady embracing of central air conditioning in Asia driven by the rising middle class and far-reaching energy efficacy initiatives will likely benefit Emerson's department that manufactures these products. Weather conditions in the Middle East will also provide a stable outlook together with infrastructure development.
Emerson's long-term history suggests that it is a stock that has given returns during challenges. This is due to the diversified nature of the company. Emerson has 235 manufacturing locations worldwide offering products ranging from industrial and commercial to consumer markets. It therefore tends to move in the direction of the world economy. For example, during the recessionary fiscal year of 2009, revenue dropped 19%. The company recovered with the economy growing sales by 5% in 2010, 15% in 2011, 1% in 2012 and 1% in 2013.
With more reliance on international markets, this factor is going to complement the company's cost-cutting efforts as foreign economies grow. Sales in Europe are forecasted to be relatively better this year. This should help the slowing demand that is expected within China.
Cost Cutting Will Also Help Overall Profitability
Looking into the future, Emerson's cost-cutting and restructuring initiatives are expected to help the company. Over the past two years, Emerson has been focused on reducing costs and enhancing profits. The company is also concentrating on the relocation of capital in its principal areas by stripping underperforming assets like its business in embedded power and computing systems.
Emerson has given better than industry fundamentals throughout the recent past. The company projects a 3%-5% growth for 2014 that is similar to its rival Rockwell Automation. However, Emerson's more diversified position together with improving international markets and removal of underperforming businesses means that Emerson stays a better place for investors. The company has increased its dividend for 57 years in a row at a CAGR of 11%. This is an impressive track record considering the global economy has seen many recessions, wars and other bumps out of which Emerson being an economy correlated company has emerged successively.
With current restructuring and more reliance on international markets, Emerson will sustain the profit trend it has given in the past. It therefore gets a buy rating.
Disclosure: I have no positions in any stocks mentioned, and no plans to initiate any positions within the next 72 hours. I wrote this article myself, and it expresses my own opinions. I am not receiving compensation for it (other than from Seeking Alpha). I have no business relationship with any company whose stock is mentioned in this article.