Did an invisible referee blow a whistle? A quick glance at various market averages and key stocks strongly suggests that the recent market action marked a change in market leadership. Such changes often reflect concerns over economic growth as investors worry that inflation-sensitive stocks could see diminished growth and lose some value in rising-inflation environments. Often, stocks vulnerable to reduced growth fall the most. As is obvious from the chart, since January, market leadership has shifted from growth stocks such as Google (NASDAQ:GOOG) (NASDAQ:GOOGL) and Amazon (NASDAQ:AMZN) -- examples of two stocks with long-term growth prospects that remain attractive to cyclical and commodity-related stocks such as Deere (NYSE:DE), Schlumberger (NYSE:SLB), and Caterpillar (NYSE:CAT). Most commodities, being especially sensitive to economic growth, have also gained ground in recent months.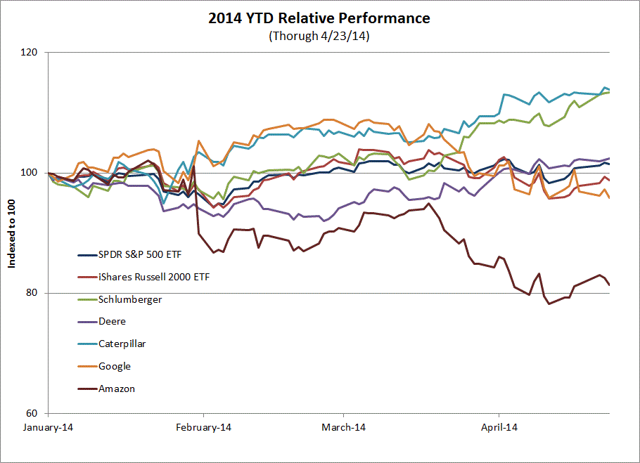 Economic growth is a global necessity. So long as that remains the case, central banks in the developed world will keep interest rates close to zero. With an estimated 40,000 Russian troops parked on the Ukraine border and the Ukrainian economy in tatters -- and to the north the Baltic states highly reliant on trade with Russia -- the U.S. sees the compelling need to continue its economic stimulus while Europe will launch its own monetary easing policy. The Bundesbank, during the protracted European recession an unremitting hawk regarding European stimulus, suddenly and dramatically reversed its monetary stance. What better sign that Europe and America desperately worry about Russia's increased influence in Ukraine and the fate of other FSU nations? In the end, the U.S. can only fight Russia by ensuring the relative strength of nearby economies.
In the developing world, the probable victory of Indian nationalist Narendra Modi in its election for Prime Minister (voting concludes May 12) would also bolster global economic growth, given his obvious support for economic development. India's problem until now was corruption. Despite his political views, Modi by contrast seems as honest as politicians come.
One should never read too much into a few months' trading, but the current trends suggest that commodity-driven stocks are reviving. Additionally, with Europe clearly recovering from its recession, Putin also seems to have stirred European talk of quantitative easing.
The recent cover of the Economist also says a lot -- a huge map of Russia and Ukraine embedded by the one-word headline, "Insatiable." While many argue that Russia's actions have reignited a Cold War mentality, that's not the only problem. The U.S. won the Cold War not for having the most bombs, but for having the strongest economy and sufficient strength to impose its economic will on an economically divided world.
In sum, the U.S. cannot now severely sanction Russia without the risk of losing more than Ukraine to Russia. Sanctions on Russia, while potentially painful for that country, would be even more painful for neighboring countries that depend on Russia for their economic well being. A relatively small shock to the Russian economy would be a serious economic shock to the Baltic States, given Russia's status as a major trade partner. Throw in higher natural gas prices, which would also add an economic weight for most of Europe, and one sees why Europe would be nearly desperate to keep its economy chugging along.
Meanwhile, there also remains the potential of an economic bloc to rival the U.S., namely between Germany, Russia and China, as discussed in a previous blog. If Russia were to send much of its energy to China, that would produce little impact on Germany. After all, Russia inaugurated dedicated oil and gas pipelines in 2011 to send energy to Germany independent of other parts of Europe.
Recently, Russia also announced plans to buy and sell commodities like oil in rubles and gold. This ties in with China's massive and persistent accumulation of gold, and suggests that a currency to rival the dollar is much closer to fruition than even a few months ago.
In a flat world, no one should treat any major geopolitical event as one-off. I don't expect an "insatiable" Russia to topple the U.S. stock market, although it could make the going tougher. My charts also include the S&P 500 and the small cap Russell Index. Lately, the Russell has trailed. I don't consider this divergence a bear market signal of the kind we saw to presage the bear markets of 1973, 1987, 2008 and even the big correction in 2011, but I do think that the nervous market coincides with a major change in sector leadership.
The recent strength in Caterpillar, Schlumberger and Deere supports my view. These stocks had severely trailed the market since the European recession started in 2011 -- their average gain since June 30, 2011 is less than 10% compared to nearly 40% for the S&P 500. That commodity indexes underperformed major stock indices by so much provides strong testimony to the predictive ability of commodity leveraged companies.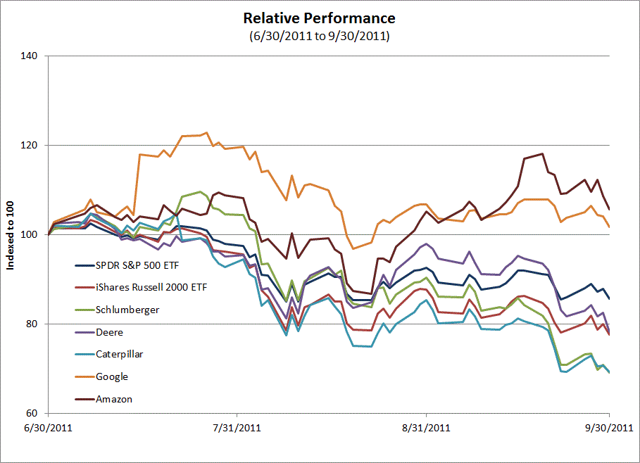 The few months after the 2011 market top appears as nearly a mirror image of what we see today.
Despite much stronger recent performance, however, Deere, Caterpillar, and Schlumberger remain historically cheap even now. Deere trades at little more than 10 times trailing earnings despite only one down year since the new century began. Looking ahead, if we can believe today's demographers, the world must double its crop yields by mid-century. Few companies could play a larger role in reaching that goal than Deere. I also like National Oilwell Varco (NYSE:NOV), the world's largest provider of oil drilling equipment and even Union Pacific (NYSE:UNP), whose rail cars are critical in commodity transport, not only within the country but also across borders.
Disclosure: I have no positions in any stocks mentioned, and no plans to initiate any positions within the next 72 hours. I wrote this article myself, and it expresses my own opinions. I am not receiving compensation for it. I have no business relationship with any company whose stock is mentioned in this article.