By J. Royden Ward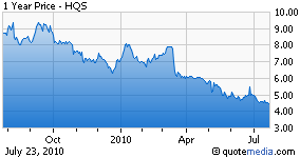 As I mentioned earlier, I applied the Net Current Asset Value formula to my database of stocks and found a few stocks selling below their NCAV values. One stock stands out, because the company is in an industry with great potential.
HQ Sustainable Maritime Industries (HQS) is a leader in the aquaculture industry in China. Aquaculture includes the farming of fish and aquatic plants in fresh water or ocean enclosures. The aquaculture industry supplies one-half of the world's fish and shellfish needs. Aquaculture is the fastest growing segment in the food production system and has been for the past two decades. The primary objective of the industry is to produce healthy, nutritious fish for consumption.
HQS is an integrated aquaculture and aquatic product processing company with operations based in the island province of Hainan, in China's South Sea. The company's aquaculture is conducted in fresh and salt-water areas that are pristine and free from pollutants such as mercury and plastic trash. In addition to raising and harvesting fish, HQ processes and sells fish and fish products including tilapia, shrimp, squid and red snapper.
The company is China's largest exporter of tilapia and commands 10% of the tilapia market in the US. Tilapia is a popular name for numerous freshwater fish originally native to Africa. Tilapia is easy to farm, mild in taste and rich in protein.
The company produces and sells Lillian's Healthy Gourmet Meals and other fish products in the U.S. The company has cold storage facilities and aquatic product processing facilities in Hainan. In addition to headquarters in Seattle, the company has operational offices in Wenchang, Hainan.
HQS's sales have grown steadily from $27.5 million to $72.3 million in 2009. Earnings per share (EPS) were $0.54 in 2007, $0.78 in 2008 and $0.60 in 2009. EPS are expected to advance to $0.85 in 2010 and then $1.00 in 2011.
At the current price of about 4.50, HQS shares sell at a discount to their NCAV of 5.13 and book value of 7.75. The current price-to-earnings-ratio of 7.5 is cheap, although the company does not pay a dividend. HQS shares trade 133,000 shares daily from a market capitalization of $66 million. I recommend buying HQS at or below 5.13 and selling when the price reaches 7.70.
Disclosure: No positions