Mesabi Trust (NYSE:MSB) is a royalty trust that was created in the state of New York back in 1961 to derive income from the Peter Mitchell Mine near Babbitt, MN which is located near the eastern end of the Mesabi Iron Range. Overall, not that exciting, but as we sometimes know what is not that exciting can sometimes be very profitable. On that end Mesabi Trust is definitely doing it right and now with a year of slower growth behind it it appears that the pace of growth is picking up once again.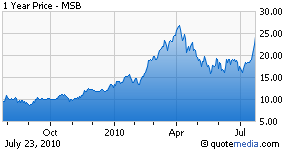 Mesabi Trust, after four straight quarters of slower growth in EPS and sales in 2009, has seen things turn around nicely. For the past two quarters, YOY, EPS growth has come in with gains of 138% and 500%. During that same time, revenue, has increased 122% and 389%. This growth is expected to continue for the rest of the year and for 2011 and 2012, Current EPS estimates for 2011 and 2012 are for gains of 168% and 2% respectively.

This company also sports other very strong fundamentals in the form of a divdidend yield of 13.2%, 0% debt, a Return-on-Equity of 505%, and a cash flow of $0.95.

The numbers above are a main reason that we have seen mutual fund ownership increase from 5 funds during the reporting period of September 2009 to the current 10 funds in the most recently reported quarter of June 2010. Management only owns 1% of the shares outstanding but that is normal when your company has existed since 1961.

While the fundamentals are fantastic and rank it as one of the best in the Mining-Metal Ores group, along with Sterlite Industries (SLT), Vale (NYSE:VALE), Stillwater (NYSE:SWC), Fronteer Gold (FRG), Southern Copper (NYSE:SCCO), Alcoa (NYSE:AA), and Freeport McMoRan (NYSE:FCX), what really has excited me are the technicals.

This stock first grabbed my attention as it made a heavy volume move, bouncing right off the 50 day moving average area, as it appeared to be making a right side of a long cup base pattern. The next three sessions then confirmed that this stock was building a cup pattern as volume increased every day as it built that right side. What really makes this an attractive cup pattern is that after the initial break in April that began the left side of the cup volume has been extremely quiet during the entire pullback. During that time the market had some pretty rough selloffs but Mesabi held up extremely well and found support right at the 200 day moving average both in May and July.

The stock is beautiful, for sure, but it has come too far too fast the past four sessions and now it needs to build a handle to form one of the most bullish chart patterns out there (the cup-with-handle pattern). I would like to see it pullback no further than the 21 area for at least five days and then make a move higher on strong volume. If it can bounce off of some strong support around the 21 level and/or breakout from the cup-with-handle formation, I would love to get long this stock.

I use the CANSLIM methodology to time my purchases and that means that this play will only work if the market continues to act like it has been on Thursday and Friday moving higher on higher volume. If the stock does not form a proper handle and instead pulls back with either volume picking up or a pull back deeper than the 21 area, I will have to revisit the setup and trade for a proper entry. If the market rolls over on heavy volume, chances are this stock will too--as three out of four stocks follow the general trend of the market--and thus the trade setup will also be removed.

If the market continues to act well, we definitely will have a great potential long setting up in Mesabi Trust.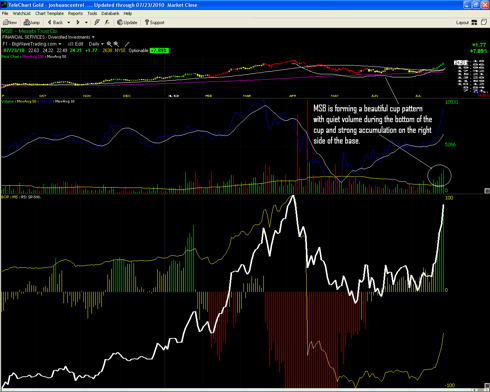 Disclosure: No Positions