Immersion (NASDAQ:IMMR) will be reporting 2Q 2010 results on August 5th.
The Company surprised on the upside in the 1Q, for a combination of factors that included a stronger than expected performance in product sales, and also some seasonality (as royalties on products like mobile phones and gaming, that are sold in higher volumes in the Christmas holiday period, are recognized in the subsequent quarter).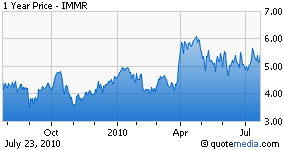 Immersion is transitioning toward a licensing model only.
The Company recently completed the sale of its medical division to CAE Healthcare (NYSE:CAE), and for this reason it will not recognize any product sale, from this segment, in the quarter. It must be noted, however, that due to the delayed timing of royalty recognition, it will not recognize any license revenue stream from CAE, too, in the 2Q.
In our opinion, it is important to remind that it would be fair, for a real apple to apple comparison, to analyze 2Q results against the 1Q excluding product sales (that accounted for about $2 Million in the 1Q), and keeping in mind that seasonality and the lack of royalties from the medical division sold to CAE will certainly play an important role in the final numbers. We are obviously hoping that management will give out as many details as possible on the matter to help investors get a proper understanding of the Company's performance.
During the last conference call, Immersion guided for revenues in the $6.2 to $6.7 Million range (from Seeking Alpha 1Q conference call transcripts):
Victor Viegas - CEO

In terms of our near-term outlook, we would expect total revenues in Q2 to be in the range of $6.2 million to $6.7 million, down on a comparative basis sequentially, reflecting our transition to a licensing model as well as typical downward seasonal trend based on our revenue recognition.
Analysts estimate revenues of $ 6.5 Million, and EPS of ($0.07).
On the cost side, the Company should start showing much lower operating expenses, due in part to the reduced headcount, following the transaction with CAE Healthcare, and also to lower legal and administrative fees.
Immersion ended the 1Q with $ 64,6 million of cash and cash equivalents, and while we do expect some cash burn in this quarter, it is a Company's target to reduce costs in order to be cash flow positive with revenues of just around $7 Million a quarter.
During the quarter, the Company issued a limited number of press releases, mainly related to the Medical segment.
Immersion announced a license agreement with SOFAR S.p.A., a leading Italian manufacturer of medical devices for minimally invasive surgery, and, probably more important, the conclusion of a litigation with Simbionix USA Corporation, the world's leading provider of simulation and training products for medical professionals and the healthcare industry, that has now become a licensee, too.
As the official flow of information from the Company was relatively quiet in the quarter, we will be looking for more information about the sectors Immersion is targeting from some of its licensees.
As we write, one of Immersion's partners in the semiconductor segment, Cypress Corporation (NASDAQ:CY) reported 1Q results. Some of their comments may be worth a quote (from Seeking Alpha transcripts, our comments in Italic):
Brad Buss – CFO

We expect record revenue for PSoC in TrueTouch in the third quarter and for the entire fiscal year 2010. (see: Next-Generation Cypress TrueTouch™ and CapSense® Solutions Enable Innovative Products with Tactile Feedback to Improve User Experience)

Ashish Rao – Credit Suisse

Could you update us on where the TrueTouch revenues were for the quarter and if you've gone past the customer pick up that you saw in the March quarter and also as you look ahead to 2011, how do you view the tablet opportunity versus the predominantly handset smartphones today?

Norm Taffe

Hi, Ashish. This is Norm. So, I think the second part of your question was related to what kind of momentum we're seeing in terms in the March quarter and going forward on touch. My answer to that is we continue to see great momentum there. In fact, we said another design win record in Q2 as far as wins in the touch space.
It is also interesting to note that both Immersion and Cypress seem to share the same interest as far as new segments to pursue for their products (emphasis added):
T.J. Rodgers Lucky Gold Star put our CapSense into their new flat-panel TV. That's a big trend right now. When you have a sleek black flat-panel TV, you don't want ordinary knobs and buttons sticking out of the bottom. So we're getting a lot of CapSense business on that.

In addition, we've gotten automotive qualified PSoC is capable of doing can and win, PSoC 3 can and rest are the win, which are the automotive bus standards, and that means that we allow quick integration of touchscreens into automobiles. We've been qualified, automotively qualified and our biggest win is the Chevrolet Volt, the new electric car where we are in the center panel of the car.
The mention of the Automotive market is interesting, as Immersion has been working with Visteon (OTC:VSTNQ) for quite some time.
For those who love speculations, we could mention that Brad W. Buss, Cypress Corporation's CFO, is also sitting on the BoD of Tesla Motors (NASDAQ:TSLA), another car producer who might implement Immersion's product in its new Model S (this quote is taken from Immersion's 1Q 2009 conference call):
Clent Richardson And Road and Track Magazine just gave a sneak peak at the new 2012 Tesla Model S highlighting its use of Haptics, noting a 17 inch touch screen entertainment system in the center console with Haptic interface.
Turning back to Cypress Semiconductors, a few more quotes about the trends in touchscreens, which confirm a good momentum in general and new customers' wins in the mobile phone arena for Cypress (emphasis added) - will Immersion benefit from this?
Adam Benjamin – Jefferies

Got you. And then Norm, a question for you on TrueTouch. You've kind of talked about $100 million as a number for this year. Based on what you're seeing now plus or minus what do you think?

Norm Taffe

Based on what we're doing right now, we're still on track to more than double what we did last year. It's not clear yet whether we'll look to get all the way up to the $100 number but we're certainly on our plan more for than double this year.

Brad Buss

And I think importantly, we added, we received the first significant orders from two more of the top eight handset suppliers this quarter, which are going to ramp for us in Q3 and Q4. So now we are shipping volume in Q3 at five of the top eight handset suppliers on touch and so the backlog is really starting to ramp for us.
Disclosure: Long IMMR