This December, Afrezza, MannKind's (NASDAQ:MNKD) inhalable insulin therapy for prandial (meal-time) management of blood glucose in diabetics, faces FDA decision. Afrezza's path to approval is well worn and bloodied, most notably by an approval and subsequent market withdrawal of Pfizer's (NYSE:PFE) Exubera. Other inhalable therapies have also been attempted by such high-powered partnerships as Alkermes/Eli Lilly (NYSE:LLY) and Aradigm/Novo Nordisk (NASDAQ:NVGN); all abandoned in the wake of Exubera's withdrawal. Currently Afrezza is the only form of inhaled insulin still under FDA review.
With the market failure of Pfizer's Exubera, potential investors in MannKind's endeavor must address why Afrezza will not suffer the same market setbacks assuming a favorable decision by the FDA in December. MannKind has, of course, amassed a number of reasons to convince investors that Afrezza will become a market blockbuster with varying degrees of substance.
I wish to address the three biggest reasons I think Afrezza will succeed where Exubera failed: a demonstrated superiority over injectable therapies, increased patient and doctor compliance, and overall cost of the therapy.
Afrezza's Superiority Over Conventional Therapies
Soon after Pfizer's Exubera was approved, a review found that inhaled insulin at the time, including Exubera, "appears to be as effective, but no better than injected short-acting insulin." The reason for this is likely due to the fact that the insulin contained within Exubera is in its heximeric form.
Afrezza, on the other hand, is different. Afrezza's insulin is broken into its monomeric components, resulting in significantly shorter time to peak insulin levels (14 minutes for Afrezza vs. 49 minutes for Exubera). This monomeric formulation is reputed to more closely mimic the natural insulin response of healthy individuals as well as decrease the risk of hypoglycemia and weight gain.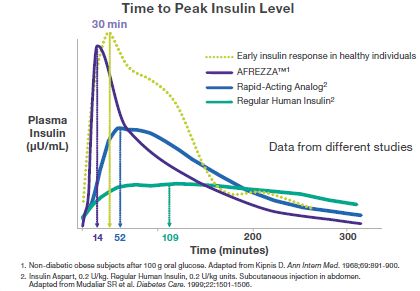 In addition, MannKind has found Afrezza to be more effective at controlling postprandial glucose excretion and reduces glycosylated hemoglobin (HbA1c) levels - reducing possible vascular complications associated with diabetes. Unlike Exubera, the monomeric Afrezza offers a clear advantage over traditional injectable therapies.
Increased Convenience of Afrezza
The big draw any sort of inhalable insulin offers, of course, is the potential for the patient to avoid constant needle sticks for meal-time glucose control. While it seems that convincing a population of patients to ditch constant needle-sticks in favor or an inhalable therapy, Exubera highlights just how difficult that may be. Exubera's oft-maligned inhaler can only be described as 'bong-like'. While it collapsed into a cylinder about the size of a soda can, the appearance upon inhalation made users look, quite simply, ridiculous.
Pfizer's Exubera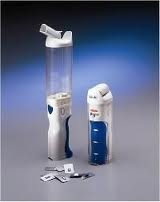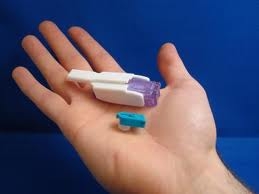 Afrezza inhalers, on the other hand, are small enough to slide into a pocket, are discreet, and won't arouse suspicions if you are pulled over by the police with it in the passenger seat. One other consideration worth mentioning is that the Afrezza inhalers are breath-activated, where Exubera required an 'activation while breathing' process for administration. Patients and doctors should find the actuation process much more convenient and reliable.
Cost
Whether or not Afrezza will be able to gain significant market share will ultimately come down to price. The cost of a day of treatment for Exubera was reported to be approximately $5 a day, compared to $2 or $3 for traditional injectable insulin. While it would appear that the cost per day of treatment has not been settled upon with Afrezza, some reports have stated the price will be offered at a 10-20% premium over traditional injectable therapies. At that cost, it would be reasonable to believe that MannKind can indeed gain a respectable share of the insulin market. Keep watch for an announcement from MannKind on the official cost of therapy, as a significantly higher cost of therapy - say similar to that of Exubera - may seriously impact Afrezza's prospects.
Summary
Afrezza is not without challenges heading into its December FDA decision and beyond. However, having apparently addressed the efficacy, convenience, and cost issues associated with Exubera, Afrezza stands a significantly better chance at capturing a larger portion of the insulin market. A recent Bank of America/Merrill Lynch survey of 100 physicians showed that MannKind could achieve a peak penetration of 15% of the insulin market - although that rate was adjusted down to 2% by the analysts due mainly to the failures of Exubera. Afrezza offers a significant improvement over existing therapies and should not be maligned by its ungainly predecessor.
Disclosure: No positions