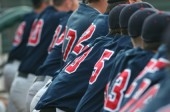 Baseball fans (and players) look forward their sport's annual "All Star Break" to enjoy some time away from the game, celebrate its history, take stock of what has transpired and look ahead to the second half of the season. Credit Suisse's semi-annual
Hedge Fund Industry Review
does essentially the same thing. According to the firm and its partner, Dow Jones Indexes, 51 of every 100 hedge funds hit mid-year with a winning record – leading to overall industry returns of a whopping 0.6% (referred to as "muted" by CS.)
In sports, being one game above "500″ is a pretty lacklustre showing. But when you consider that the Dow Jones Global Index was down over 10% during the same time frame, capital preservation looks like a good strategy. So it's probably more accurate to say that hedge funds were 10% above 500, not a paltry percent. As we discussed in last week dour "Hedge funds may be nearing all-time highs", 2008's annus horribilis actually represented the best relative performance in the history of hedge funds – around +20%. Ten percent is pretty solid too.
According to CS, hedge funds have no recouped 80% of their drawdown (vs. 30% for global equities)…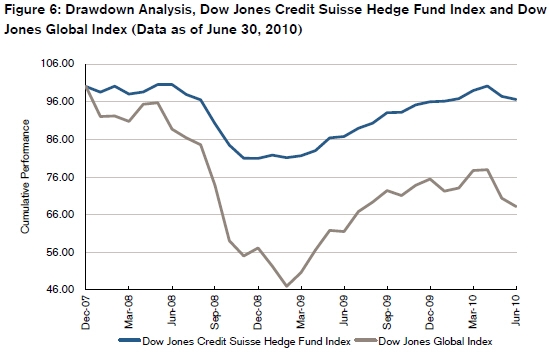 As usual, performance depended on the strategy. But as you can see from this chart from the report, the first half of 2010 was a lot tamer than the second half of last year.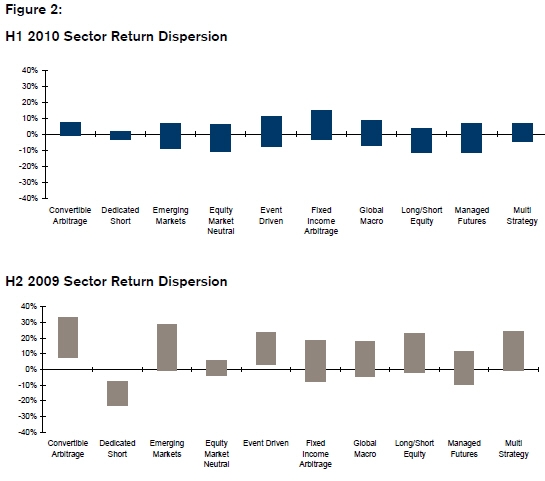 It looks like 2010 is shaping up to be the kid of year when truly alternative strategies (i.e. low market correlation) strategies do well. As CS indicates, fixed income, global macro and event driven strategies did best and – not coincidentally – also had low betas…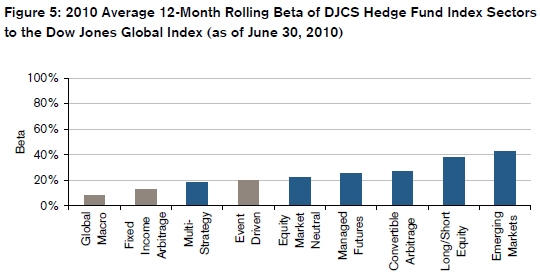 As assets recover, we're seeing frozen (gated, locked-up, and impaired) assets melting according to the report. But that welcome development is stalling…
Despite this overall improvement in liquidity, the rate at which impaired assets have been repaid to investors in 2010 has plateaued. Many funds have indicated that they plan to retain these holdings until market conditions improve for certain sectors which are more illiquid.
The chart below from the report illustrates this issue. "Impaired Assets" stood at about $50b by the end of 2009 (down from nearly $150b). By the 2010 All-Star Break, they were still about the same.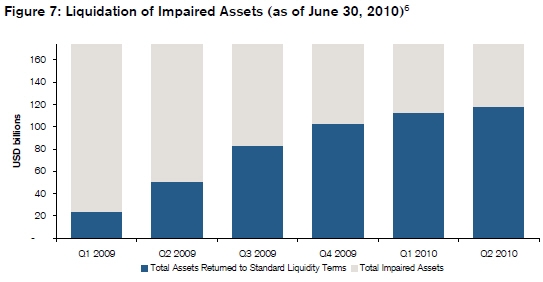 Despite the unfreezing of so many assets in the second half of 2009, net asset flows into the industry remained positive. This means that either a) most of the investors who were finally given the option to withdraw did not, or b) they did redeem their investments and a flood of new investors took their place. We suspect it's a). In fact, in our High Water Marks: The other hedge fund "lock-in" back in February of this year, we told you about an academic paper that suggested, in our words, "…many of the "gated" investors actually may have wanted to stick around…"
Who knows when the final frozen assets will melt. But it's not all bad. What would the summer All-Star Break be like without some frozen treats.