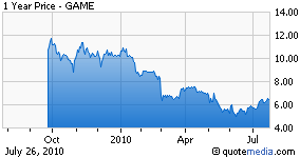 Dragon Nest had a strong start. On July 22, Shanda Games (NASDAQ:GAME), a subsidiary of Shanda Interactive Entertainment (NASDAQ:SNDA), launched the unlimited beta testing of its new 3D game Dragon Nest. According to my tracking, Dragon Nest has already surpassed 400K Peak Concurrent Users (PCU) and become a blockbuster game in China. It has also easily surpassed Tencent's (OTCPK:TCEHY) A.V.A as the most successful game launch so far in 2010.
In fact, Dragon Nest's initial popularity, as measured by search volumes, has even surpassed the all-time-high popularity of Cross Fire and DNF (Chart 1), the top two most played online games in China now.
Shanda shares are poised to rise in 2H10. Based on its early success, I currently forecast that Dragon Nest will generate $11 million and $15 million revenues in 3Q10 and 4Q10, providing strong growth momentum for Shanda's earnings in 2H10. My checks also suggest that most Wall Street analysts are still skeptical about Dragon Nest, worrying that it may become the next Aion (a 3D game launched by Shanda in 2009), whose popularity dropped sharply after its initial success.
Such hesitation by analysts has led many of them to forecast very little earnings contribution from Dragon Nest in 2H10. This provides ample room for Shanda to outperform investors' expectations, and therefore Shanda shares (both GAME and SNDA) are poised to rise in 2H10, in my opinion.
Dragon Nest will NOT be the next Aion, in my view. It's common to see a game's popularity decline after initial launch, but Dragon Nest's decline will be much less than Aion's because of three reasons:
First, Dragon Nest adopts the free-to-play, pay-for-virtual-item business model, which is inherently better in sustaining its popularity after the initial launch, while Aion adopts a pay-for-time business model, which tends to cause a sharp drop after the game starts charging all users for playing time.
Second, Dragon Nest has achieved 400K PCU without any large-scale marketing campaigns, while Aion's early success relied heavily on large-scale marketing ahead of its commercial launch.
Third, unlike Aion, Dragon Nest faces much less competition from World of Warcraft (WoW), the most popular 3D game in China. The key reason is that Dragon Nest's major selling point is its Street Fighter-like combat-control system, which is not available in WoW. In addition, Dragon Nest's item-based business model also provides significant differentiation from WoW's time-based model.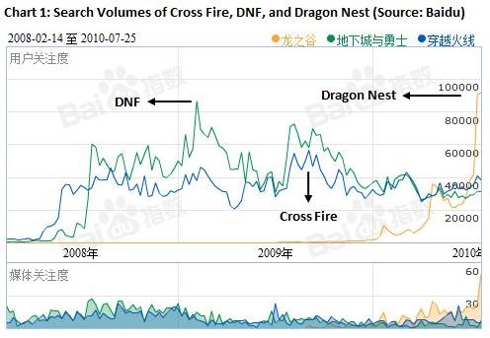 (Click to enlarge)
Disclosure: No positions