I prefer that Advanced Micro Devices (NASDAQ:AMD) do not incur the wrath of Microsoft (NASDAQ:MSFT). However, comments from Seeking Alpha users made me realize that AMD is missing a great opportunity over the rising demand for Chromebooks. According to IDC, there were 2.5 million Chromebooks that got sold in 2013 - representing 1% of total PC sales. The said feat also is noteworthy because the 2.5 million sales count is 112% higher than 2012's sales for Chromebooks.
Introduced only in mid-2011, Google's web-based Chrome OS has attracted strong support from big name OEM companies like Samsung, Acer, Toshiba, Lenovo, and HP. Most of the 2.5 million Chromebooks that got sold last year were bought by ordinary consumers. IDC is predicting Chromebooks will make up 2% of PC sales by 2017, or around 6 million units.
Chromebooks is Popular in the Education Market
Enterprise clients are still wary of a web-based operating system, but the education market is readily buying cheap Chromebooks. The Wall Street Journal pointed out that Chromebooks, from 1% share in 2012, grabbed almost 20% of the U.S. education market for notebooks in 2013. This great feat is in dark contrast to Microsoft's Windows which saw a huge drop from 47.5% to 28% market share last year.
Considering the cheap price tags of Chromebooks, Google can continue its assault on the U.S. and global education market. The brains at Googleplex want to beat IDC's forecast of 6 million by Chromebooks sales by 2017. Microsoft had a good time disparaging Chromebooks as weak, online-only machines which limits people's productivity. However, Google has made updates that allow Chromebook users to work offline.
Chrome OS, like Android, will gradually be updated to function well in offline mode. Microsoft knows this and Chromebooks are one reason why Nadella is giving away cheap or free Windows 8.1 licenses to original device companies. Yes, Chromebooks will never enjoy the success of Android phones but they still represent a clear and present danger to Windows.
Microsoft's Ally Intel is Google's Biggest Supporter of Chrome OS
It is ironic that Intel (NASDAQ:INTC), Microsoft's Wintel partner for many years, is the strongest proponent of Chrome OS. Intel has a monopoly on x86 Chromebook processors. AMD, who has some great low-power APUs, has yet to enter the Chromebook sector.
A check on some of the current and forthcoming Chromebooks shows Intel is the only x86 chip supplier. Samsung is using its own ARM-based processors.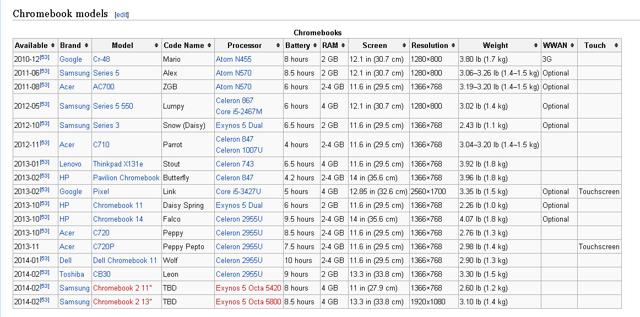 Source: Wikipedia
Despite the low volume, 2.5 million sales, of Chromebooks in 2013, Intel still won major brownie points for monopolizing Chrome OS notebooks. The future of Chrome OS is not exclusive to notebooks either. Some major device manufacturers like Asus are producing mini desktop Chrome OS computers. The $179 Asus Chromebox (pictured below) heralds a new product category for Google's web-based operating system.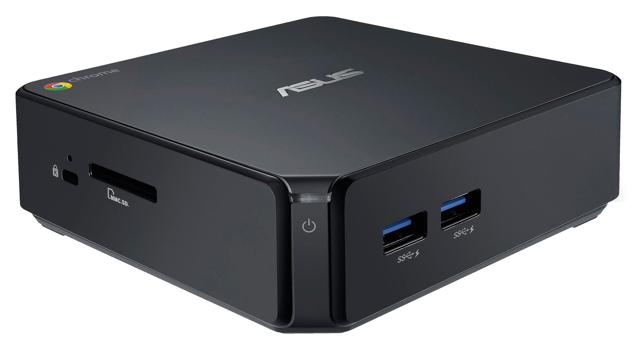 Source: Asustek
Citrix's virtualization software, XenApp is perfect for enterprise Chrome OS users. XenApp lets people use on-demand Windows-native applications like Microsoft Office. After Microsoft ended support for Windows XP, Google is offering incentives to Windows XP business users to switch to Chrome OS devices.
VMware (NYSE:VMW) is also helping Chrome OS users easily access and use their Windows apps and files via the new VMware Horizon DaaS.
AMD Should Give The Chromebook A Try
The sales volume of Chromebooks is not that great. However, AMD has very little chance of finding big tablet manufacturers who will support Mullins. Since Microsoft has allowed Intel's predatory practice, which still discriminates AMD's products on medium and high-end computers, it is time for AMD to stop being monogamous with Windows.
AMD's low-power Mullins is ideal for Chromebooks and Chromeboxes. AMD's Senior Vice President and General Manager Lisa Su told reporters last year that AMD is open to supporting Android and Chrome OS. AMD has existing APU and CPU products that are cheaper than Intel's Celeron 2995U and yet offers comparable performance.
Since Chrome OS is mainly-web based, Intel chips' compute advantage is not as important as it is in Windows-based computers. The better gaming benchmark of AMD's APU like the Mullins is a good selling point though. Chromebooks are not exclusively being used for education or office productivity. A check online shows Google has enough games to keep the casual and serious gamers entertained by their Chromebooks.
Using Crouton, Chromebook users can also install Steam OS to play older PC games like Left 4 Dead 2, Portal, and Counter-Strike. Mullins' four Puma cores and Radeon & GCN-based superior graphics processing might even make it possible to run newer Steam games on a $250 Chromebook or Chromebox.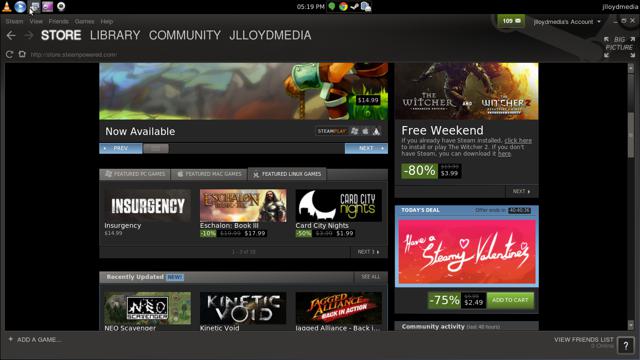 Source: Dudley Media Group
The AMD quad-core Mullins has a lower TDP, 4.5 versus the Intel Celeron 2995U which has a TDP of 15W.


Source: AnandTech
A Mullins reference tablet design can comfortably play modern 3D games on 1080p resolution. A Chromebook with Mullins inside can also do the same.
Conclusion
Why is there no AMD Chromebook? It is because the current market size is small. However, Google is intensely focused on making it a big success. Google, in its quest to make Microsoft Windows a non-compulsory purchase, will gradually make the Chrome OS offer native desktop-like experience with more offline games and apps. VMware and XenApp allow Chromebooks to run several Windows apps and games.
The Chromebook is a new growth market that is worthy of AMD's attention. Rory Read already made it clear that AMD won't be going after the low-entry tablet chip market.
AMD is too poor to offer subsidies which can compel OEMs to make higher-ASP $300 tablets with Mullins inside. So, aside from traditional Windows notebooks, the Chromebook is another viable revenue stream for Mullins. Chrome OS may soon be found in streaming TV boxes and infotainment systems for vehicles.
The strong sales of the PS4 and Xbox One gave the stock market a reason to do a post-earnings rally for AMD this week. However, it is still important that Rory Read find other sources of revenue for its new mobile chips.
AMD is trading north of $4 and, while I did some profit taking, I still see AMD a BUY for long-term investors. AMD is the best 5-day performer among its peers.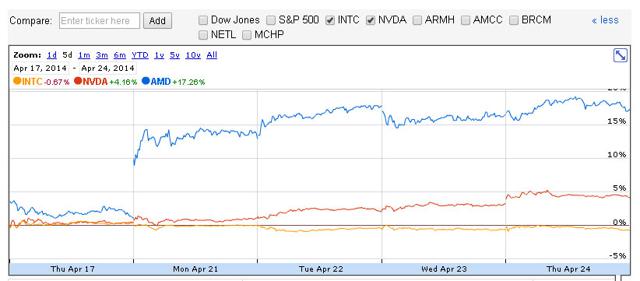 Source: Google Finance
Disclosure: I am long AMD, INTC. I wrote this article myself, and it expresses my own opinions. I am not receiving compensation for it (other than from Seeking Alpha). I have no business relationship with any company whose stock is mentioned in this article.