Visa (NYSE:V) released its Q2 Earnings on April 24, and its results indicate a strong first half to FY 2014. It posted revenues of $3.20 billion, a 7% increase year-over-year, narrowly beating analyst estimates of $3.19 billion. In addition, the company's diluted EPS came out to $2.52, which represents a 31% increase from last year and beats estimates of $2.18. Yet, the company is trading 4% down from Thursday's close, even though its figures remain solid. Visa remains an undervalued mega-cap company, and its financial stability and catalysts for growth make it a wise pick for investors.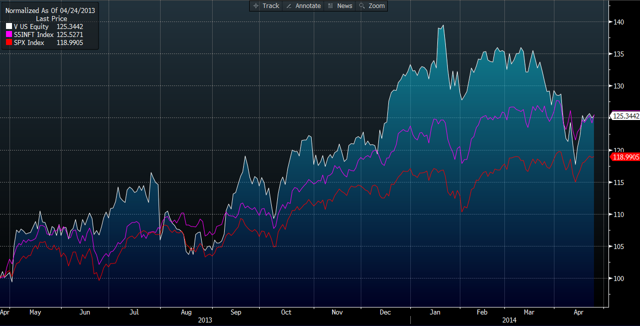 Q2 2014 Earnings Recap
Operating revenue of $3.2 billion, a 7% increase year-over-year
Net income of $1.6 billion, up 26% year-over-year, and a diluted EPS of $2.52, up 31% year-over-year
Quarterly cash flow of $824 million
Repurchased 5.1 million shares of Class A common stock at a price of $217.61/share, using the company's $1.1 billion cash at-hand
Strong performance is based on successes in secular trends as well as positive spending momentum
"Our underlying business drivers remained strong during the fiscal second quarter with payments volume continuing to grow at solid levels," Charlie Scharf, Visa CEO, said in a statement Thursday afternoon. "As expected, softer net revenue growth was impacted by a strengthening U.S. dollar and difficult year-over-year comparisons due to non-recurring items. We expect this impact to be slightly more pronounced next quarter before rebounding in our fiscal fourth quarter, which will be more reflective of the fundamental strength of the business model."
Outlook on Q3 2014
Estimated revenue of $3.24 billion, an 8% increase year-over-year
Estimated diluted EPS of $2.19, a 16% increase year-over-year
Downside Risks and Going Forward
Visa's downside risks look incredibly standard at first glance. Many of its potential liabilities are generally the result of major macroeconomic changes that can affect consumer spending worldwide. Examples of these risks include: the impact of laws and marketplace barriers, developments in litigation and government enforcing, economic and political fragility in different parts of the world, as well as rapid technological advancements that will require the company's full attention. Fortunately, however, Visa has a large financial moat that it can use to protect itself from these risks, and I am confident that the upside that the company has more than outweighs its potential risks.
What the company has going for itself is incredibly impressive. It only has 9,500 employees even though it earned $11.8 billion last year, which is over a million dollars in revenue per employee - talk about margins. Their payment network is only at a quarter capacity and they have also kept fraud losses at only 6 cents per $100 processed on their network. They are roughly double the size of MasterCard (NYSE:MA) and seven times the size of American Express (NYSE:AXP). Since the IPO in 2008, Visa has bought back 20% of its entire stock and has continued to raise dividends with a goal of a 20% payout ratio. Currently, the company is at a 17% payout ratio, which opens up a ton of room for dividend growth above current cash flows. Overall, with revenues doubling since its IPO, no debt, strong margins, and a reputation as one of the world's largest payment processors, Visa has a huge economic moat around its business. Mobile transactions will also only continue to grow and Visa will maintain its relationships with companies such as Square and Monitise (OTCPK:MONIF). Honestly, Visa seems like a no-brainer. There is very little risk and it has a business model that is poised for success.
Financial Analysis and Valuation
When looking at Visa's data compared to its competitors in the Bloomberg-based Peer Analysis spreadsheet, it is clear to see that it is generally a winner in most fields. Its key ratios are mostly in-line with its main competitors such as MasterCard and American Express with the largest thing standing out being the EV/EBITDA ratio. What is most impressive to me, however, are the company's margins. Look at that. 62.67% EBIT Margin and a 61.61% Profit Margin compared to the peer medians of 19.48% and 19.70%, respectively. Talk about profitability. Furthermore, the company holds no debt and has a much better Day Sales Outstanding ratio than its peers, allowing it to collect its cash assets much quicker.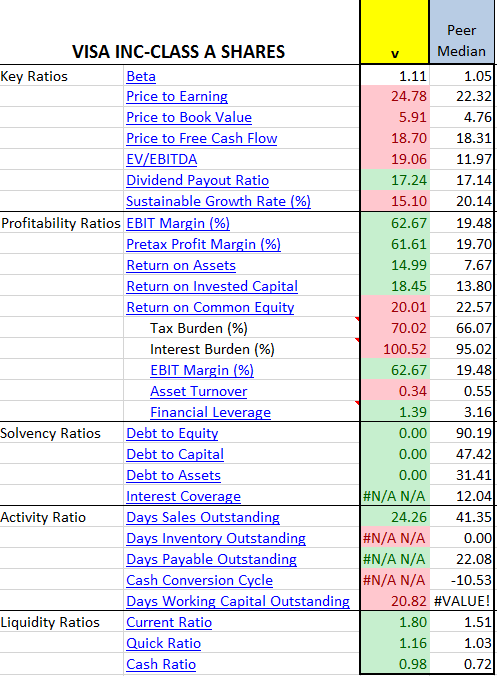 Final Take and Conclusion
Visa's business operates on a highly profitable model that serves as a terrific investment. The company continues to churn out profits and its success is largely due to its impenetrable reputation as one of the world's largest payment processors as well as its impressive financial stability. With the future of payments going cashless, I see Visa as a huge opportunity. This company sticks out as a leader in its field and is a company to watch for the long-run.
Disclosure: I have no positions in any stocks mentioned, and no plans to initiate any positions within the next 72 hours. I wrote this article myself, and it expresses my own opinions. I am not receiving compensation for it (other than from Seeking Alpha). I have no business relationship with any company whose stock is mentioned in this article.