Contrary to Popular Belief
Seasoned traders will have their eyes trained on the release of short interest information today after market close. Investor sentiment on BlackBerry (BBRY) is now more positive than we are led to believe. Even the bears are turning bullish. With the overwhelming response to my last article came requests to continue to write articles providing factual reporting on the company. I thought my job was done but my readership proves me wrong.
While I diligently tended to the comments section of the article, I came under fire for being a member of Loeb's hedge fund or a BlackBerry employee. While efforts to discredit my writings were underway, my mind turned to questioning the short interest on BlackBerry. Where is it at now, really?
My digging led to a most interesting discovery: the short interest is lower under John Chen's leadership when compared to the late stages under Thorsten Hein's leadership. Of course, it took a while for things to get down to short coverings of under 6 days. When it was first announced in November that Chen was in as interim-CEO, the panic and uncertainty was a boon for the bears (as witnessed in the spike seen in the chart from NASDAQ below, where a red star marks the time period).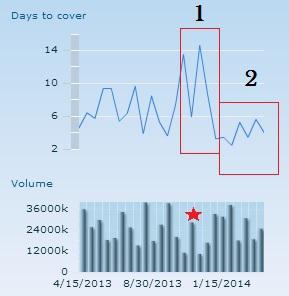 Of course, at some point, the relief with the pace of the planned recovery far exceeds the speed of the recovery. This is what I think we are witnessing right now: a reality check. Hence, the stock is in the $7s. Volatility (whether in a particular stock or in the market in general) is always the result of panic and fear. We have reached a point where the worst is behind us. Short interest days to covering has consistently stayed below 6 and short interest of under 100,000,000 is now not an uncommon sighting. Since December 31st of last year, we have been seeing this phenomenon. A detailed look at the data from NASDAQ is presented below: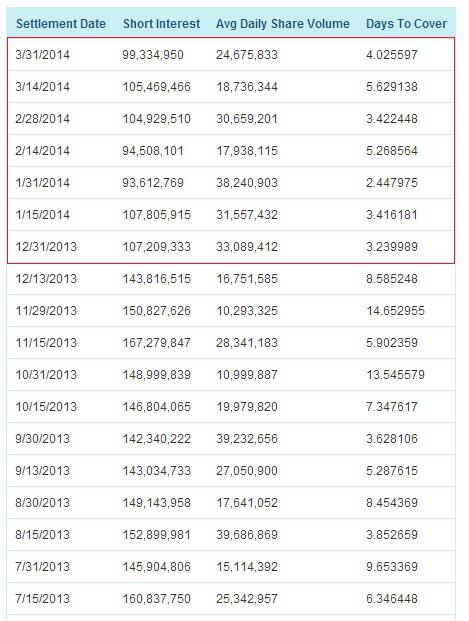 I am predicting that the short interest will continue to drop as we make our way through summer. Beyond the expectations surrounding the November release of the Classic and BES12, assisting the climb out of the doldrums will be the following factors:
While BlackBerry is not going to make you a quick buck, it can be the alpha in your investment portfolio that will boost your return in the long run. Some eyes are on the company's performance over the next 6 months to a year, other eyes are more focused on the 4 PM EST release of new short interest information. I will keep you posted.
Disclosure: I am long BBRY. I wrote this article myself, and it expresses my own opinions. I am not receiving compensation for it (other than from Seeking Alpha). I have no business relationship with any company whose stock is mentioned in this article.