By Lara Crigger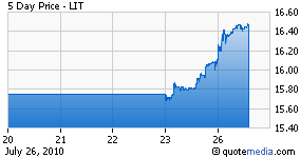 Global X, which has recently released funds targeting silver miners and copper producers, last week launched an ETF focused on lithium companies — the first of its kind.
The Global X Lithium ETF (NYSEARCA:LIT) tracks the Solactive Global Lithium Index, a benchmark made up of large, liquid companies in the lithium space. As of the fund's launch last Friday, that broke down to about 51 percent miners, 49 percent lithium-ion battery makers. That's a key point, because this means that LIT doesn't just provide access to pick-and-shovel producers, but also to the battery makers — the industry's real golden goose.
Why lithium batteries? With only three electrons and protons per atom, lithium is the lightest of all metals, giving any battery made from it a high energy-to-weight ratio. Jose C. Gonzalez, COO of Global X Funds, said in the launch announcement:
[Lithium] has the capacity to store electric energy more efficiently than any other material. Efficient electric energy storage is necessary for all green energy products and the computer systems that control them — like electric cars, solar, wind and water power.
But lithium's not just a green metal. Lithium batteries power many modern devices — everything from airplanes to wristwatches. More than 90 percent of laptops are lithium-powered, as are over 60 percent of cell phones. In addition, many next-gen electric cars will depend on lithium-ion batteries, including the Chevy Volt, the Nissan (OTCPK:NSANY) Leaf and the Tesla (NASDAQ:TSLA) Roadster.
That's probably why prices for lithium metal have tripled in the past 10 years, according to Credit Suisse. But so far, investors looking for pure plays in the space have remained out of luck.
Currently, lithium futures are not available for trade on any exchange, leaving investors with no choice but to peck through individual producer stocks — always a risky proposition. That goes double for the lithium space, mostly populated either by juniors just starting out, or by diversified mega-miners for which the metal accounts for negligible portions of their overall business. A similar situation exists for lithium-ion battery makers, many of whom tend to be part of larger, diversified energy storage businesses, like Panasonic (PC) or Duracell (NYSE:PG).
Hence why the ETF is so useful: It provides access to 20 companies, all primarily in the lithium biz.
As of launch, the fund has exposure to seven countries. Its benchmark's largest exposure — 49 percent — went to US companies, although the Chilean miner Sociedad Quimica y Minera (NYSE:SQM) took the top weighting (20.16 percent). Other highly weighted companies include FMC Corp (NYSE:FMC) (16.67 percent), an agricultural and industrial chemical company; and Rockwood Holdings (NYSE:ROC) (7.93 percent), a producer of lithium compounds.
LIT has an annual expense ratio of 0.75 percent, making it slightly more expensive than Global X's silver or copper miner ETFs (SIL and COPX, respectively). Still, the fund saw relatively brisk trading in its first day, of more than 44,000 shares.
The Institutional Angle
Interestingly enough, Global X expects this fund to garner most of its interest not from retail investors, but institutional ones. As Global X CEO Bruno del Alma told Index Universe on Friday:
We've had a large number of inquiries about this product, even months before launch, coming from some of the largest and most sophisticated hedge funds and asset managers out there.

This will be an ETF led by heavy institutional interest and it could easily become our flagship fund this year.
What's more, LIT apparently even had its genesis in a special request from hedge fund MC Capital Advisors, who went to Global X seeking a way to allow large investors access to the space.
According to the WSJ, R. Marcelo Claure, a Bolivian mogul and investor in MC Capital Advisors, provided the ETF's seed capital, which is used to create the fund's initial offering of shares. He will also receive half the fund's profits.
With the full weight of institutional investors behind it, will the lithium ETF take off? Or will it fizzle out, as its sister fund, COPX, has? Only time will tell.
Disclosure: No positions