Facebook (NASDAQ:FB) absolutely annihilated earnings on both lines earlier this week, a headline that was somewhat overshadowed by Apple's massive beat. Ex-items, the company posted $0.34/share compared to non-GAAP estimates of $0.12/share - that's a massive beat. On the top line, the company posted $2.5 billion in revenue - which demolished analyst expectations of $2.36 billion.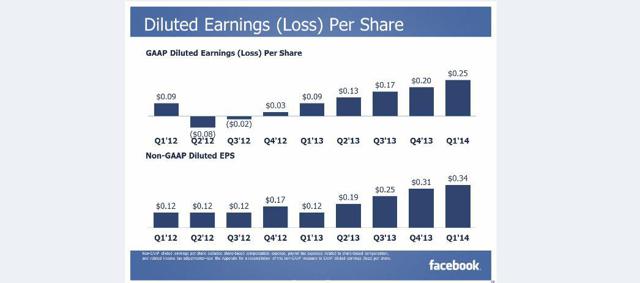 I was excited to see the numbers as they came out - I've made earnings week interesting for myself by buying Apple (NASDAQ:AAPL) and Microsoft (NASDAQ:MSFT) calls ahead of time, as well as a straddle in Facebook and a strangle on Amazon (NASDAQ:AMZN). So far, Facebook has hosed me. Amazon looks likely to hose me today, too.
Imagine my delight when I looked up at CNBC in the airport I was in and saw that Apple had reported blowout numbers, and that Facebook had done exactly the same. I ordered another martini and sat and watched after-hours trading like I was watching the 3rd period of a playoff hockey match.
Apple did exactly what I would have liked. Started on its way up, likely to head to $600. I'm content holding my June 21st calls instead of selling immediately after market opened.
Facebook, on the other hand, stumbled around like a drunk without a sense of direction. I was baffled.
Facebook had added roughly 50 million new monthly active users in Q1, making its total now 1.28 billion. It also added to its Daily Active Users metric, which stands at 802 million, an increase from 757 million in the quarter prior. In other words, the company continues to grow aggressively.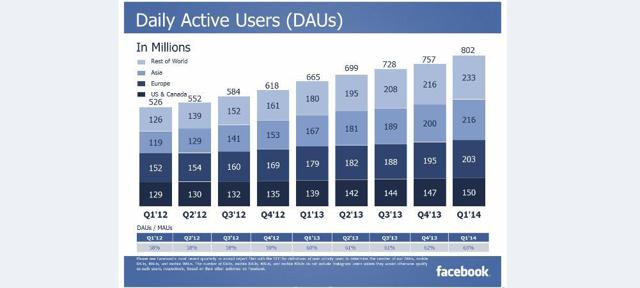 Mobile users also continue to grow, as does mobile advertising, which accounts for more than half of Facebook's total revenue coming in.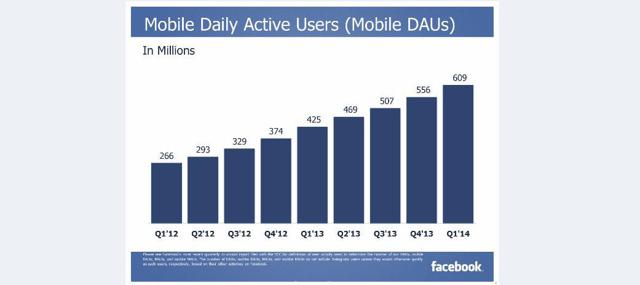 Put simply, Facebook is doing exactly what it needs to do as a growing company - it's hitting or exceeding the targets put forth for it, and isn't showing any signs of regression as of yet.
So, going into trading yesterday, I was still getting a decent premium on the back end of my Facebook July 21st straddle, so I dumped my puts and doubled down on my calls. Facebook obviously has been monitoring my trading, and responded by taking an obligatory dump mid-day.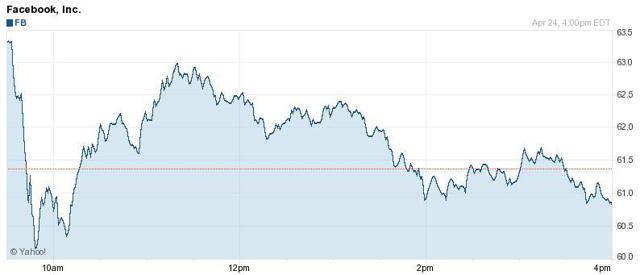 Like my Apple calls, I plan on holding these a while. I'm impressed by the numbers that Facebook put forth.
The only bearish items I could possibly see coming out of Facebook's report were that it was perhaps a bit behind in the monetization of Instagram and video ads. If the market thought these being monetized were an integral part of Facebook's financial plan for the coming year, they may not have been amused by Facebook's COO saying that there's no spot for them in 2014, but rather in 2015.
Additionally, Facebook's CFO, David Ebersman is leaving the company, to be replaced by former Zynga CFO, David Wehner. Maybe it's people fearing the curse of Zynga touching anything that has to do with Facebook.
Zynga's tenure as a public company has been anything but ceremonious.
Additionally, there's likely some risk associated with money pouring out of momentum stocks and into value stocks over the last couple of months. All momentum stocks, not just Facebook, have lagged.
After reviewing my options yesterday, I decided that I was going to get behind Facebook here. I like the numbers that the company posted and am going to stay long the company for the time being. I'm hardly worried about the lack of Instagram monetization for 2014 - the company seems to be growing just fine without it for the time being. The CFO issue is likely to go unnoticed - you've CFO'd one social media company, you can CFO another one.
Facebook was trading unchanged pre-market on Friday at 5 a.m. CST, amidst tensions in Ukraine and lower futures.
Best of luck to all investors.
Disclosure: I am long FB, AAPL, MSFT. I wrote this article myself, and it expresses my own opinions. I am not receiving compensation for it (other than from Seeking Alpha). I have no business relationship with any company whose stock is mentioned in this article.