Yesterday, Johnson & Johnson (NYSE:JNJ) announced yet another annual dividend increase, as Seeking Alpha has covered here. This marks the 52nd consecutive dividend increase from this icon, and this comes just about two weeks after another dividend giant, Procter & Gamble (NYSE:PG), raised its dividend for the 58th consecutive year.
Since investors usually put these two stocks together when evaluating options, this article about Johnson & Johnson uses the same metrics and even similar statements used in the article about Procter & Gamble. Let us get into the details.
Payout Ratio:
The new annual dividend of $2.80 gives the stock a payout ratio of 53%, based on trailing twelve months' EPS of $5.23.
Based on 2014 and 2015 earnings estimates, the forward payout ratio stands at 47% and 44% respectively.
The fact that the payout ratio still looks reasonable after 52 years of increases tells us quite a bit about the earnings prowess and buybacks.
Free Cash Flow: Now that we've established that the dividend seems safe from earnings/share perspective, let us take a look at the free cash flow [FCF] strength.
The minimum quarterly FCF over the past 5 years stands at $1.69 billion.
The maximum FCF was $5.13 billion and the average FCF is at $3.34 billion.
Total outstanding shares currently stand at 2.82 billion.
So the company's quarterly dividend commitment to shareholders is $1.97 billion (2.82 billion shares times $0.70 dividend/share).
In a nutshell, free cash flow looks strong enough to cover and increase dividends. Only two quarters in the last 5 years recorded FCF below the quarterly dividend commitment, and that too just by a little margin.
Dividend Growth Rate:
The table below shows the dividend growth rate for Johnson & Johnson over the past 5 years. The average stands at a respectable 7.4%. This rate looks set to continue for the next few years at least, as earnings per share are also expected to grow at the same pace.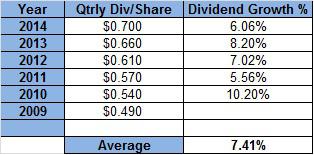 (Source: Yahoo Finance)
Extrapolation:
The table below assumes a safe 7% dividend increase/yr for the next 10 years.
The yield on cost is very likely to double, even under pessimistic scenarios.
More optimistically, if the earnings grow at 7%/yr, as expected, the EPS will be $7.33 in 5 years. If the company sticks to its current payout ratio, the annual dividend/share will be at $3.88. That represents a 40% increase in dividends from the current level.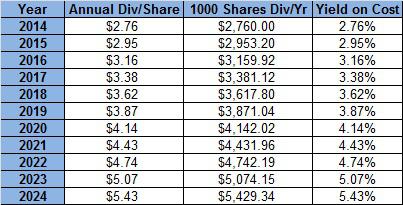 (Source: Current dividend and share price from Yahoo Finance)
Bonus: This section has been added to the article at the last minute after SA contributor David Van Knapp published this piece highlighting Johnson & Johnson. Johnson & Johnson is one of the very few companies with:
a) AAA credit rating.
b) A high position in the S&P High Quality Rankings.
c) Profitability, Growth, and Safety.
Check out that article from David Van Knapp to know more about these metrics and how Johnson & Johnson and other well-known stocks fare in these metrics.
Conclusion: Despite the boring looks of this stock, this stock's attributes should attract almost everyone investing for the long term:
A massive dividend growth streak
A low beta of 0.56
5-year expected earnings growth of 7%/yr
Constant and predictable free cash flow
Do not try to time the highs and lows of this stock, but rather, let time be on your side by focusing on the long term.
Disclosure: I have no positions in any stocks mentioned, and no plans to initiate any positions within the next 72 hours. I wrote this article myself, and it expresses my own opinions. I am not receiving compensation for it (other than from Seeking Alpha). I have no business relationship with any company whose stock is mentioned in this article.