How a financial myth can transform the reality of the market?
"A lie told often enough becomes truth" - Vladimir Lenin.
For about six months now we have read a slew of analysts downgrading the Offshore drilling sector because the market is considerably "softening". At least, it is the reason invoked to justify the steep downgrades and here is the recent comment explaining the "dreadful downturn" which pushed some analysts to cut target of some well-known Offshore drillers by as much as 25%, in a single move, and even advised to sell:
1 - April 17, 2014: The case of BofA Merrill Lynch about the downgrade of Seadrill (NYSE:SDRL) from "buy" to "neutral" with a target reduced from $46 to $36.
The Economic daily, on April 17, 2014, said that analysts at BofA Merrill Lynch, downgraded SDRL and indicated their reasoning for the downgrade:
"We downgrade Seadrill to Neutral as we are no longer confident the driller can be resilient to the downturn in offshore drilling demand. We reduce utilisation rates for some rigs this year and pull down our dayrate assumptions to US$500k for all ultra deepwater uncontracted capacity. This leads us to cut our earnings by 15% 2014-16E, leaving Seadrill the most expensive offshore driller, trading on a PE of 9.2x15E, a 33% premium. As a result of the cuts our PO falls to NOK215/US$36."
2 - April 14, 2014: Deutsche Bank upgraded Transocean (NYSE:RIG) from "sell" to "hold", target $45. Streetinsider.com quote Mike Urban:
"The offshore drilling group has underperformed for most of 2013 and into this year as the market downturn has weighed on the group as supply growth continues at a rapid clip. We are upgrading RIG to a HOLD rating from SELL as its backlog remains strong, the stock feels like its technically over-sold and it has some potential near-term catalysts with self-help initiatives and improved return to shareholders/ progress on an MLP. That said, the backdrop remains challenging and we still expect newbuild rates and the jackup market to roll lower later this year which is likely to temper any enthusiasm."
3 - April 11, 2014: Credit Suisse downgrades SDRL to "neutral" with a price target down from $40 to $30.
4 - February 7, 2014: Global Hunter Securities downgraded Diamond Offshore Drilling (NYSE:DO) from "neutral" to "sell" with a price target of $38.00. Streetinsider.com quoted Brian Uhlmer:
"On top of DO's newbuilds entering into service under difficult market conditions, we see lowered demand for deepwater capability and lowered dayrates. Consequently, operators are settling for shorter contracts. We believe 2014 will see further rig deactivations and declining dayrates for less capable units. We also expect the oversupply in this class to lead to more well-to-well work, which will likely lead to contract gaps and lower earnings quality. We believe that an 8x multiple on 2015E EPS is more than fair, with a resultant price target of $38 (down from $61 previously). With that much downside potential we are downgrading DO shares to a Sell rating (from Neutral)."
5 - January 24, 2014: Wells Fargo downgrades Noble (NYSE:NE) from "outperform" to "market perform" with a price target of $33-$35 (from $46-$48). Streetinsider.com quoted analyst Matthew D. Conlan:
"We are downgrading NE to Market Perform and lowering earnings estimates and our valuation range. Our estimate revisions incorporate lower utilization for NE's older midwater and deepwater semis, especially the Ferrington, Driller, and Wolff, which we expect to all see substantial idle time, and perhaps one or more could even get cold stacked. We are decreasing our valuation range to $33-$35 from $46-$48. Our valuation range is based on 3.5x 2015E EBITDA for NE's soon-to-be-spun-out standard spec assets ("Spinco") and a 5.5x multiple of 2015E EBITDA from the remaining assets ("Remainco"), yielding a blended 2015E EBITDA multiple of 5.0-5.2x."
Analysts' real negative effect on the offshore drilling sector:
This situation had a negative effect on most of the stocks on the offshore drilling sector, which suffered a double-digit haircut since November 2013. If we look at the 9 companies indicated in the graph below, the average loss is 18.5% in six months.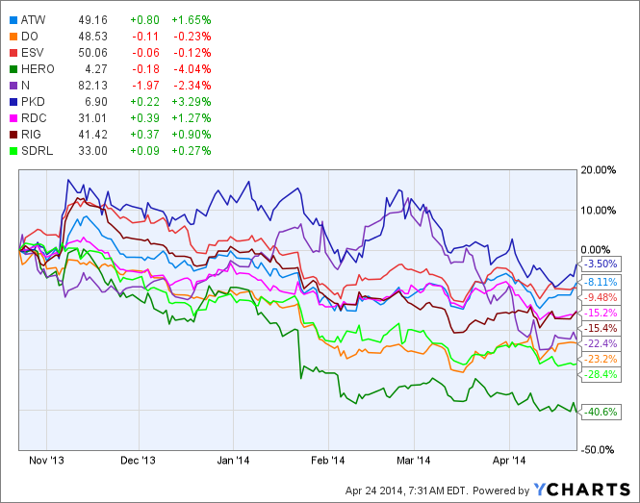 ATW data by YCharts
However, is it really warranted? Do we have the hard facts that can justify this huge correction or is it again the case of the mountains who gave birth to a mouse (to paraphrase Horace)?
Analysts' recent argumentation:
The arguments presented repeatedly were that the major oil companies were reducing their spending level or capital expenditure in this offshore drilling sector; and were delaying the big projects to 2015 or 2016, leaving a difficult unexpected financial gap of about one to two years.
Meanwhile, offshore companies were not careful enough in their future planning, and will add to the crowded market almost 27 new units in 2014 and 2015, pushing supposedly dayrates lower, because the Offshore backlog for 2014 and 2015 is not strong enough and will force these companies to reduce dayrate at discount in order to "fill the gap."
David Wethe from Bloomberg.com wrote on April 7th, 2014:
"With 11 new ultra-deepwater rigs entering the market this year and another 16 next year, the highest dayrates for the world's most expensive drilling vessels are expected to be near $520,000, Charles Minervino, an analyst at Susquehanna International Group, wrote in an April 2 note to investors. Two years ago, Ole Slorer, an analyst at Morgan Stanley, projected rates climbing to as much as $714,000 that year."
Companies like Transocean Ltd., Seadrill Ltd., Noble Corp., Diamond Offshore, Ensco plc. (NYSE:ESV), Rowan Cos Plc. (NYSE:RDC), Hercules Offshore (NASDAQ:HERO), Parker Drilling Co. (NYSE:PKD), Atwood Oceanics Inc. (NYSE:ATW), and others, will have to struggle to meet expectations. Right?
My intent here is not to denigrate and over-criticize the analysts' work. I believe the profession is doing a great job in general, to help and guide investors in their future financial decisions. Nonetheless, I cannot give them a total clear approval, because in many instances, it seems that the same analysts are placing themselves in a biased and weak position which, consequently, may influence greatly the way they are viewing and rating a particular stock or even a whole industry.
Conflict of interest is an important issue, and will remain that way for many years to come. There is too much money at stake to think the main market players are perfectly honest and play by the same rules as you and me.
Softness in offshore drilling sector: A myth or a reality? Both maybe?
As we have seen and read, we can now assert without any doubt that the offshore drillers are experiencing a softness in the market that will last as much as two years. Or can we, really?
As an investor and long time shareholder of SDRL and RIG, I tried to find out if this "slowdown concept" has been scientifically verified by concrete studies or sufficient data to give some credence to the downturn theory widely accepted as the truth. I was surprised to recognize that this truism was based, in fact, on a series of hypothetical conjectures and astonishingly rare facts. Here are two studies that are contradicting the analysts' opinion.
A - The bullish studies
1. Offshore Drilling Market By Services (Contract Drilling, Directional Drilling, Logging While Drilling), Applications (Shallow Water, Deepwater, Ultra-Deepwater) And Geography - Global Trends & Forecasts To 2018, by MarketandMarket.com on June 2013:
"The maturity of onshore oil reserves shifts the focus of operator companies towards deep water offshore areas. The increasing demand for energy together with increasing investment in deep and ultra deep offshore exploration activities will drive the global offshore drilling market to $121.1 billion by 2018, growing at a CAGR of 10.6% from 2013 to 2018. The factors driving the growth in the offshore drilling services market are the sustaining high oil prices, technological advancements, and a surge in deep and ultra deep water activities. The key market players are interested in investing a lot more in offshore oilfields to meet current and future energy needs. Geographically, new avenues in the Asia-Pacific market together with its booming economy and rapidly increasing energy consumption is expected to experience the highest revenue growth during the next five years."
2. Concise Analysis of the Offshore Drilling Market - Global Trends & Forecasts To 2018. Researchandmarket.com, February 28,2014.
"Increasing activities in Asia-Pacific offshore drilling, and growing deep to ultra-deep water drilling will effect a major demand for the global market, making the offshore contract drilling and other oilfield services key players in the development of offshore area. The companies involved in providing offshore service business are thus expanding their offshore rig fleet and investments in the emerging markets of Asia-Pacific and existing markets of Brazil, US Gulf of Mexico (US GOM), and West Africa. Contract agreements with oil operator companies, technological advancements and innovative new products are the key strategies that help service companies maximize their revenues."
B - Q1 2014/2013 Revenues comparison. (9 Offshore drilling companies' comparison)
Q1

ATW

$ Million

DO

$ Million

ESV

$ Million

HERO

$ Million

NE

$ Million

PKD

$ Million

RDC

$ Million

RIG

$ Million

SDRL

$ Million

2012
171.6
769
1,021
143
798
177
333
2,110
1,050
2013
253.2
730
1,150
186/205
971
167
394
2,197
1,265
2014
May
710
29 April
257
1,251
May
May
May
May
YTY%
-
-2.74
-
+37.86
+28.83
-
-
-
-
Hercules Offshore released its Q1 2014 earnings on April 23, 2014. John Rynd, president and CEO said:
"Today the balance between demand and supply jackup rigs in U.S. Gulf of Mexico remains healthy. During the first quarter we were able to keep most of our rigs under contract and on the payroll."
It is a bit early to draw any meaningful conclusion regarding Q1 2014; however, we can see that Noble Corp. which is always a bellwether for the whole industry posted some very good revenues for the first quarter 2014, up 28.83% compared to the same period in 2013. The conference call can provide some clues.
Simon Johnson, SVP of Marketing and Contracts, said:
"As areas such as Mexico for example make opportunities available and the outer demand picture becomes even clearer. So on balance could we be looking at meaningful higher activity in 12 guided month time. We believe this is likely. So in the market generally we expect that the increase in customer inquires in recent months. And we anticipate that we'll continue see improvements in contracting opportunities as the year progresses."

"We are also convinced with the long-term fundamentals of the offshore industry and that we'll experience once again an opportunity rich environment. This confidence stems primarily from the enduring stability in the crude oil price that ultimately drives that market, which remains well above material investment threshold. Also the long-term shift in our customer base from, one, dominated by a small number of multinational oil companies to a much richer ecosystem characterized by the problems at NICs, independents who are increasingly responsible for opening up new hydrocarbon basins and a growing contingent of aggressive smaller players with low overheads and different value drivers. This coupled with the remarkable growth and proven hydrocarbon basin especially in the deeper waters of the globe bodes well for long-term health of our sector."
Today, it was the Diamond Drilling Q1 2014 that confirmed a soft market but nowhere near what analysts are predicting. (Zacks equity research)
"The outperformance was mainly backed by higher dayrates and lower contract drilling expenses. However, the quarterly results decreased 26.8% from the year-earlier earnings of $1.27 per share."

"Ultra-Deepwater floaters recorded an average dayrate of $387,000, up from $360,000 in the year-earlier quarter. Deepwater floaters realized an average dayrate of $418,000 versus $389,000 in the year-ago quarter. Mid-water floaters recorded an average dayrate of $276,000, up from $262,000 in the year-earlier quarter. Jackup rigs' dayrates averaged $93,000, up from $85,000 in the first quarter of 2013."
C - Impressive backlog throughout the Industry.
| | | | | | | | |
| --- | --- | --- | --- | --- | --- | --- | --- |
| | ATW | DO | ESV | NE | RDC | RIG | SDRL |
| Backlog $ Billion | 3.59 | 6.8 | 11 | 10.7 | 5.0 | 27 | 20.2 |
Conclusion
The offshore drilling sector has suffered greatly these past six months due to a temporary softness of the market which cannot be denied and has been recognized by the industry itself repeatedly. However, this situation has been amplified by a negative and mostly unjustified outlook by the analyst community in general.
The important question is to evaluate if the rating process has anything to do with reality, or if it is just simply a myth?
I still have to find a complete study of the dayrate fluctuation for the last few years, and an analysis based on solid and relevant data. The only studies available are forecasting a healthy growth until 2018.
The offshore drilling business is expanding around the world fueled by a strong crude oil price, as we speak. Backlogs throughout the industry are healthy and dayrate seems increasing. Looking at Rigzone dayrate daily is showing a good trend now.
Rig Type
Working
Total Fleet

Dayrate

K $

Utilization %
Drillship <4000'WD
6
8
257
-
Drillship 4000'+ WD
80
95
511
-
Semi-sub <1500' WD
11
15
278
-
Semi-sub 1500'+ WD
65
80
346
-
Semi-sub 4000'+ WD
91
117
430
-
Total
253
315
80.3
Jackup rigs (8 types)
397
528
97
75.2
Barge + Tender + others (6 types)
199
409
92
48.7
The argument advanced by analysts is made mainly by asserting a priori segmented numbers that do not cover the whole rig spectrum, and thus cannot be really justified. Taking into account only the ultra-deep drillships and extrapolating earnings is not acceptable and appears unethical, in my opinion. Analysts should not rate the industry based essentially on an "educated guess" on a market softness, and a high, unusual number of new rigs coming to an already crowded market.
The more I look at this situation the more manipulated the whole process looks like. Nothing has been presented to corroborate the dayrate estimates used to downgrade the industry, and the recent earnings are showing that despite some evident softness, the basic evaluation tool used by analysts was based on a flawed model, if any model at all.
I would not assume any collusion, but this pointless rating and downgrades cost the offshore drilling shareholder community millions and millions of dollars in loss. One day, the trend will reverse without warning, when the analysts will not be able to support their opinion anymore, faced by the overwhelming facts which are now piling up slowly.
How is it possible to depress a strong sector like the offshore drilling, which presents billion dollars in backlog, positive earnings, future growth and so enticing secured dividends up to almost 12%?
And yet, they did. As value investors, we should recognize this opportunity and use it to build up a strong portfolio, I did.
"Mountains will labour: what's born? A ridiculous mouse!" Horace.
Disclosure: I am long RIG, SDRL. I wrote this article myself, and it expresses my own opinions. I am not receiving compensation for it (other than from Seeking Alpha). I have no business relationship with any company whose stock is mentioned in this article.