Diversification is essential in any portfolio, but for dividend investors who rely on dividend payments for income, it becomes even more important. While it's tempting to load up on the high-yielding utility companies or communication companies, adding small positions in a variety of sectors can help investors through cyclical patterns in the economy. In this article, I'll discuss the potential value of adding entertainment companies Regal Entertainment (NYSE:RGC) and Cinemark Holdings (NYSE:CNK) to your dividend income portfolio.
| | | | | | | | |
| --- | --- | --- | --- | --- | --- | --- | --- |
| | Market Cap | P/E | Fwd. P/E | Dividend Yield | Beta | Theaters | # Movie Screens |
| Regal Entertainment | $ 3.0 | 18.8 | 16.6 | 4.6% | 0.84 | 578 | 7381 |
| Cinemark Holdings | $ 3.4 | 23 | 16.1 | 3.4% | 0.95 | 482 | 5563 |
The North American movie theater industry had a record year in 2013, achieving nearly $11 billion in admission revenue. While revenue and attendance will fluctuate with the release of blockbuster movies, the long-term health of the industry remains strong. Worldwide attendance continues to be consistent, with viewership remaining near the 5-year average of 1.35 billion people in each of the last 5 years. Two of the largest players in this space are Regal and Cinemark. Both companies have a huge presence in the U.S. and Latin American countries.
Regal Entertainment
Regal operates 578 theaters in 42 states, along with Guam, Saipan, American Samoa and the District of Columbia. In 2013, the company had approximately 229 million attendees.
Quarter ended Mar. 31

($ millions)

2014

2013

Y/Y % change

Total Revenue

$ 726

$ 642

13.1%

Expenses

$ 656

$ 585

12.1%

Operating Income

$ 70

$ 57

22.8%

EBITDA

$ 86

$ 119

-27.7%

Adj. EBITDA

$ 136

$ 114

19.3%

Net Income

$ (1)

$ 22

-104.5%

EPS (Diluted)

$ (0.01)

$ 0.14

-107.1%

EPS (Adj. Diluted)

$ 0.20

$ 0.13

53.8%
Source: Regal Earnings release
Regal had record revenue and near-record adjusted EBITDA in 1Q2014. However, a $32.6 million after-tax loss on extinguishment of debt hurt the bottom line significantly for the quarter. The CEO, Amy Miles, said:
"A healthy box office environment and our continued focus on efficient operations enabled us to achieve record total revenue and near record Adjusted EBITDA in the first quarter."
Regal declared a quarterly cash dividend of $0.22, payable June 13, 2014. This gives the company a forward dividend of $0.88 and a forward yield of 4.7%. This is an impressive dividend that is close to the majority of well-known dividend stocks in the utility and communication sector. Regal also has a great track record of paying quarterly dividends and paying out large special dividends when the company has the money on hand. The last special dividend was on 12/7/12, and it paid out $1/share in addition to the quarterly dividend.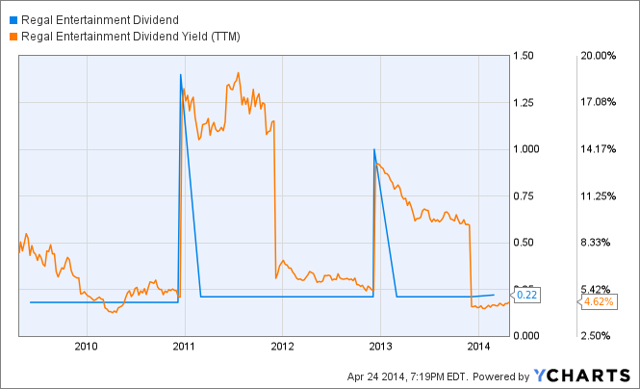 The first quarter had few blockbuster releases, but the second quarter and summer of 2014 is packed with blockbuster movie releases that will drive up revenue. On the first-quarter conference call, Regal CEO said:
"Early second quarter industry box office results have been very strong and we are optimistic regarding box office prospects for the upcoming summer movie season."
The company should continue to have a very strong 2014, which should lead to higher earnings and the potential for a special dividend payment toward the end of 2014 or start of 2015. The company tends to payout this special dividend every 2-3 years, and it will be 2 years at the end of 2014.
Cinemark Holdings
Cinemark Holdings is the third-largest movie theater operator in the US, with 334 theaters and 4,457 screens in 40 states. The company is also one of the largest operators in Latin America, with 148 theaters and 1,106 screens across 12 countries. In 2013, Cinemark's worldwide attendance set an all-time high at 276.6 million, an increase of 4.9% over 2012. The company expects to open 13 new theaters and 152 screens in 2014.
Year ended Dec. 31

($ millions)

2013

2012

Y/Y % change

Total Revenue

$ 2,682

$ 2,473

8.5%

Expenses

$ 2,267

$ 2,089

8.5%

Operating Income

$ 415

$ 383

8.4%

EBITDA

$ 625

$ 589

6.1%

Net Income

$ 150

$ 171

-12.3%

EPS (Diluted)

$ 1.28

$ 1.47

-12.9%
Source: Cinemark Holdings earnings release
While Cinemark has fewer screens than Regal, it has a higher operating margin at 15%, compared to 11% for Regal. This, along with increased growth has led to a higher P/E and market capitalization for Cinemark. The company has paid a quarterly dividend since 2007, and has a current quarterly dividend at $0.25/share. This gives the company a forward dividend of $1.00/share and a forward yield of 3.4%.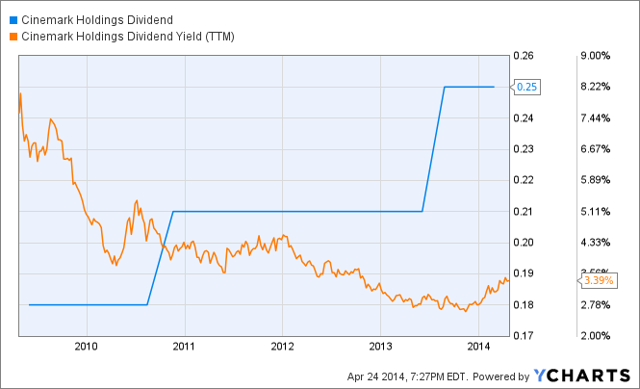 Like Regal, Cinemark will benefit from a strong movie lineup throughout 2014. The company is scheduled to release first-quarter earnings on May 6, 2014. Looking at the results from Regal, it's likely Cinemark will have a decent first quarter and set itself up nicely for a strong second quarter.
In a recent Barron's article, Osterweis Capital's Matt Berler picked Cinemark as a media stock that is set to soar. Berler says, Latin American results will eventually come around and the company is trading 11% below Regal relative to next year's projected earnings. Berler goes on to say, Cinemark could be taken out by private equity, or if not, it could rise to $40/share within 2 years.
Conclusion
Regal and Cinemark are dominant movie theater operators in North America that pay attractive and sustainable dividends. The second quarter is set up with incredibly strong movie releases, which include Captain America: Winter Soldier, The Amazing Spider Man 2, Godzilla, X-Men: Days of Future Past, Disney's Maleficent, How to Train Your Dragon 2 and Transformers: Age of Extinction. With a strong dividend and even stronger earnings growth, both companies can be excellent additions to a dividend portfolio.
Disclosure: I have no positions in any stocks mentioned, and no plans to initiate any positions within the next 72 hours. I wrote this article myself, and it expresses my own opinions. I am not receiving compensation for it (other than from Seeking Alpha). I have no business relationship with any company whose stock is mentioned in this article.