(Note that Avnel Gold (OTC:AVNZF) shares are extremely illiquid on both the OTC market an on the TSE (AVK). Investors are advised to consider this illiquidity before taking a position. Specifically investors need to be sure that this is a position that they will not have to liquidate on short notice.)
Avnel Gold is one of the best performing gold miners year to date, with shares rising over 60%. Unlike most of its peers the bulk of these gains came in March after the company released its latest resource estimate and its preliminary economic assessment for its flagship Kalana Mine in Mali. This updated information sent shares soaring, and I suspect that we can see further gains after an initial consolidation period.
The reason for the gains, which totaled more than 100% in just over a week, was the company's announcement of compelling production estimates for the Kalana Mine.
In short, the project contains one of the highest grade surface deposits in to my knowledge--ore grades are estimated to exceed 4 grams per tonne. By comparison there are economically viable surface mines with grades of less than 1 gram per tonne. The company hopes to build an open pit surface mine in the next few years in order to create one of the lowest cost gold mines in the world.
The cash-flow that will be generated from the mine, even at lower gold prices, will easily pay for the $146 million cost of constructing it. As a result I think that Avnel Gold will have a relatively easy time addressing a problem that faces many junior mining companies--raising capital. Investors are naturally reluctant to lend small mining companies the funds they need in order to construct their mines. This is because there are many variables in the economic feasibility of a mine, and while a company may have a clear plan that demonstrates its project's financial viability these variables potentially jeopardize its ability to repay the loan. Such variables include:
The price of gold
The cost of building the mine
The cost of producing gold
The amount of gold that is produced
Reports such as preliminary economic assessments serve to estimate these figures, but the numbers found in such reports are just estimates.
But given the economics of the Kalana mine we would have to see extreme flaws in Avnel's estimates of these numbers in order to see the company default on a loan presuming one is provided. Because the resource's ore grade is so high the company is projecting uncanny all-in production costs that will remain under $600/ounce for the first several years of the mine's life. By comparison a "good" all in cost estimate for a major gold producer is considered to be around $1,000 - $1,100 per ounce. With attributable production (Mali's government owns 20% of the mine) reaching 132,000 ounces in the first full year of production, and with production costs totaling just $438/ounce, at $1,300/ounce gold pre-tax cash flow is expected to come in at over $110 million! We will see similar figures in subsequent years. Even if these figures are off by 50% a lender should have no problem getting paid back a roughly $150 million loan.
Therefore Avnel will almost certainly get the funding it needs without having to dilute shareholders significantly. At worst a financing arrangement will entitle the financier with some warrants on the common stock, or a royalty on production. These will hit shareholders, but not nearly as badly as a stock offering.
With this in mind, and considering the company's other assets ($8 million in working capital minus $3 million in non-current liabilities plus its underground operation at Kalana), it is not out of the question to equate, more or less, the value of Avnel Gold shares with the NPV of the Kalana open pit operation. Conservatively (I detail what I mean by this below) this is $173 million at $1,300/ounce gold. Even if we use the $1,200/ounce double bottom low hit in June and December the value comes in at $131 million. Given the company's current valuation of about $40 million (again due to liquidity issues this is a guess based on the last Canadian trade on Tuesday (April 22)) it is evident that the shares are significantly undervalued.
Given these points i think that Avnel Gold is an intriguing investment--even if you are not bullish of gold. In what follows I provide further details and a justification for my valuation of the Kalana mine.
The Kalana Mine
The Kalana mine, which is 80% owned by Avnel Gold and 20% owned by Mali's government, is currently a very small underground operation in Mali. It produces about 10,000 ounces annually and it isn't making money with gold prices where they are.
However the company recently came out with a preliminary economic assessment that shows the economic viability of an open pit surface mine that can begin production on a much larger scale starting in 2017, presuming that the company can get the capital to do so.
The mine currently contains about 1.5 million ounces of gold at an extremely high grade of more than 4 grams per tonne. Specifically, it contains 1.25 million ounces of measured and indicated resources at 4.53 gpt, and 250k ounces of inferred resources at 3.76 gpt.
The current mine plan estimates that we will see production from 2017 through 2030, or for 14 years, with production averaging just over 100k ounces per year. The following table taken from the PEA gives a year-by-year breakdown of gold production (look at the last column--Au recovered).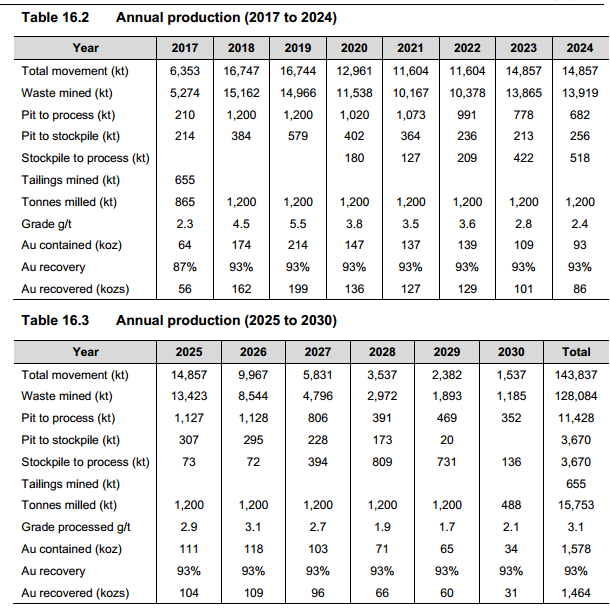 (Source: Avnel Gold Mining's March 31st PEA for its Kalana project)
Note that the total amount of gold contains exceeds the total amount of gold in the mineral estimate. This means that the mine plan assumes that additional gold will be found. While this isn't an irrational assumption I would prefer to be conservative and assume that the amount of gold contained in the ore (two rows up from the amount of gold produced) does not exceed the estimated measured and indicated resources. This means that in my calculations I will assume that production concludes about half way into 2026.
Again, the appeal of this mine, and my confidence that Avnel will be able to get funding relatively easily, is based on the fact that production costs are going to be incredibly low. The following table takes the mine's total operating plus sustaining costs from the company's PEA (table 22.1 on p. 175) as its first column, and divides this figure by the amount of gold produced in order to arrive at a year by year estimate of the mine's total production costs before taxes. I will only go through 2026, although I will assume full production for the year 2026 (118koz.) so that I can arrive at an accurate figure for that years's production costs.
Note that in 2016 the company will spend approximately $63 million towards developing the mine.
Note also that in 2017 the company has an additional $83 million in expenses due to initial capital expenses.
Note also that due to the fact that I am truncating production in 2026 that I am not adding the estimated $10 million mine closure expense. This will be added in the following NPV analysis.
| | | |
| --- | --- | --- |
| Year | Total Cost (millions of dollars) | Cost Per Recovered Ounce |
| 2017 | $21 | $375 |
| 2018 | $71 | $438 |
| 2019 | $75 | $377 |
| 2020 | $71 | $522 |
| 2021 | $70 | $551 |
| 2022 | $70 | $543 |
| 2023 | $73 | $723 |
| 2024 | $77 | $895 |
| 2025 | $82 | $788 |
| 2026 | $78 | $716 |
Given these figures it is clear that the mine is going to be incredibly profitable, even with a low gold price.
Avnel is entitled to 80% of the production profits once the mine is built while Mali's government gets the rest. This eats into Avnel's value, although considering how profitable the mine will be a JV partner, an acquirer, or a lender will still be interested in the project, as the following NPV figures show. Note that I am discounting cash-flow 9% and 13%. I normally discount cash-flow 8% and 12% but there is added risk in investing in Mali. All amounts are in millions and account for 35% in taxes.
| | | | |
| --- | --- | --- | --- |
| Discount Rate/Gold Price | $1,200 | $1,300 | $1,600 |
| 9% | $165 | $214 | $332 |
| 13% | $131 | $173 | $274 |
Conclusion
Just because a $40 million market cap company owns a project worth several times this amount doesn't mean that it is a worthwhile investment. There are dozens, maybe even hundreds of companies to which this applies. In order to sort through and pick out those which are worth betting on we need to look to the issue of financing--how do we get from a resource plus a geological report to a mine with cash-flow? Investors are often reluctant to invest in companies at the former stage of their development because they fear that management will be forced to dilute shareholders.
Even great companies with solid long life low cost projects are often forced to issue a lot of stock. Rubicon Minerals (RBY) is a perfect example of such a company. In order to build its Phoenix Mine--which will produce gold for more than a decade at prices below the industry average--it had to sell over 6% of its gold to Royal Gold (NASDAQ:RGLD) at 20% of the spot price and it also had to increase the number of shares outstanding by around 30%.
Given Kalana's extraordinarily high grade ore it won't just be a low cost producer--it will be one of the lowest cost, if not the lowest cost surface producer in the world. Therefore annual cash flow will be very high relative to the estimated initial capex, and the risk of default is reduced. While Avnel will still have to pay a relatively high interest rate being a tiny company with minimal cash-flow and a project in Mali a high interest loan is a better option than a secondary, or a bunch of secondary offerings.
With these points in mind I think that $40 million is too low a price to pay for Avnel Gold. While the company doesn't deserve to trade at the full NPV of Kalana my confidence in management's ability to get financing makes it worth, at the very least, half of the project's NPV. At a conservative 13% discount rate this means $86 million, making Avnel Gold shares a double from here.
Investors looking to take a position should heed my warning regarding the stock's liquidity. While shares saw an initial jump to $0.30 they have since dropped by about a fourth. Given that there are still several investors with significant gains in the stock it wouldn't surprise me to see shares trade a few pennies lower in the coming weeks. But ultimately, as strong as the market has been, it has yet to reflect the incredible value of the Kalana mine, and I think any weakness in the shares should be bought.
Disclosure: I have no positions in any stocks mentioned, but may initiate a long position in AVNZF over the next 72 hours. I wrote this article myself, and it expresses my own opinions. I am not receiving compensation for it (other than from Seeking Alpha). I have no business relationship with any company whose stock is mentioned in this article.
Additional disclosure: I am long Royal Gold shares.
Editor's Note: This article covers one or more stocks trading at less than $1 per share and/or with less than a $100 million market cap. Please be aware of the risks associated with these stocks.