After a see-saw 2013, REITs are off to a good start in 2014, amidst an interest rate pullback and dissipating sector worries. Major REIT indexes like VNQ and IYR are up roughly 10% YTD, while the broader market is up only negligibly. The non-correlation that REITs have historically had with the broader market tends to be one of the major redeeming factors in owning them, relative to other income/total return-skewed securities.
SPY (Green) vs. VNQ (purple) YTD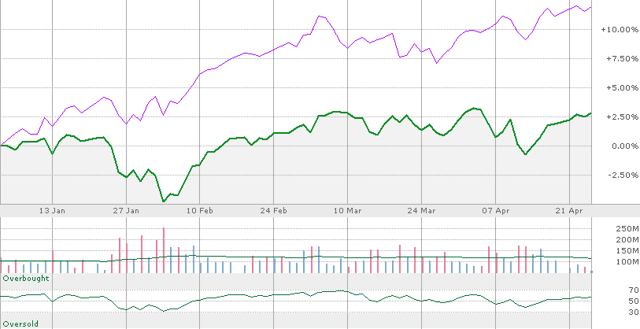 Though REITs can be viewed as an internally diversified real estate vehicle to mitigate overall portfolio risk, their economic sensitivity via internal leverage, and dependence on capital markets, in many ways, makes them a much riskier capital proposition than independently investing in standalone real estate. Thus, when we look back at the bankruptcy of General Growth Properties (NYSE:GGP) and the devastating blow to the sector five years ago, REITs should not necessarily be considered the durable, bulletproof investments they are sometimes made out to be.
But for many, REITs certainly present a convenient way to participate in real estate cash flows, and to a lesser extent, given the realities of today's market, capital growth opportunities. And according to REIT.com, there are 204 publicly traded trusts, which certainly provides for plenty of choice, but potentially plenty of headaches in narrowing down which one stock or basket of stocks to include in a portfolio.
How Many REITs Should You Own?
For the average investor with a portfolio that includes 2-3% positions and a 10-15% allocation to the REIT space, I would opine that optimal diversification might be achieved with 3-6 disparate REITs. I feel any more than that, while perhaps appropriate for more capital risk-averse investors, would be counterproductive to those attempting to maximize total return.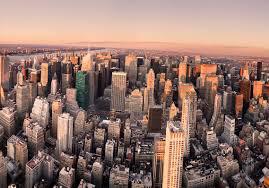 While it is often said that investors should intentionally select REITs representing a slew of real estate milieus to diversify an income stream, total return investors should have a greater focus on valuation, individual security and building-type forward prospects, portfolio geographic nuances, amongst other fundamentals to drive forward returns. Just like individual pieces of property, it's possible to see quick price appreciation in a REIT, if timed properly. Rallies in the first half of 2013 and 2014 are indicative of that.
Which REITs Should You Buy?
The answer is "it depends." Due to varying yield points, valuations, capital structures and cash flow risks within the REIT universe, different investors may have contrasting portfolio solution needs. Some investors may be partial to REITs with higher yields and higher payout ratios like triple-net standalone property kingpin American Realty Capital (ARCP), while others may prefer investing in some of the more richly valued REITs, such as mall owner Simon Property (NYSE:SPG), that typically have lower yields and payout ratios, but possess the sector's highest credit ratings and potentially greatest total return potential.
Others with a more aggressive tinge in their heart may look to more speculative property types, such as data centers run by Digital Realty (NYSE:DLR), skilled nursing facilities owned by Omega Healthcare (NYSE:OHI), or casinos owned by Gaming & Leisure Properties (NASDAQ:GLPI). These types of properties, due to their focused platforms and somewhat uncertain outlooks, possess an elevated degree of cash flow risk relative to owners of drug stores and other commercial establishments, storage facilities, or maybe even apartment buildings.
While certainly not a bulletproof strategy, I would opine that buying REITs with the lowest valuations by virtue of FFO is an appropriate method of controlling capital risk when investing in the space. Of course, some REITs may be selling at low valuations for a reason due to above-average leverage and/or low credit ratings, poor general performance, aforementioned cash flow risk, low building occupancy, or some other company-specific issue.
In my 2014 outlook on the REIT space, I briefly profiled two ETFs, ROOF and KBWY, which expose investors to smaller-cap names in the space. These could be viable alternatives for a more aggressive investor seeking exposure outside of the widely-helds.
Strategy Session
With this year's general sector run-up, my sense is that most REITs are trading near fair value, hence, I would maintain a portfolio neutral stance toward the sector as a whole, but wouldn't be opposed to taking or upping positions in more reasonably valued REITs.
REITs I like at current levels include:
Aforementioned ARCP, OHI, and GLPI
Movie theater owner EPR Properties (NYSE:EPR)
LaSalle Hotel Properties (NYSE:LHO)
Lexington Properties (NYSE:LXP)
While it still looks pretty cheap, I would still recommend avoiding Digital Realty. After finally canning CEO Michael Foust after a year-long investor- and Street-relations nightmare, the company still has a lot to prove to investors, so I'm still not comfortable investing here.
As for Realty Income (NYSE:O), which I was pretty hard on last year, but warmed up to in the 30s, I'm back to neutral. Having said that, I see the company as a core, comfortable holding, particularly for retired investors in need of a dependable and modestly-growing dividend stream.
Conclusion
REITs offer variety and typically non-correlated investment performance. Though there probably isn't one REIT that should be in all portfolios, the space, in general, provides a convenient solution for income investors and probably to a lesser extent, total return investors. The breadth of choice and ability to spread monies across multiple real estate categories affords a flexible, diversified play on real estate.
Disclosure: I am long ARCP, GLPI, LXP, EPR, OHI, LHO. I wrote this article myself, and it expresses my own opinions. I am not receiving compensation for it (other than from Seeking Alpha). I have no business relationship with any company whose stock is mentioned in this article.
Disclaimer: The above should not be considered or construed as individualized or specific investment advice. Do your own research and consult a professional, if necessary, before making investment decisions.