Psychemedics Corp. (NASDAQ:PMD) trades at a P/E of 22, its earnings have been growing a little below 10% on average over the past 10 years. Over the past 3 years, earnings have been growing at 25% per year. None of this is that remarkable, except that the company did so while maintaining an average payout ratio of 89%. A testament to the success of its asset-light business model.
The balance sheet is strong, with $ 3.97 million in cash as of March 31, 2013 and just $6 million in debt at LIBOR 2%+. PMD pays a quarterly dividend (which it paid 69 times in a row). Total annual dividend yield is 3.6%. This is not a management you need to fear will allocate capital to subpar investments. Over the past 10 years, the company averaged a payout ratio of 89%.
In my 2013 article on PMD I quoted Raymond C. Kubacki (CEO) from the 2013 news release:
During the quarter, we also completed the majority of the transition to our new patented screening process. While we are expecting many benefits from this new patented technology, including an increase in capacity, the ability to expedite new tests to market, and reduced operating costs, there was a negative impact on profits for the quarter.
Revenue did grow since, and the company's operating margin did indeed expand.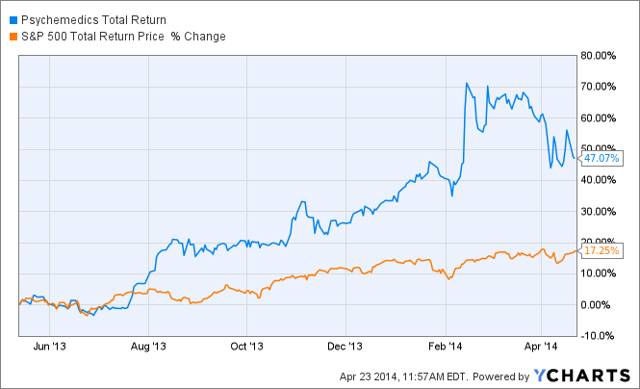 PMD Total Return Price data by YCharts
In addition to the stock having performed quite well since my initial article, there is a key development, that is not necessarily recognized as such by the market, that has been announced in December 2013 by press release:
The Company noted that the Brazilian Federal Government had announced new guidelines that will require professional drivers in the transportation industry to pass a hair drug test when obtaining or renewing their driver's license. The first testing is expected to begin on July 1, 2014.

We are excited about competing for the hair testing business in Brazil. Psychemedics has a very strong partner in Psychemedics Brasil, a Brazilian-owned independent distributor who we have worked closely with for over 15 years helping a variety of Brazilian organizations work to achieve a drug free workplace. We look forward to continuing to work together on this new opportunity to positively impact public safety as it relates to the transportation industry.

"We are very excited about this opportunity and believe the potential volume from this Brazil opportunity could be very substantial. In order to service that potential volume, we need to make significant investments in plant, equipment and people. These investments must be made in the first half of 2014 to be ready for the July 1 start date. During this period, we will not have any revenues from this Brazil opportunity to offset these costs. Therefore, we would expect earnings in the first half of 2014 to be unfavorably impacted
When CEOs talk about "substantial volume", investors are not immediately excited, because after a number of earnings calls, you become numb to these phrases. Brazil is a large country with 200 million inhabitants, but this law only applies to professional drivers. How many can there be, right?
There could easily be ~6.8 million professional drivers
And they are required to take a government-imposed hair test every 5 years, because Brazilian professional driver licenses are only valid during that time frame and must be renewed.
I got to this figure by adding up the number of light trucks, medium trucks, heavy trucks and buses in Brazil. Figures are from this 2010 survey of the status of truck safety.
PMD is one of the best in the hair testing business. On its website and in its annual report, the company claims:
Because Psychemedics' technology is the only one that removes virtually 100% of the drugs from the hair, we are able to provide superior detection and accurate results; especially when compared to other hair tests, as well as urine.

Some of the Company's customers have also completed their own testing to validate the Company's hair test results compared to other companies' urine test results. These studies consistently confirmed the Company's superior detection rate compared to urinalysis testing. When results from the Company's hair testing methods were compared to urine results in side-by-side evaluations, 5 to 10 times as many drug abusers were accurately identified by the Company's proprietary methods.
Its hair testing technology is protected by patents, and the company already has an independent distributing partner and branded presence in Brazil. Psychemedics Brasil's clients include many government organizations and Royal Dutch Shell (RDS.A), for example. During the first half of 2014, the company is making the necessary capital investments in order to set up a lab for the volume the company is expecting.
If the tests are sold at $40 a piece, this is a $54 million market of government-imposed testing. PMD's current annual sales are $27 million.
Capital investments required are limited, relative to the possible additional profits. The company has a history of attaining incredibly high returns on capital (30%+), and the Brazil business should be no different in this respect.
This is going to be good for the company, or it is going to be very very good for the company.
The company's global market share in the testing market for drug abuse is roughly 1%. However, to estimate the company to capture 1% of this government-imposed testing would be an oversimplification. There are a few key considerations:
The company has been an active player in the Brazilian market over the past 15 years, and includes many prominent companies among its clientele.
The company is specialized in hair tests, and able to provide superior detection to other hair tests with its patented process.
Market share in the testing market is 1%, but this includes urine testing. This new Brazilian market specifically demands hair tests. In the global hair testing market, the company has a bigger share.
The chart below shows the effect on the company's revenue depending on what % of market share the company manages to capture from the Brasil Professional Drivers market, come July. A true worst-case scenario would be the company capturing just 1%, it's more likely the company will capture market share between 10% to 33%. In a freakish best-case scenario, the company captures a 50% share and doubles its revenue.
| | | |
| --- | --- | --- |
| Share of Brazilian Drug Test Market Professional Drivers | Additional Revenue | Increase of company revenue |
| 1% | $ 0.54 | 2% |
| 10% | $ 5.4 | 20% |
| 25% | $ 13.5 | 50% |
| 33% | $ 17.82 | 66% |
| 50% | $ 27.0 | 100% |
| 100% | $ 54.0 | 200% |
Drug Abuse Testing Market Growing
In the Global Industry Analysis, Size, Share, Growth, Trends and Forecast, 2013-2018," the global testing market of drug abuse was valued at USD 2.6 billion in 2012. The market is expected to expand at a CAGR of 4.8% from 2013 to 2018. In 2018, it will have ballooned to USD 3.4 billion. This is a significant tailwind for the industry as a whole.
I suspect the company specialty; hair testing, is specifically well-positioned for growth. For example, on May 13, 2013, Bill Graves, CEO of the American Trucking Associations, wrote to the U.S. Department of Transportation that the positive hair-testing rate for driver applicants far exceeds the positive urine-testing rate for the same applicants.
Because the company does trade at high multiples to earnings and FCF, it's my understanding the market is aware of the attractive growth prospects of the market as a whole.
Risks
The most important concerns I have regarding PMD is increasing competitive pressure. There is a consolidation of clinical testing laboratory's ongoing. Automated large-scale testing by bigger labs could put enough pricing pressure on the company to hurt. Even if the company's tests are the best in the business, this may shrink the price/value gap to customers.
Another risk is the company's failure to continue developing its products and coming up with patent-protected technologies. A small company like PMD has an R&D department with only 7 people. Although they can work miracles, there is a lot of variance in R&D, and especially small-scale R&D. Breakthroughs may or may not happen.
This introduces the risk of the company's patented products slowly or suddenly being rendered less competitive or obsolete. Because PMD relies on a small range of products, that would result in a big problem. The likelihood of the company's products being rendered obsolete is small, but its effects would be massive.
Valuation
Because there is a large sustainable increase in revenue/profits coming in the 2nd quarter of 2014 and the company is well-positioned to capitalize on the growth in its industry; it's ok to pay a little bit more for its current cash flow. A P/E of 21 isn't that crazy in this case.
On the other hand, the company is small and dependent on a small number of products in a fast-moving business. This makes me less inclined to pay up for its future cash flow.
| | | | |
| --- | --- | --- | --- |
| Valuation | | | |
| | PMD | Industry Avg | S&P 500 |
| Price/Earnings | 22.2 | 28.9 | 18 |
| Price/Book | 6.9 | 3.2 | 2.6 |
| Price/Sales | 3.1 | 2.4 | 1.7 |
| Price/Cash Flow | 14.2 | -2.2 | 10.9 |
| Dividend Yield % | 3.8 | 0.4 | 2.4 |
Data: Morningstar
The chart below gives an indication of what the market values laboratory companies at. It should be noted, the characteristics of each business are quite different. Soda companies are more readily comparable.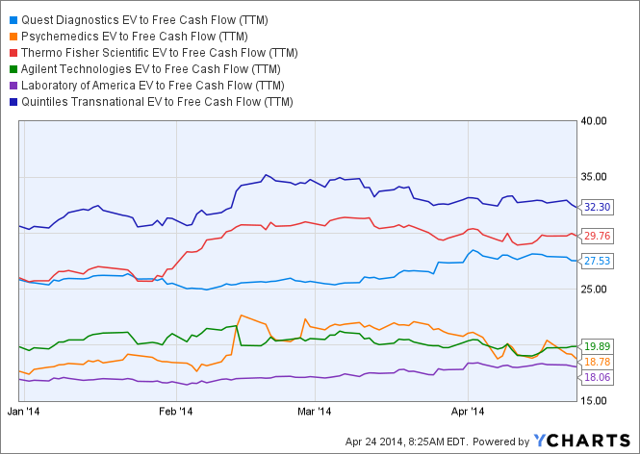 DGX EV to Free Cash Flow (TTM) data by YCharts
The company trades close to its fair value without the Brazil opportunity. Because the company is uniquely positioned to capitalize on this new legislation, the market is underestimating how significant this event is.
On the downside, there is very little protection, as the company trades at 6.7 times tangible book value. If the company's global business is threatened, it will go down hard. If just the Brazil opportunity doesn't pan out and the capital investments are lost, losses are limited. The company would lose ~8% of its value because of wasted resources, and an additional modest % representing expectations of future cash flows.
Conclusion
PMD is a company with a capital-light business model in a global growth market. Its products are protected by patents. The market is aware of the company's growth prospects in a general sense, but is missing the impact government-imposed legislation in Brazil will have after July. This could boost revenue by 20%-66%. On the short-to-medium term, the downside is limited because of the company's capital-light business model. If the company fails to capture significant market share, write-offs will be in the neighborhood of $6 million.
Sources:
The following sources have been consulted, in addition to the ones directly linked above: Company website, 2013 Annual Report, Company news releases, Morningstar data, YF data and YCharts data.
Disclosure: I have no positions in any stocks mentioned, and no plans to initiate any positions within the next 72 hours. I wrote this article myself, and it expresses my own opinions. I am not receiving compensation for it (other than from Seeking Alpha). I have no business relationship with any company whose stock is mentioned in this article.
Editor's Note: This article covers one or more microcap stocks. Please be aware of the risks associated with these stocks.