Not only has Apple (NASDAQ:AAPL) released a solid earnings report of the strongest non-holiday quarter ever but the company has also taken actions to give the lately sluggish stock a boost in value. The company has increased its dividend; taken steps to expand its capital return program to over $130 billion by the end of the calendar year 2015 and the Board of Directors announced a seven-for-one stock split. At the close of business on June 2nd 2014, each Apple shareholder will receive six additional shares for every share held on the record date and trading will begin on a split-adjusted basis beginning June 9th. Since the company's last stock split nine years ago in February 2005, shares have increased nearly 12-fold. Trading at a more affordable price range can at least in theory fuel demand for Apple shares. Apple CEO Tim Cook explained in the conference call, "we believe our current stock price does not reflect the full value of the company…the size of the share back increases the signal of the Board and the management team's strong confidence in the future of Apple." The self-learning algorithm by I Know First recognized the potential in an Apple stock forecast displaying the initial buy signal for the most recent bullish trend on April 15th 2014, making it another quick win returning 9.27%. It has been long over-due for Apple to deliver positive news like this.
Quarterly Performance Analysis
Stronger than expected iPhone sales, which carry higher margins than the iPad or Mac sales, led gross margins to rise from 37.5% last year to 39.3% this year, beating guidance of 37%-38%. Apple posted quarterly revenue of $45.6 billion and quarterly net profit of $10.2 billion, or $11.62 per diluted share. International sales accounted for 66% of the quarter's revenue. "These strong revenue results combined with our best gross margin percentage since September of 2012 resulted in earnings per share growth of 15%, which is our highest earnings growth rate in the last six quarters," stated Cook. Approximately half of all iPhone shoppers and 2/3 of iPad buyers were new customers. Apple shipped 43.72 million iPhones, 16.35 million iPads, 2.76 million iPods and 4.136 million Macs, during the quarter. Not only did Apple beat estimates of 37 million iPhones but the company also set a March quarter record. Chart 1 shows global iPhone sales from 3rd quarter 2007 to 2nd quarter 2014 in millions of units.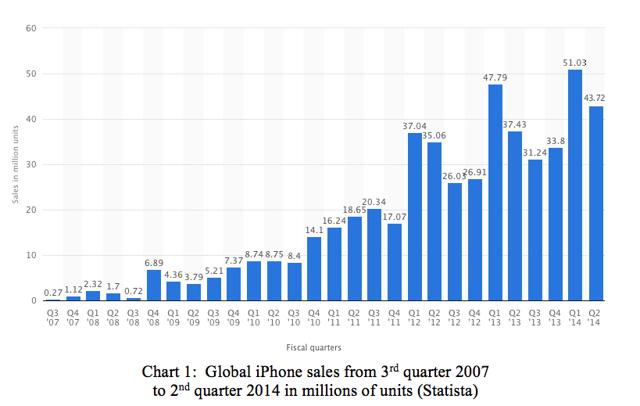 Revenue from iPhone sales, which accounts for 57% of total revenue, increased 17% year-over-year to 26.1 billion. Demand in healthy emerging markets supported the growth. Sales of the iPhone in BRIC countries hit a record, partially thanks to China Mobile. Brazil, Russia, India and China have been devouring the smartphone market, accounting for more sales than all other emerging markets combined.
Tim Cook was pleased to announce that Apple was taking market share from Android. Cook said that approximately three-fifths of people who purchased the entry-level iPhone models, the 4s and 5c, had switched from smartphones running Google's operating system. Apple successfully set a quarterly revenue record for Greater China at $9.8 billion. With the addition of China Mobile (NYSE:CHL), iPhone sales surged 28%. Consumers in emerging markets have been attracted to the 4S, which dropped in price after the release of 5s and 5c. Alexey Kornya, chief financial officer of Mobile TeleSystems, Russia's largest mobile carrier, stated this was because subscribers did not feel that the 5c was "very differentiated" from the 4s.
Revenue from iPads slipped 13% to $7.6 billion, a U-turn from an increase of 7% in the first quarter. Tim Cook attributes weaker iPad sales to inventory changes. This also maybe partially attributable a slower tablet market in 2014. Mac revenue grew only 1% to 5.5 billion versus 16% in FQ1. Revenue from iTunes, including software and services, increased 11% to $4.57 billion. There are now almost 800 million iTunes accounts, most of which have a credit card attached. Across the globe, revenue was positive in America up 2%, Europe up 4%, and most noticeably in Japan up 26% and Greater China up 13% but not the rest of the Asia-Pacific region, down 17%.
Returning Capital To Shareholders
"We generated $13.5 billion in cash flow from operations and returned almost $21 billion in cash to shareholders through dividends and share repurchases during the March quarter," stated CFO Peter Oppenheimer, "That brings cumulative payments under our capital return program to $66 billion." Apple plans to expand its capital return program to over $130 billion by the end of the calendar 2015. The company increased its share repurchase authorization from $60 billion to $90 billion. Furthermore, the Board has approved an increase to Apple's quarterly dividend of approximately 8% and has declared a dividend of $3.29 per common share up from the prior dividend of $3.05, payable on May 15, 2014. Apple is amid the biggest dividend payers in the world with annual payments of $11 billion and the company intends to increase the dividend on an annual basis. The company will utilize debt markets to help pay for its dividend and capital return program.
Future Prospects & Algorithmic Forecast
The June quarter tends to be slow as customers anticipate the next generation of products ahead of the fall launches. Apple has provided guidance for the fiscal 2014 third quarter. Revenue is projected to be between $36 billion and $38 billion, while gross margins are predicted to be between 37% and 38%. The company also expects expenses to be between $4.4 billion and $4.5 billion. As the iPhone is the company's greatest source of revenue, chart 2 displays Apple's estimated gross profit broken down by category for the fiscal year 2014, which ends in September. According to these projections by Pacific Crest Securities, iPhone will account for 68% of Apple's gross profit in fiscal year 2014.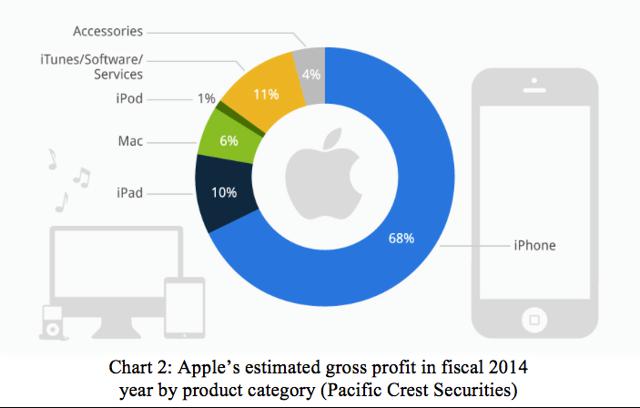 A year old prognostication from April 19th 2013 shows Apple as the ninth out of ten best recommended stock pick for the 1-year time horizon and it's corresponding return in an I Know First Top Tech Stocks industry forecast. Apple produced a more moderate gain from this forecast returning 37.28% in accordance with the algorithmic prediction compared to the other advocated assets. The self-learning algorithm is based on artificial intelligence, machine learning and incorporates elements of artificial neural networks and genetic algorithms in order to model and predict the flow of money between markets from 3-days to a year. It separates the predictable part from stochastic (random) noise and then creates a model that projects the future trajectory of the given market in the multidimensional space of other markets. The market prediction system outputs the predicted trend as a number, which in turn is used by traders to identify when to enter and exit the market. Chart 3 displays the Top Tech Stocks forecast with the corresponding returns.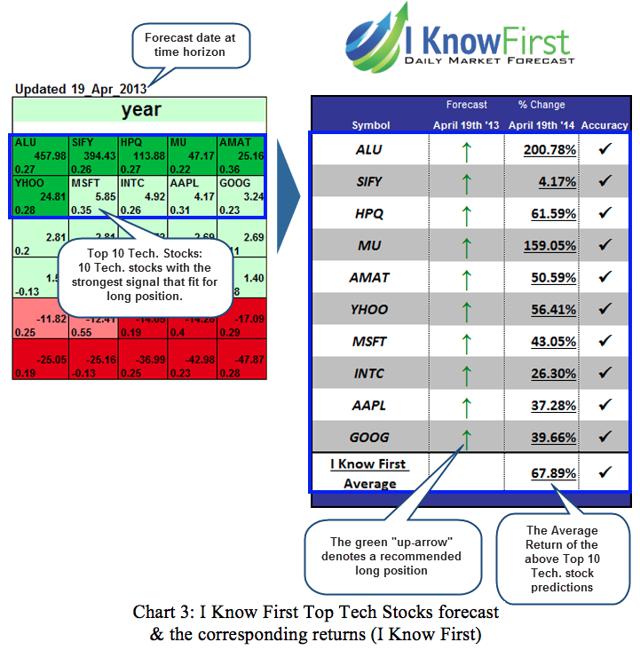 The forecast is color-coded, where green indicates a bullish signal and red indicates a bearish signal. Deeper greens signify that the algorithm is very bullish as it does at the top of this forecast. Apple had a signal of 4.17 and a predictability of 0.31 displaying confidence in the forecast. The signal is the number flush right in the middle of the box and the predicted direction (not a specific number or target price) for that asset while the predictability is the historical correlation between the prediction and the actual market movements. In other words, the signal represents the forecasted strength of the prediction while the predictability represents the level of confidence, however further explanations are available here.
In the most contemporary forecast, the algorithm indicates that shares will pull back in the June quarter, as the following quarter has a tendency to be slower. Chart 4 displays todays algorithmic forecast for Apple.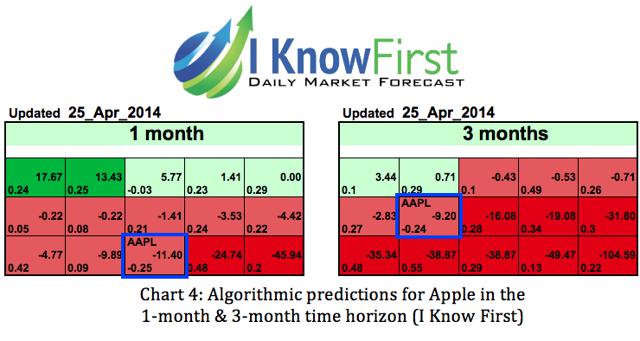 In the 1-month time horizon, Apple has a signal of -11.4 and a predictability of -0.25. The tech conglomerate has a slightly weaker signal of -9.2 in the 3-month forecast and a more confident predictability of -0.24. While the market may react somewhat positively for some time, the stock is predicted to correct slightly. If you missed this latest surge in Apple stock, the algorithm indicates to hold off your investment for the time being. However, the predictability is very low in this forecast. This indicator will increase when it becomes more apparent how the market responds to trading Apple after the stock split commences. Actions to be taken based off this forecast depend on the investor's current portfolio situation and investing style. Algorithmic forecasts are intended to be utilized in conjunction with traditional forms of analysis in order to reduce risk and optimize returns.
Conclusion
The most recent algorithmic forecast should not alarm investors, as there will be a better time to invest and ensure your investment retains the maximum amount of value possible. As Warren Buffett famously said "Investors should remember that excitement and expenses are their enemies. And if they insist on trying to time their participation in equities, they should try to be fearful when others are greedy and greedy when others are fearful." The market prediction system correctly forecasted on the 15th of April that Apple share value would rise in the short term due to the earnings release resulting in a gain of 9.27%.
Apple prospects are bright and the company will capitalize on the growing trend of larger smartphones with the highly anticipated iPhone 6 to be released later this year. The iPhone 4s saw great success in emerging markets even though the phone is already three years old, emphasizing Apple's reputation as a brand. Due to the everlasting patent brawl with Samsung, an internal presentation slide came to the public's attention at the beginning of the month. Apple conceded that consumers want something they do not currently have, larger smartphones (>4 inches), which certainly indicates that the next generation iPhone will satisfy this demand for a larger screen. Depending on your current situation, the best action may be to wait until Apple shares retreat somewhat and then make the most of your return when share value increases again.
Business disclosure: I Know First Research is the analytic branch of I Know First, a financial startup company that specializes in quantitatively predicting the stock market. Joshua Martin, an I Know First Research analyst wrote this article. We did not receive compensation for this article (other than from Seeking Alpha), and we have no business relationship with any company whose stock is mentioned in this article.
Disclosure: I have no positions in any stocks mentioned, and no plans to initiate any positions within the next 72 hours. I wrote this article myself, and it expresses my own opinions. I am not receiving compensation for it (other than from Seeking Alpha). I have no business relationship with any company whose stock is mentioned in this article.