By Craig Bowles
Overview
Twitter, Inc. (NYSE:TWTR) is slated to report Q1 2014 earnings after the bell on Tuesday, April 29. The earnings release is expected at approximately 4:00 p.m. EST with a conference call to follow at 5:00 p.m. that is webcast through Twitter Investor Relations. This is Twitter's second earnings release since its IPO back in November and could have a direct impact on LinkedIn (LNKD), Facebook (NASDAQ:FB), and online game maker Zynga (NASDAQ:ZNGA).

Outliers & Strategy
Key measures:
Non-GAAP Earnings Per Share: Analysts expect -$0.03 (range -$0.06 to $0.01). (Source: Yahoo! Finance)
Revenues: Company guidance in February was for $230 mln to $240 mln. Analysts expect $241.47 mln (range $231.20 mln to $251.18 mln).
Mobile Monthly Active Users: Mobile MAUs were 184 mln last quarter. (No Estimates are available at: Zacks Institutional Services).
Average Monthly Active Users: MAUs were 241 mln last quarter.
Revenue Guidance for 2Q2014 and FY2014:
Revenues 2Q2014: Analysts expect $272.94 mln (range $256.10 mln to $329.00 mln).
Revenues FY2014: Company guidance was for $1.15 bln to $1.20 bln in February's Q4 release. Analysts expect $1.24 bln (range $1.16 bln to $1.40 bln).
Twitter's market cap is $23.8 billion with a Price/Sales of 38.
Twitter shares have a 1-day price change on earnings of 24.16%. Options are pricing in an implied move of 15.12%.
Recent News
04/25: Wedbush maintained a Neutral rating and lowered its price target to $50.00 while noting checks were positive on spending trends but the focus remains on user growth and engagement, according to a post on Streetinsider.com.
04/10: Cantor Fitzgerald upgraded Twitter to Hold from Sell with a price target of $45.00 citing a positive read into 1Q2014 results, the imminent launch of several new ad formats to drive monetization, and a pullback in valuation. Cantor says the large lock-up expiration in early May and a full valuation keep them from being more constructive, according to a post on Streetinsider.com.
04/07: Janney Capital initiated coverage with a Buy rating and a price target of $55.00 citing the ability to benefit from the shift to mobile advertising, new ad inventory opportunities, long-term pricing leverage, improvements in ad engagement rates, traditional media integration, and cost subsidies tied to data licensing sales, according to a post on Streetinsider.com.
03/26: Twitter filed to lift the ban in Turkey and has not turned over any user data.
Technical Review
Of interest is Facebook's stock, which bumped around its lows four to six months after the IPO and has moved up 200% since. Twitter shares have retraced back to November's post IPO low, so moving below $40 would be a worry. Immediate resistance is just above $45. With a limited history, the stock price is susceptible to large moves on releases of new data. (Chart courtesy of StockCharts.com)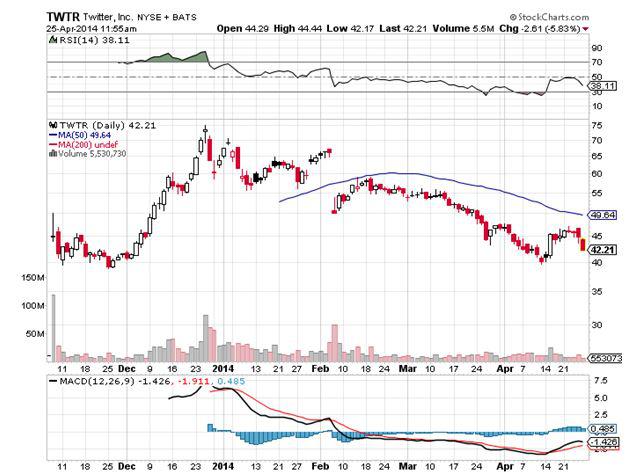 Summary
Analyst expectations for a 3c loss have remained firm the last three months, so even breaking even would be a positive. Revenue expectations are above guidance, so $245 mln would be a surprise. Next quarter's guidance is expected to show a $30 mln QoQ increase in revenue but the broad range of estimates suggests little conviction. Traders will have to focus on a combination of items with some of the most important being active users lacking estimates. Shares have weakened since the small employee lockup expired in February and a large lock-up expiration on May 6th will allow the rest of the 474.7 million shares to be eligible for sale. Lockup expirations typically attract short sellers.
DISCLAIMER: By using this report, you acknowledge that Selerity, Inc. is in no way liable for losses or gains arising out of commentary, analysis, and or data in this report. Your investment decisions and recommendations are made entirely at your discretion. Selerity does not own securities in companies that they write about, is not an investment adviser, and the content contained herein is not an endorsement to buy or sell any securities. No content published as part of this report constitutes a recommendation that any particular investment, security, portfolio of securities, transaction or investment strategy is suitable for any specific person.
Disclosure: I have no positions in any stocks mentioned, and no plans to initiate any positions within the next 72 hours. I wrote this article myself, and it expresses my own opinions. I am not receiving compensation for it (other than from Seeking Alpha). I have no business relationship with any company whose stock is mentioned in this article.