A difficult consumer spending environment in all major markets is keeping retailers under pressure.
About the Company
Started in 1981 as a family business Guess? Inc. (NYSE:GES) designs, markets, distributes and licenses fashion apparel and accessories. Its products are sold through retail, wholesale, e-Commerce and licensing distribution channels.
GES directly operates 494 retail stores.
Disappointing Results and Guidance
On March 19th, GES reported its Q4 2014 results. Adjusted earnings for the quarter were $71.1 million or $0.83 per share, ahead of the Zacks Consensus Estimate of $0.80 per share and were on the higher end of management's expected range of $0.74 to $0.84 per share.
Earnings were however down 12.6% year over year due to a weak top line during the quarter.
Revenues declined 6.0% to $768.4 million mainly due to lower traffic resulting from bad weather conditions and shortened holiday season. Revenues also missed the Zacks Consensus Estimate of $773 million and were near the lower end of management's expectation of $750 million to $777 million.
According to the management, the traffic into the stores as well as the overall promotional environment remains challenging in and the European wholesale business is still under pressure in .
For fiscal 2015, the company expects net revenues in the range of $2.53 billion to $2.58 billion, operating margin between 7.0% to 8.0% and adjusted earnings in the range of $1.40 to $1.60 per share. Earnings guidance was below the Zacks Consensus Estimate of $1.89 per share.
According to the management, "for fiscal year 2015, we still expect sales in our more developed businesses to be under pressure, especially in our own stores in and our European wholesale channel".
Downwards Revisions
Due to weak results and uninspiring guidance, quarterly and annual estimates have been revised downwards in the past few weeks. Zacks consensus estimates for the current quarter and year are now ($0.06) per share and $1.57 per share respectively down from $0.15 per share and $2.01 per share, 60 days ago.
The following chart shows the trend of declining estimates for GES: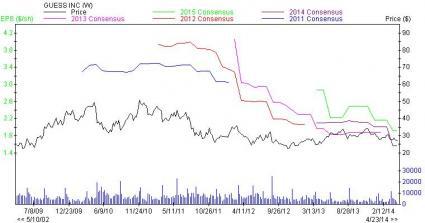 Negative estimates revisions send GES back to Zacks Rank # 5 (Strong Sell) last month.
The Bottom Line
The company has globally diversified business operations but currently it appears to be struggling in all of its major markets. North America sales continue to be very challenging despite very promotional retail environment. Further softness in the South Europe economies and slowdown in China continues to impact results.
GES is currently Zacks Rank # 5 (Strong Sell) stock. Further, Zacks Industry Rank of 223 out of 265 (Bottom 16%) also indicates some weakness in the short- to mid- term. As such investors would like to avoid this stock for the time being.
Better Play?
There is no Zacks Rank # 1 (Strong Buy) stock in the Apparel industry. Investors looking for a better play could consider HanesBrands (NYSE:HBI), a Zacks Rank # 2 (Buy) stock.