The forex market is ending Friday confined to a tight range (EUR has traded 14bps in North America) which is not surprising for a week that happened to print the lowest major currency volatility in seven years.
The market is already looking forward to Monday's European economic outlook. Setting Russia/Ukraine aside, there is only second tier data from Germany (import prices) and Italy (consumer confidence) to keep anyone interested. There is however a plethora of ECB speakers - Draghi in Bonn, while Constancio, Coeure and Praet speak in Frankfurt. The market should expect them all to tow the party line - expect talk on the outlook for policy as well as their preparedness to act now.
If one includes Russia and Ukraine into the equation, then it's gold that should catch your attention. Currently, the yellow metal is enjoying a safe-haven bid on concerns about Russian troop movements near Ukraine. Gold is currently trading north of the psychological $1,300 print. Up until now, investors had being discounting tensions in the Ukraine and focusing on better US data to push gold prices down almost -7% from last month's high.
Does the metal have the stamina to go much higher? To some the metal's topside is limited due to the belief that there is little chance of the conflict spilling beyond Ukraine's borders. However, do not expect too many investors to begin offloading the commodity into the weekend due to event risk - no one wants to be caught offside if something untoward does happen to occur over the weekend. Market expects resistance at $1,308-10 and $1,317. Gold's 60-day midrange is $1,315.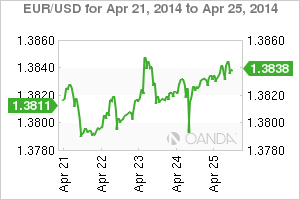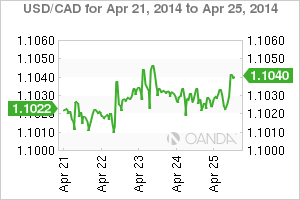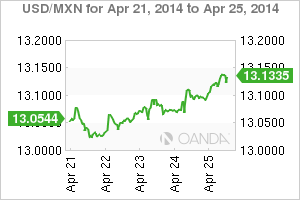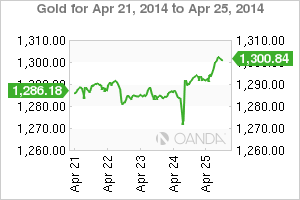 WEEK AHEAD
* GBP Gross Domestic Product
* EUR German Consumer Price Index
* USD Consumer Confidence
* EUR German Unemployment Rate
* EUR Euro-Zone Consumer Price Index
* CAD Gross Domestic Product
* USD Gross Domestic Product
* USD Federal Open Market Committee Rate Decision
* USD ISM Manufacturing
* USD Change in Non-farm Payrolls
* USD Unemployment Rate