Warren Buffett's Berkshire Hathaway (NYSE:BRK.A) holds a large percentage of USG shares and if Buffett, who's 79 years old, can stomach the ups and downs of the drywall business, you probably can, too. USG is a brutally-cyclical stock, riding the housing market up and down with a commodity product that can lose more than half its sales volume – and half its per-unit price — in a downturn. And with expensive factories saddling it with high fixed costs, there's really no way not to lose money in a downturn.
But USG also has a strong market share. And in an upturn, when all the nation's drywall factories are running flat out, USG can raise prices with abandon. Note the high point in 2006, when USG had profit of $297 million, or $4.46 a diluted share.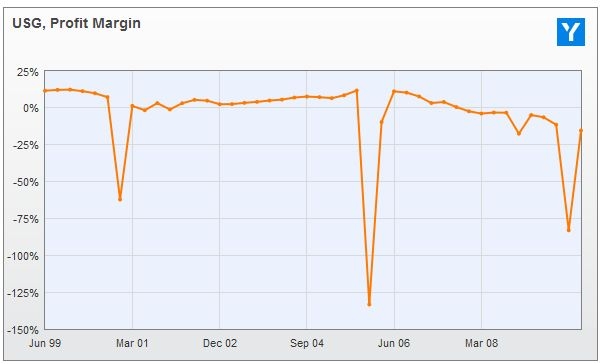 That's why Buffett takes the long view, though this stock chart suggests few others do:
USG sold for $4.16 a share in early 2009, and you probably won't see it that cheap again – in this cycle, anyway. But at just under $13, barring a double-dip recession that takes the housing market still lower, USG should come rumbling back as the economy strengthens and housing starts pick up again. The stock was above $110 in 2006.
USG has a lot of debt. (The five years in the chart at zero debt were a long stay in bankruptcy, the result of asbestos litigation.) Interest payments will be about $167 million this year, tough on a company losing money.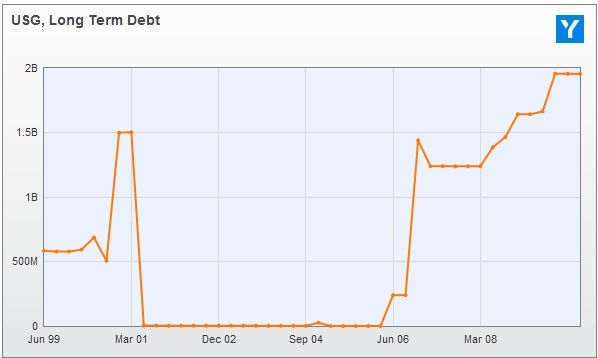 But it probably has enough cash on hand to get through the downturn.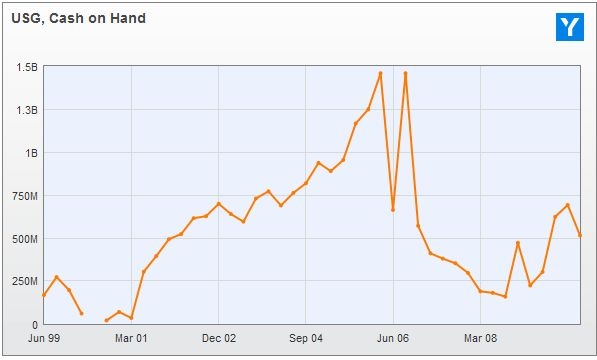 Here, you can see that the worst of the revenue shrinkage may be over.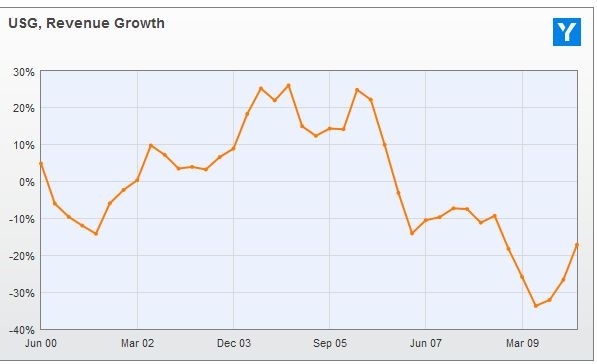 And USG noted when it reported first-quarter results (a loss of $110 million, or $1.10 a diluted share, on sales of $716 million) that its U.S. drywall unit raised prices on March 15 — and then again on May 10. The unit's drywall volume edged up in the quarter to 1.15 billion square feet from 1.06 billion square feet in the fourth quarter of 2009.
Industry-wide in the U.S., drywall makers operated at about 54% of capacity last year. As that number rises, so will prices.
To truly fathom the cycle in drywall, see the quarterly price-and-volume table USG keeps on its investor relations website.
Drywall, which accounts for about half of USG's sales, is so heavy and such a low-priced item that it isn't typically shipped long distances. During the last housing boom, though, when U.S. supplies were tight, China began exporting drywall to the U.S. Some of it was contaminated and now poses potential health hazards. That experience may discourage future drywall imports here and give USG further pricing power.
Author's disclosure: None.
Originally posted on July 10, 2010