By Bryan McCormick
Asian markets were down fractionally overnight, initially dragging down US stock index futures. But when UBS (NYSE:UBS) announced far better-than-expected earnings news today, that situation changed. In the pre-market, the bank's shares are trading up more than 6 percent.
Deutsche Bank (NYSE:DB) also has announced better-than-consensus results, with its shares higher by more than 4 percent. The rest of the European banking sector has been boosted by those results, lifting US futures along with it.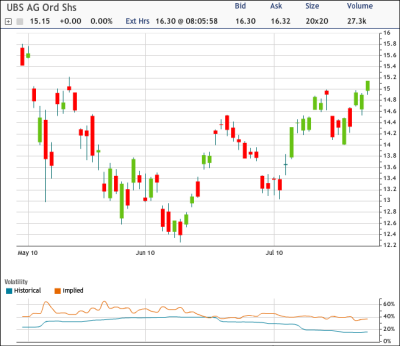 Following the strong showing in European banking, the euro is trading back above the 1.30 level against the dollar. This was the level that broke back in April of this year, which sent the euro down sharply. With the dollar lower, commodity prices are getting a lift.
US earnings news is also coming in largely better than expected so far, with Lexmark (NYSE:LXK), Cummins (NYSE:CMI), and DuPont (DD) appearing to beat forecasts and trading up by more than 4 percent. DuPont also boosted its outlook for the rest of the year.
Corn Products (CPO) which had relatively low expectations heading into earnings, beat Wall Street estimates by $0.16. That has sent its shares higher by more than 14 percent in the pre-market, albeit on very light volume.
One standout on the downside so far is US Steel (NYSE:X), which is trading lower by more than 4 percent as its earnings did not appear to meet expectations. That could prove to be a drag for other industrial metals companies such as Alcoa (NYSE:AA) and Freeport-McMoRan (NYSE:FCX).
Masco (NYSE:MAS), which reported last night after market closed, also appeared to disappoint expectations and was down about 3 percent this morning. The company has heavy exposure to the US housing market.
For tomorrow, the following are a few select names reporting results from the S&P 500. BMC Software (NASDAQ:BMC), Symantec (NASDAQ:SYMC), Aetna (NYSE:AET), Akamai (NASDAQ:AKAM), Avery Dennison (NYSE:AVY), Comcast (NASDAQ:CMCSA), Express Scripts (NASDAQ:ESRX), General Dynamics (NYSE:GD), International Paper (NYSE:IP), Newmont Mining (NYSE:NEM), Boeing (NYSE:BA), and Visa (NYSE:V).
Disclosure: No positions