Last year, as inventories were rebuilt within the economic system, the smart money put money to work in equities well ahead of the eventual turn in GDP. Markets have always looked ahead and will continue to do so. From what we can gather, the smart money is now doing the same thing with Solid State Drive maker STEC Inc. (NASDAQ:STEC). Otherwise known as SSD, Solid State Drives enable storage systems to realize outstanding, sustainable input/outputs per second to relieve performance bottlenecks associated with traditional rotating media disk drives.

After suffering through a massive inventory overhang with its main customer, EMC Corp. (EMC), last year, the company has begun to ship its ZeusIOPS solution to both EMC and IBM (NYSE:IBM). With enterprise demand set to increase, we feel that STEC is at an inflection point in its business, and one which could result in a stock that works to the high teens/low-20s by the late fall/early winter. As seen in the chart below, STEC has been forging a bottom and showing impressive relative strength over the past few months.
STEC 6-Month Chart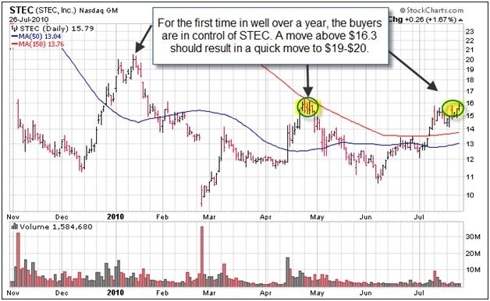 (Click to enlarge)
Although some may think we are reading too much into the recent change in the short-interest in STEC, we feel that the recent retreat by the shorts out of the stock (down by over 50% over the past eight weeks) is indicative of a dramatically improved set of conditions for STEC. Keep in mind that the shorts smelled trouble well ahead of others last year as STEC was topping out, just before the stock fell off of a cliff. Thus, the exodus of the shorts out of the name bears particular watching. Here are the figures which caught our eye:

STEC Short Interest History 9-Month Spreadsheet

Earnings will be reported next week. ThinkEquity recently raised estimates on STEC for Q3, Q4, and 2011; they are now looking for $.68 for 2010 and $1.40 for 2011. Based on their channel checks, the strength in the stock, and the recent retreat of the shorts, we remain buyers of STEC on pullbacks into numbers.
Our first price objective is $19-$20.
Disclosure: Author is long STEC