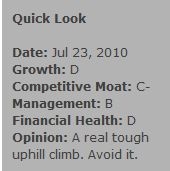 Eastman Kodak (EK) is one of the great American brand names of the past century. Founded in 1892 by George Eastman, Kodak was responsible for creating and bringing to market the technology necessary for mass-produced photography and motion pictures. Eastman patented the first film in roll form, the first film usable for motion pictures, and the first cameras suitable for use by the mass consumer. For nearly 100 years, the company was synonymous with and dominated the film photography industry, even facing anti-trust lawsuits in the 1970's.
Certainly, times have changed today. The invention and rapid roll-out of digital cameras and, more recently, camcorders has decimated Kodak's legacy cash cow. The film business is still an important part of the company. For fiscal 2009, it generated around 27% of revenues and propped up the company's other segments, which were collectively unprofitable.
Recognizing the terminal decline of film, Kodak for several years has been transforming into a digital imaging company. This painful transition has been going on since 2004, and has included over 30,000 job cuts and restructuring costs exceeding $4 billion dollars. The new strategy organizes the company into three segments. First is the aforementioned legacy film business, which management looks to run "lean-and-mean", using the cash flows to invest in the growth-oriented businesses. The Consumer Digital Imaging Group (CDG, 38% of sales) makes digital cameras, digital camcorders, digital picture frames, combo printers, and other imaging products focused on the consumer market (i.e., you and me). Last is the Graphic Communications Group (GCG, 35%), focused primarily on selling items to the graphics and printing industries. Products in GCG include inkjet printing presses (the PROSPER line) and other business items like high-volume printers and scanners. Today, over 70% of sales come from digital products.
The key for Kodak to be successful is to grow the digital product segments to a point where they can become sustainably profitable. This will be difficult in the consumer business. Digital cameras and combo printers are a highly competitive market, where huge and established companies such as Canon (NYSE:CAJ), HP (NYSE:HPQ), Nikon (OTC:NINOF), and Lexmark (NYSE:LXK) compete. Product cycles are fast, and prices steadily decline, making maintaining profitability very difficult. Although Kodak sold over $2.6 billion dollars in this segment for 2009, gross profitability was a lousy $35 million (1.3% gross margin). I'm not too confident that the answer lies here.
So far, the same can be said about the commercial segment. Despite over $2.7 billion in 2009 sales, the division posted a $42 million gross loss. Even in 2008, with $3.3 billion in sales, profitability was only $31 million.
Are there any positive catalysts for Kodak? I believe so. First, the fruits of restructuring should help profitability in both the consumer and commercial digital product areas. Losses improved significantly in the first quarter of this year, even taking out the effects of a one-time royalty payment (discussed more below).
Second, Kodak has some intriguing products coming to market. The firm's consumer printers are focused on high quality ink that is cheaper and lasts longer than competitor's (overview here). The upside is that the printers themselves are more expensive - about 30% more. It will be interesting to see if this approach works (I tend to more prefer the "blade" over the "razor" model), but they seem to be gaining traction, with consumer inkjet printer revenues increasing 27% in Q1.
The PROSPER inkjet printing press is a big swing for Kodak. The product is designed to be used in traditional printing applications, like books, catalogs, direct mail inserts, etc. Digital printing is attractive as it requires less setup and is faster than traditional offset printing. The downside is that it is more expensive. As a result, only small quantity jobs are being done digitally today. If Kodak's PROSPER technology can bridge the price gap, the market potential is significant, and the product is higher margin than consumer printers and cameras. The first PROSPER press was shipped in Q1.
Finally, Kodak is pursuing royalty income from their 1,000+ patents in imaging. Right now the company is making over $250 million a year from licensing, and in Q1 struck a large deal with Samsung (OTC:SSNLF) that is the reason for a big part of the trailing 12-month operating profit. Last November, a similar case was won against LG (OTC:LGERF). Emboldened, Kodak sued Apple (NASDAQ:AAPL) and Research in Motion (RIMM) in January over a patent related to digital cameras in their cellphones. If successful, it is estimated that royalty revenues could more than double.
Kodak has a lot of risk, too. The balance sheet is highly leveraged, with nearly $1.3 billion in debt offset by $1.5 billion in cash. However, financing costs are high, and interest coverage is just over MagicDiligence's minimum of 5 times - and that is with the big Samsung royalty. Free cash flow is minimal, coming in negative in 2008 and 2009, and just +$23 million in the past 12 months. Kodak had to also sell stock warrants that diluted current shareholders by over 20%, with another 10-20% dilution possible, in order to raise cash.
This is a concern considering the decline of film and the high competition and razor thin margins in digital imaging products. If Kodak is unable to get their consumer division profitable, or if the PROSPER press does not penetrate the market, the company could be in serious trouble within a few years. While the bulk of the debt does not mature until 2018, cash flow has been weak and could cause more liquidity problems.
This is a risky pick that is very difficult to make a judgment call on. The combination of high competition, a declining core business, and a weak balance sheet can be a toxic one. On the other hand, Kodak is very cheap at a price/sales ratio of just 0.20. Staying on the conservative side, I am putting a "negative" rating on the stock, but this is far from a shorting opportunity.
Disclosure: Steve owns no position in any stocks discussed in this article.