For a long time Novartis AG (NYSE:NVS) has been considering transforming its business by cutting off segments that lack global scale and do not significantly contribute to the company's revenues. Divesting its non-core businesses that were unlikely to achieve global scale was an easy way to achieve transformation. The animal healthcare division was the highest priority of the company to divest as discussed in my previous article. Now Novartis has entered into multibillion dollar deals with GlaxoSmithKline (NYSE:GSK) and Eli Lilly and Company (NYSE:LLY) and that will be the focus of the discussion in this article. I will try to ascertain whether or not these deals will be fruitful for Novartis in the long term.

Source: Novartis Presentation
Novartis Buying GSK's Cancer Drug Business
Novartis is going to buy GlaxoSmithKline's oncology drug business, but this is not the only deal between the two pharmacy giants. This is because they are shuffling their assets as Novartis will divest its vaccines division (excluding flu) to GSK and form a joint venture with GlaxoSmithKline in terms of its over the counter business.
Novartis has agreed to purchase the cancer drug business from GSK at $16 billion which includes $1.5 billion payable on achievement of certain business goals. Moreover the deal also incorporates an opt-in right for Novartis to acquire GSK's current and future oncology research and development pipeline. GlaxoSmithKline generated revenues of $1.6 billion from its oncology business and a core operating income of $0.4 billion during 2013. We can assume that Novartis can generate revenues of at least $1.6 billion from the acquired assets. Oncology amortization charges of $1.3 to $1.4 billion per annum due to amortization of intangible assets will also appear on the company's income statement following the completion of the purchase.
Cancer remains a major healthcare challenge worldwide because more than 11 million people are diagnosed with cancer every year according to market research conducted in 2008. To date this figure may have increased way higher than 11 million per annum. That is why the cancer drugs and therapy market is the second largest pharmaceutical market in terms of revenue after the cardiovascular drug market. The global oncology drug industry is expected to continue its growth momentum to reach an estimated $100.6 billion in 2018. According to a study, aging population, changing lifestyles, more effective diagnosing, unhealthy eating habits and increasing incidence of chronic diseases across the globe will provide growth opportunities for players in the oncology drug industry. This deal will allow Novartis to have access to innovative therapies from GSK and enhance its development and commercial capabilities. Hence Novartis will be well positioned in the oncology market after acquiring the cancer drug business of GlaxoSmithKline. Adding GSK oncology products to its own cancer product portfolio will create Novartis' industry leading oncology pipeline.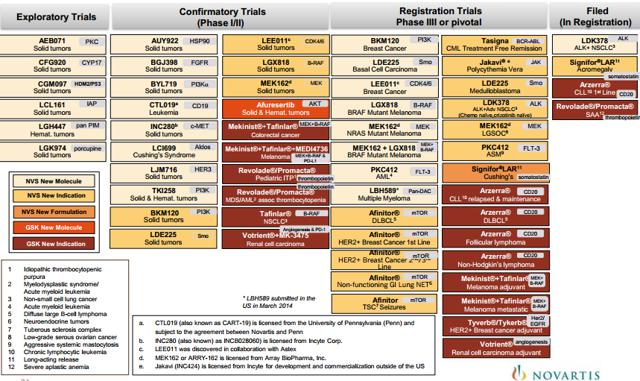 Source: Novartis Presentation
This acquisition will be justified if it can accelerate revenues and profits for the acquirer. Novartis may be able to derive almost 20% of its revenues from its oncology products in the coming years, leveraging on the demand of its own blockbuster medicine Gleevec and Glaxo's drugs Votrient for tumors and skin cancer treatments Mekinist and Tafinlar. However Glaxo's products are new to the market but Novartis is optimistic regarding their sales potential. Novartis will also add some of Glaxo's early stage promising cancer candidates to its own pipeline making it more robust. This acquisition will make Novartis more competitive to Roche Holdings AG (OTCQX:RHHBY) that has the biggest market share in terms of cancer drugs.
Novartis Divesting Its Vaccines Business
Novartis will also sell its vaccines business for $7.1 billion to GlaxoSmithKline and the price includes $1.8 billion in royalties receivable for Novartis depending on the achievement of certain business goals. The flu business is not part of this deal but it would also be put up for sale separately which the company expects to fetch a price of around $0.5 billion. Under this deal GlaxoSmithKline will add Novartis' Baxsero to its portfolio that was designated as a breakthrough therapy for meningitis by the FDA earlier this month. The vaccine was aimed to be filed for US approval as early as next quarter. Novartis has claimed that through divestment it has maximized the value for Baxsero(R) and its vaccines pipeline. Note that during 2013, the vaccines business contributed $1.4 billion to Novartis' top line.
Novartis - GSK Consumer Healthcare Venture
Novartis is considering combining its over-the-counter operations with GSK's consumer healthcare in a joint venture of which 63.5% will be owned by GlaxoSmithKline while Novartis will own the remaining 36.5% stake. This joint venture would become one of the world's biggest companies in consumer healthcare sector. GlaxoSmithKline believes that its consumer healthcare venture combined with Novartis will generate $10.9 billion in revenues annually. If it holds true, Novartis will be generating almost $4 billion of revenues and 15% core operating income per annum from the joint venture. During 2013, Novartis generated just $2.9 billion from its OTC drugs division. Novartis will account for its share of profits from the joint venture as Income from Associated Companies. Novartis expects this joint venture will result in significant synergies in terms of scale, portfolio, and geographical footprint.
Novartis Selling its Animal Health Division
Novartis has agreed to sell its animal healthcare division to Eli Lilly for $5.4 billion. Eli Lilly will fold Novartis' animal health unit into its Elanco business creating the second largest company in the sector in terms of global revenues. The purchase price agreed by the two parties reflects the standalone business value. During 2013 Novartis had generated net sales of $1.1 billion from its animal health segment. Novartis is optimistic that a leading animal health business under Eli Lilly's ownership will optimize the value of its assets in the favor of its shareholders.
Net Effect
The following chart expresses the net effect of the proposed deals of Novartis on its cash flow position. Novartis will see a net cash outflow of $7.6 billion upfront in 2015. Novartis will finance the net cash outflows by a blend of sources utilizing cash available at period end as well as raising finance through short term and long term financing instruments. Note that the company had cash and cash equivalents of $1.1 billion at the end 2013 while its cash flow from operations was $13.17 billion at the same time. Whatever the source utilized by the company it will try its best to retain its target double A credit rating and maintain its current share buyback program of $5 billion over a period of 2 years. The transactions that the company is entering into are expected to start contributing to its free cash flows one year after the deal closure.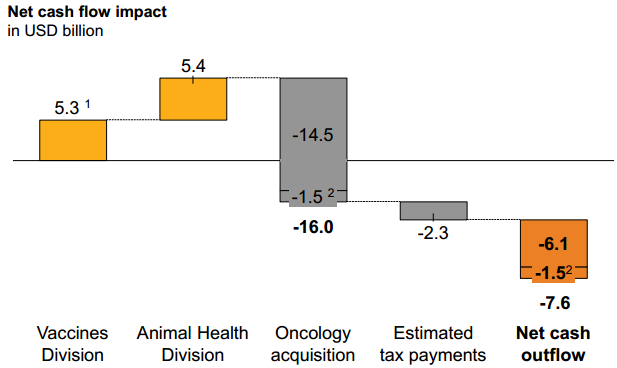 Source: Novartis Presentation
According to Novartis, substantial exceptional divestment gains are expected as the abovementioned deals finalize. The deal with Eli Lilly is expected to close by the end of the first quarter next year while transactions with GSK will close by the end of the first half of the next year. However, further details of the discontinuing operations will be available when the company reports its results for the second quarter of fiscal year 2014. As a result of the restructuring, Novartis will see its sales and core margin growth accelerated in the near term. Restructuring at Novartis will enable the company to accomplish its goals as illustrated in the figure below.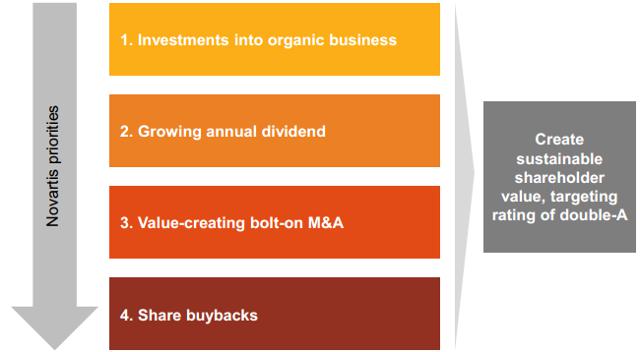 Source: Novartis Presentation
Final Thoughts
The above mentioned deals will bring positive results for Novartis in the short as well as long term. Gains as a result of the divestments will cause its respective quarter profits to rise and this will lift its stock price in the short term. In the long term Novartis will focus on its three core businesses including innovative pharmaceuticals, eye care, and generics. Its core business generates more profit and thus its top and bottom lines will be bolstered over time. In short Novartis will see its portfolio and financial position strengthened as it goes forward with this transformation. This analysis allows me to rate this stock as an attractive long-term investment.
Disclosure: I have no positions in any stocks mentioned, and no plans to initiate any positions within the next 72 hours.
Business relationship disclosure: The article has been written by a Gemstone Equity Research research analyst. Gemstone Equity Research is not receiving compensation for it (other than from Seeking Alpha). Gemstone Equity Research has no business relationship with any company whose stock is mentioned in this article.