At first glance, the retail industry may not be a sector you'd expect to have upside at this point in the business cycle. The long bull run should be coming to a close soon and cyclical industries are generally the first ones to start stalling when the economy begins to turn south.
Forecasts by the National Retail Federation say otherwise. They expect a 4.1% increase in sales for 2014 compared to 3.7% in 2013. Online sales will lead the way with growth between 9% and 12%. The NRF cites reasons such as an improving housing market and increased job growth as the main catalysts for growth.
The retail industry as a whole employs 1 out of every 4 workers in the U.S. and makes up $2.5 trillion of the GDP. As unemployment numbers continue to drop, retailers will be one of the primary economic indicators analysts look for.
The retail industry has performed well over the past 12 months tracking almost lockstep with the S&P 500 - up 20% versus 19%, respectively. However, not all retail is created equal. Specialty retailers have fallen behind the curve gaining only 12% in the same time period.
As customers continue to seek out inexpensive one-stop-shopping stores, it becomes more important than ever for small niche retailers to stay competitive. That doesn't mean there isn't any value to be found though. As the old adage goes, "a rising tide lifts all boats."
The key to investing in specialty retailers is finding well-run companies with minimal debt, quality products, and an online presence that makes it as easy as possible for potential customers to shop. Two companies come to mind that meet this criteria: 1-800-Flowers.com (NASDAQ:FLWS) and Vitamin Shoppe Inc. (NYSE:VSI).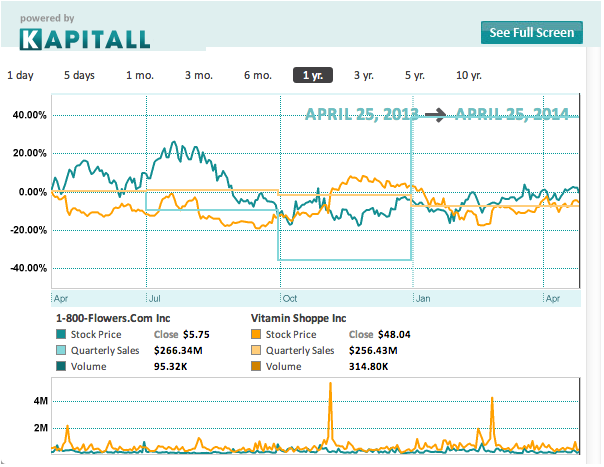 Click here for the full, interactive chart.
As one of the first retailers to offer a 24/7 toll free number and use the Internet for direct sales, 1-800-Flowers.com has already proven to be an innovative company that can stand the test of time. Always looking for new ways to stay above the competition, the company has recently teamed up with Deliv to offer customers same-day delivery for its flowers. The company's eponymous e-commerce business should serve as an additional boost to its bottom line as online retail sales outpace brick-and-mortar store sales.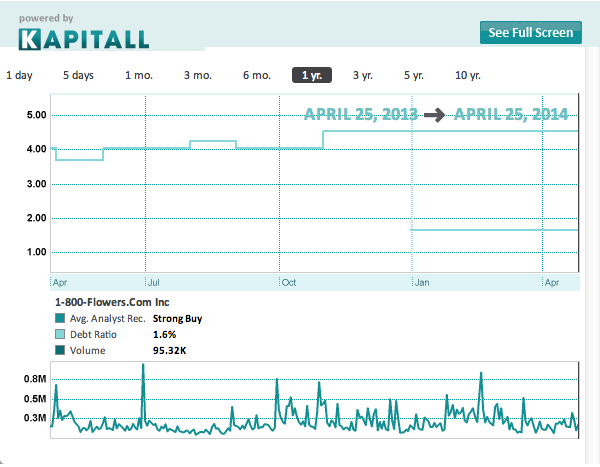 Click here for the full, interactive chart.
1-800-Flowers.com has very little long term debt, just $3 million, while cash and cash equivalents stand at $3.26 million giving it plenty of flexibility during tough times. EPS growth next year is expected to be over 26% and long term forecasts place growth at 16% annually. The average analyst price target on the stock is $7.38 - a discount of 28% at current price levels.
Vitamin Shoppe Inc. is a company that's capturing several niches at once. Not only does it have a growing online segment, but it fits neatly into the growing demand for healthy lifestyles and pet care products. For health-conscious consumers, it's a one-stop shop for everything fitness, child, pet, and nutrition related.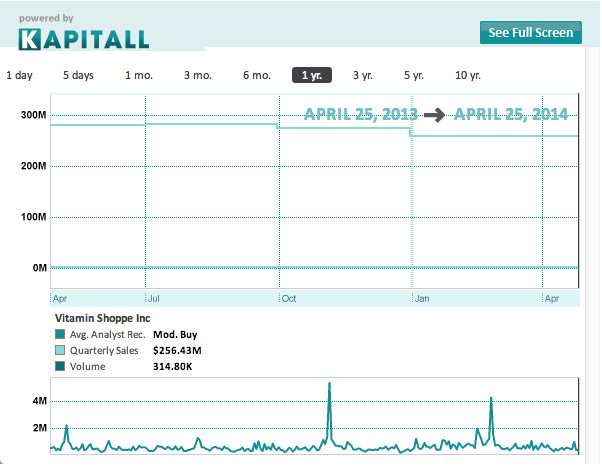 Click here for the full, interactive chart.
Like the other company on our list, Vitamin Shoppe has a balance sheet that gives it plenty of downside protection. The company has no long term debt with cash and cash equivalents of $74 million. Quarterly sales growth year-over-year is 17% while the company has posted EPS growth over the last 5 years of 96%. The average analysts' price target for the stock is $52.15, which means it trades at an 8% discount from current levels.
Disclosure: I have no positions in any stocks mentioned, and no plans to initiate any positions within the next 72 hours.
Business relationship disclosure: Kapitall is a team of analysts. This article was written by Daniel Cross, one of our writers. We did not receive compensation for this article (other than from Seeking Alpha), and we have no business relationship with any company whose stock is mentioned in this article.