Apple (NASDAQ:AAPL) on behalf of their tenant GT Advanced Technologies (GTAT) submitted two applications to the Foreign Trade Zone (FTZ) No. 221 for approval. Apple's application for Sub Zone designation at the Apple/GT facility was submitted to the FTZ office on December 17th, 2013 and Apple's application for "Interim" Production Notification Application was submitted to the FTZ office on December 30th, 2013. The Interim Production Notification Application indicated that Apple had an aggressive go-live timeline of February 2014. The Apple/GT facility was granted a temporary C-of-O (Certificate of Occupancy) to commence with occupancy and production of Quick Start 140 area on January 10th, 2014. Quick start 140 was located in Module 1 of the Mesa facility and contained 140 "tools," which are also know as sapphire growth furnaces.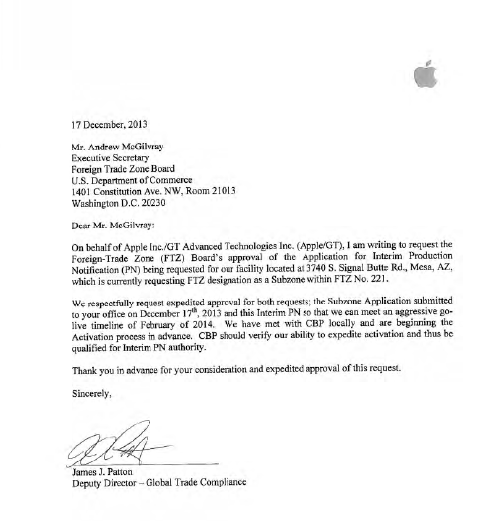 Apple's application for Sub Zone 221 designation was submitted to the FTZ office on December 17th, 2013. The Apple/GT facility was formally granted Sub Zone approval on March 19th, 2014. The Sub Zone approval was the final step required before Apple and GT could begin in earnest to manufacture intermediate components for consumer electronics for exports as indicated in their original Sub Zone application.
Apple Inc./GT Advanced Technologies Inc., Mesa, AZ, 221A, approved 3/19/2014 (S-5-2014)
Another interesting fact to point out about the Master Development and SOW agreement between Apple and GTAT, is that the agreement requires that the purchase of additional furnaces would be negotiated in good faith prior to the second Milestone Payment made under the Prepayment Agreement. GT reported during their Q4 2013 conference call on February 24th, 2014 that they had received the second Milestone Payment from Apple. The receipt of the second Milestone Payment from Apple signals that the furnaces that were required to be purchased and deployed as part of this agreement were all ordered on or before February 24th, 2014.
Apple's purchase of additional Furnaces and Similar Furnaces will be made under the terms of Apple's Master Equipment Purchase Agreement (the "MEPA"). Apple and GTAT will negotiate in good faith to execute the MEPA as soon as possible following the Effective Date, but in any event prior to the second Milestone Payment made under the Prepayment Agreement. Prepayment Agreement
According to Port Authority records, sapphire growth furnace deliveries began heading to Mesa, AZ on December 2nd, 2013 and the last known delivery was recorded on March 10th, 2014. I have tracked 1,265 furnace deliveries that have passed through Port Authority. Additionally, any and all domestic furnaces that did not pass through Port Authority (i.e. truck) would not be caught in my sapphire furnace fishing net.
I have assumed GT deployed $251m of PPE ($180m) and Inventory ($71m), which would account for 837 additional furnaces inside Mesa giving me a total confirmed/estimated of 2,102 furnaces. The book cost that GT assigned to each furnace that was deployed and taken out of inventory could be substantially lower than $300,000 per furnace. If GT's price per furnace is actually $30,000 lower than my estimate, it would add almost 100 furnaces to my estimate. Conversely, a $30,000 increase would decrease my estimate by 100 furnaces.
My Estimated # of Furnaces Purchased/Deployed in Mesa, AZ
My Tracked Furnace Deliveries through Port Authority and My Estimated GTAT Furnace Deliveries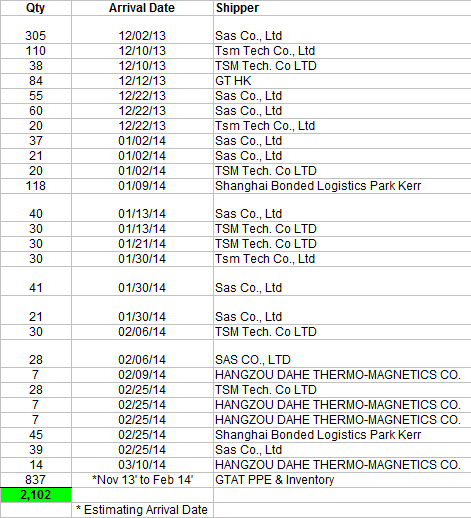 Based on my correspondence with a sapphire industry expert, GT had previously touted their ability to ramp up 500 furnaces per month at ASF equipment customer locations. However, GT has already informed investors that they dedicated a vast majority of their ASF capacity to the Mesa, AZ sapphire effort, which would likely drive their drive GT's maximum furnace ramp north of 500 furnaces per month. Based on the furnace delivery dates and GT's touted ability to ramp up efforts and focus on Mesa; I'm becoming hard pressed not to believe that Apple's Mesa Sapphire plant was likely operating at or near full capacity, just days after receiving the official unlimited go-live approval from the FTZ on March 19th, 2014.
The image below of the electrical substation taken on April 28th, clearly shows steam rising above the cooling system.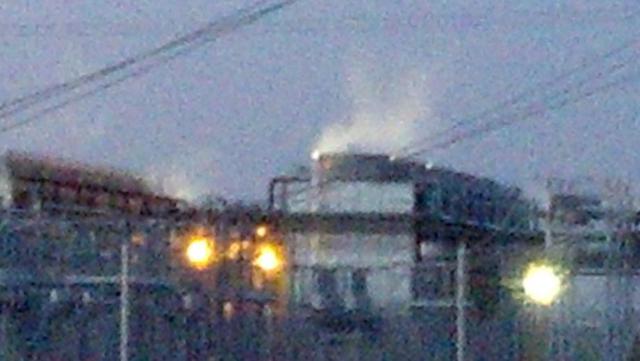 GTAT's 2012 Sapphire Equipment Presentation
Disclosure: I am long GTAT. I wrote this article myself, and it expresses my own opinions. I am not receiving compensation for it (other than from Seeking Alpha). I have no business relationship with any company whose stock is mentioned in this article.
Additional disclosure: I have no plans to buy or sell any positions over the next 72 hours