Square Enix (OTCPK:SQNXF) is a publicly held Japanese gaming company best known for console franchises such Final Fantasy, Dragon Quest and Kingdom Hearts (developed jointly with a Disney studio).
Via its 2009 acquisition of Eidos Montreal, Square Enix [SE] holds other console franchises familiar to gamers in the West: Tomb Raider, Hitman, Deus Ex, and Thief.
Like the other AAA console game companies - Nintendo (OTCPK:NTDOY), Sega (OTCPK:SGAMY), Konami (NYSE:KNM), and Namco Bandai (OTCPK:NCBDF), -- SE has been slow to adapt their franchises to mobile. As a result, with the exception of a recent spike (more on that later), SE's stock has languished these past 5 years.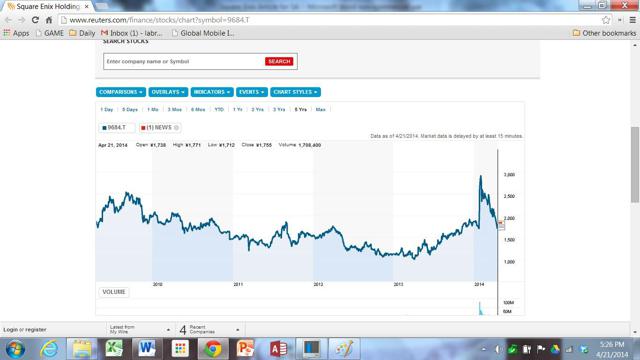 Source (Reuters)
Ironically, we think that the lack of a mobile hit and the lack of any recent run-up is really one of the best filters for selecting mobile gaming companies as potential short-term investments.
The absolutely worst time to invest in a gaming company is after a release becomes a hit as evidenced by the IPOs of Zynga (NASDAQ:ZNGA) and King Digital Entertainment (BATS:KING).
This is because hour-by-hour information on new releases of free-to-play games (ftp) with in-play purchases are publicly available from analytics companies like App Annie that tap into iOS and Google Play store data. After a new release becomes a Top 10 revenue ranking game on App Annie, a rapid capitalization occurs translating the data's signal of a likely stream of revenue and profit into appreciated stock.
This rapid capitalization process is similar to the days (30-40 years ago?) when weekend box office data could propel the stock of a movie studio. Today, there is only Lions Gate (LGF) where the phenomenon weakly is in play.
App store data has replaced weekend box office data as a must read for momentum investors. It is only a matter of time before Variety will be printing App Annie charts. (Disclosure: I have received no remuneration from App Annie)
However, publicly available data as a predictor of a company's future revenue and profit is subject to an efficient market effect. The more the data proves to be a valid predictor, the shorter and shorter the time span between data signal and capitalization.
My ex-post examination of App Annie graphs paired with stock charts - Colopl (TYO:3626) with Quiz RPG: The World of Mystic Wiz, GungHo Online (OTC:GUNGF) with Puzzle and Dragons, and Glu Mobile GLUU with Deer Hunter 2014 - suggest there was a month span in 2012-3 between when a mobile ftp game first achieved a Top 10 revenue ranking on App Annie's charts and when a stock rocketed.
For Japan today, there are at least 15 mid-sized publicly held companies where a Top 10 hit mobile game is sufficient to move the stock. Also, game bloggers in Japan regularly report on App Annie data. Not so in the United States where only Glu Mobile fits this criteria.
As a consequence, the span between app store data signals and capitalization of a Japanese mid-sized publicly held company is probably one or two days. Check out the chart of Mixi (OTCPK:MIXIF) or (TYO:2121) and Voltage (TYO:3639) as the most recent 2014 examples.
I know you have read it before that NOW is the time for Square Enix. You read it on blogs and SA that 2013 was the time for SE based on anticipation of the release of a paid ($6.99) mobile game called Deus Ex: The Fall which was named after one of their Western franchises.
Well, that mobile game was a horrible adaptation, roundly criticized by the bloggers, and justifiably faded quickly from the App Annie revenue ranking charts.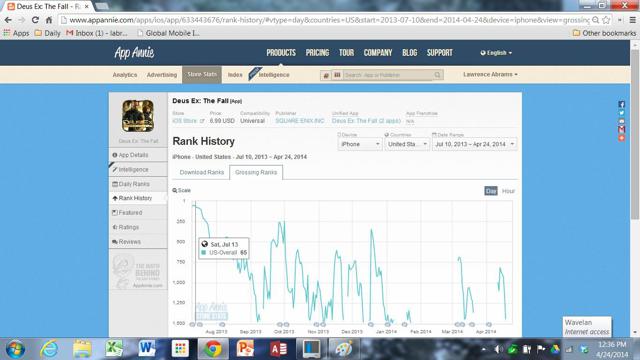 (Source: App Annie)
The point of showing you the chart above is to stress that now is the time TO WATCH App Annie charts of Square Enix releases, NOT now is the time TO INVEST in Square Enix.
You would have had dead money had you invested in 2013 based on hype and anticipation of the release of Deus Ex: The Fall.
Invest only after you see a release cross the TOP 10 revenue rankings on App Annie and sell after you see in a week-long steady fade in revenue ranking.
If Mixi, a Facebook wannabe, can produce a mobile hit, and if Voltage, a teen romance RPG publisher, can produce a mobile hit, why not SE with its incredible stable of console franchises?
Obviously, the SE's console legacy itself has been the chief barrier. I list 4 reasons below why I think SE has overcome that barrier and now is poised to produce a mobile hit.
In March 2013, SE replaced long time CEO Yoichi Wada with Yosuke Matsuda after announcing a revised 2012 yearly loss of $138M USD due to lackluster console game sales in the West.
In January, 2014, SE had its first ftp mobile hit with the release of Dragon Quest Monster Super Light (DQMSL). While the game was developed by a contractor, Cygames, and the success did not last, the brief "rush" of success on mobile surely has focused the company top to bottom to come up with another long lasting ftp hit.
Below is the pairing of App Annie revenue ranking data on iOS Apple Store - Japan (similar for Google Play) for DQMSL and SE's stock chart. The game was released on January 23, 2014 at #30. Within 2 days, it shot up to #3. But, by February 15th, it started to fade and now rests at #23.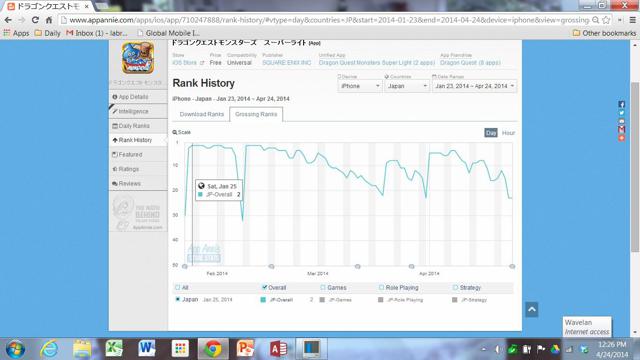 (Source: App Annie)
Here is the SE (TYO:9684) stock chart. On January 23th, the stock was at ¥1681. By January 31st the stock stood at ¥2895, but today has faded back down to ¥1743.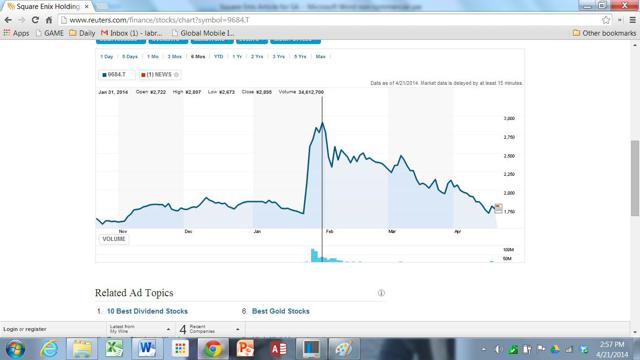 (Source: Reuters)
In April 2014, Sony sold off all of its shares in SE, ending (possibly contractually) Sony's influence over SE's priority to produce for PlayStation to the exclusion of competing platforms which now is mobile.
April 2014, SE released a paid ($4.99) mobile game Hitman GO, named after the Western console "stealth action" franchise Hitman. The game was produced by SE's Eidos- Montreal studio. Rather than a watered down version of an action console game, the studio created an innovative "diorama-style turn-based strategy" game better suited for mobile than an action game requiring rapid button pushing.
This marked the end of a 3 year pivot for SE's Canadian studios from updating console games to creating innovative adaptations to mobile. While the paid game was a critical success, its high revenue ranking only lasted a week.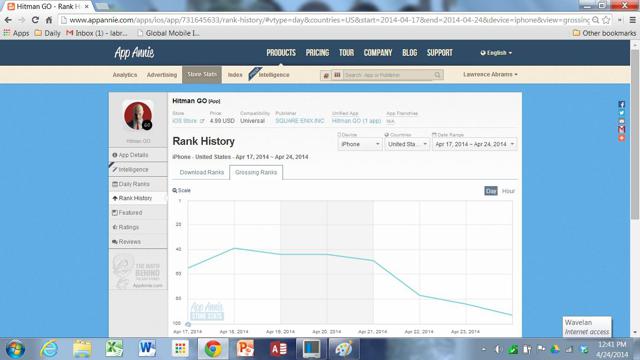 (Source: App Annie)
SE might consider that the best business model for mobile is ftp with in-app purchases, not paid. But, the critical success of Hitman GO shows that there is only an upside for SE in mobile.
Disclosure: I have no positions in any stocks mentioned, and no plans to initiate any positions within the next 72 hours. I wrote this article myself, and it expresses my own opinions. I am not receiving compensation for it. I have no business relationship with any company whose stock is mentioned in this article.
Editor's Note: This article discusses one or more securities that do not trade on a major U.S. exchange. Please be aware of the risks associated with these stocks.