Interestingly enough, some people believe that financial markets have been essentially manipulated to the point where "traditional" forms of assessing market risk and corresponding valuations are no longer valid. In the last several months, I have spoken with multiple professionals within the financial industry (hedge fund managers, VPs of security divisions, investment bankers, and so forth) on the topic.
First, I would like to discuss the situation behind quantitative easing. While some view that it was absolutely necessary to provide massive cash injections in the credit market, others saw it as a huge mistake letting the Federal Reserve get involved. However, if this never occurred, there would have been no liquidity within the markets, and in a nutshell, the system likely would have collapsed. Now everyone thinks the Fed has overextended its hand, which has practically turned the market upside-down, and to a certain extent, it has. Since an outside party is buying up securities via open market operations, there is a clear bias to the "long side" pumping up equity markets. In about a five year period, asset prices have been inflated above levels seen prior to the financial crisis. Now here is when things get a little sticky and fallacies start creeping into the equation:
1) Buy every dip because "the Fed has your back" and keep doing so until it fails. In my opinion, not only is this an extremely poor risk management strategy, but also a lack of recognition with respect to tapering.
2) Traditional valuations, such as GARP (growth at a reasonable price) are no longer useful, since we have a new market. The idea behind this is that since there has been a major inflow into equity markets, businesses in the U.S. are likely expensive abroad. In addition, since GDP growth will remain nominally low, businesses' top lines will no longer grow at levels seen in the past.
It's pretty obvious that market participants looking to buy every dip and sell it every time we break a new high is sort of a silly idea. Yes, people do ride the trend, moving in and out, but saying that a correction or crash will never occur again is flat out wrong. How could major pullbacks take place in 2010, 2011, and 2012, but all of a sudden, it is no longer an option? This is the definition of complacency. However, I will mention that since investors naturally seek yield, people have transferred funds from bond markets into equities. Still, this doesn't necessarily mean that the tide cannot recede. Just look at the S&P 500 SPDR ETF (NYSEARCA:SPY); it has been in a sideways channel for approximately four months now, which shows distinct psychological indecision by market participants.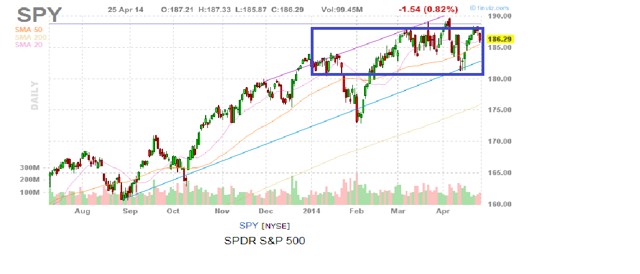 In any event, it's interesting that some people scream "QE infinity," while others say the Fed is "out of bullets." Regardless of the scenario, as it would take too long to explain, people should maintain their traditional sense of market risk. Complacency and speculation always tend to enter the market when we are at peak levels. So again, I don't think it's valid to have the "this time it's different" perspective, when it's been proven to fail time and time again. While this extraordinary scenario has been generated through monetary policy, it isn't safe to assume that asset prices will detach from value entirely or even that much at all. Like Warren Buffett says, asset prices always return to their true value over time.
Other market participants, specifically large hedge funds, have the notion that since economic growth will likely be sustained at very low levels in coming years, businesses will not see much revenue growth abroad. So instead, these institutions have been seeking out companies that are "ahead of the game," eroding market share and growing revenues faster than other businesses. We see them on the news all the time, companies like Tesla (NASDAQ:TSLA), Amazon (NASDAQ:AMZN), Netflix (NASDAQ:NFLX), Chipotle Mexican Grill (NYSE:CMG), Priceline (PCLN), Zillow (NASDAQ:Z), LinkedIn (LNKD), and Facebook (NASDAQ:FB). In some situations, this is sort of why investors have been ignoring earnings reports, particularly the bottom line, and continuously bidding up the price looking at the bigger picture (although this is not the case recently).
So essentially what some of these investors have said is that you cannot buy growth at a reasonable price, instead, only at an unreasonable price. In a way, this makes sense, but investors still need to be able to project growth prospects, intended market share, and essentially the businesses' future cash flows - this is obvious. While some of these businesses have been able to grow their business models in a relatively safe and stable way, others are what I like to call speculative. First off, if you cannot properly assess future earnings, returns, or cash, how do you know if you are making a worthy investment? Secondly, what if something goes wrong with operations? We saw Apple (NASDAQ:AAPL) lose Steve Jobs as its CEO and then margin compression, which practically cut the share price in half. Not that this was necessarily justified, but it is a good example of what can happen to a business that "can do no wrong." What if competition spikes up dramatically, i.e. between Amazon and Wal-Mart (NYSE:WMT); who is the better choice? My point is if you are not even buying fair value, where is the safety net? I think this is why we have seen a discernible pullback in all of the high-flyers, because institutions are looking to both cash gains, and more importantly, reduce overall exposure (Carl Icahn with Netflix is a recent one).
Bottom Line
The next several months will be a very interesting time for not just U.S. equities, but markets around the world. With continuous tapering in place and a large bond market inflow, the bull market ending its 5th year, and May just around the corner, there will probably be quite a bit of volatility. I am not making a long case for the volatility index, but it's worth keeping track of. Nevertheless, there are still pockets of undervalued businesses that will ride through the storm, in some cases, requiring top-down equity research, but most bottom-up, just as famous and highly successful investors have always done it.
Disclosure: I have no positions in any stocks mentioned, and no plans to initiate any positions within the next 72 hours. I wrote this article myself, and it expresses my own opinions. I am not receiving compensation for it (other than from Seeking Alpha). I have no business relationship with any company whose stock is mentioned in this article.