We all know how amazing Apple (NASDAQ:AAPL) products are, and will probably continue to be. The issue now is that since Apple has once again increased its dividend, the stock should be owned by dividend income investors of all kinds, especially for a more secure retirement. Apple has not yet increased its dividend for 25 consecutive years, but if there was one company I had to choose to become a dividend champion of the highest caliber, Apple would be on top of a very short list.
Since Apple began paying dividends once again in 2012, it has increased the dividend each year since. While this is not exciting in and of itself, Apple now has shown its proclivity to offer shareholder value in both share buybacks and dividend increases.
This year's increase of about 8% might not be a head turner, but it does have a 2 year record of 10.5% increases, and while that also is not yet in the rarefied air of Exxon Mobil (NYSE:XOM) or Johnson & Johnson (NYSE:JNJ), I believe that we are seeing the beginning of a future dividend champion, on top of a renewed growth engine.
The Fundamentals Tell It All For Dividend Investors
Obviously, dividend income investors love investing in mega cap, blue chip companies that have plenty of money to give back to shareholders on a very regular basis. Well, they do not come any bigger than Apple.
Apple has more cash than many nations! Take a look at this chart that had been compiled by the U.S. Trust: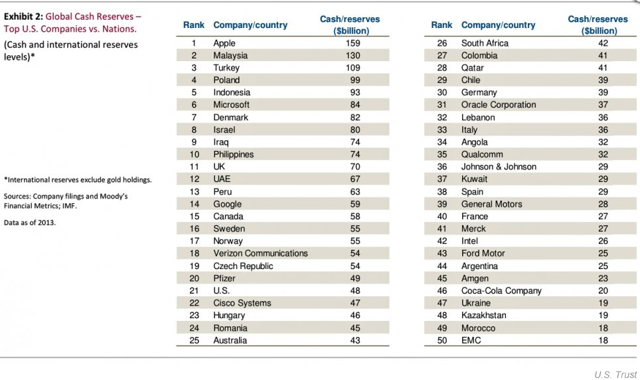 Yes, Apple has more cash reserves than even the U.S.A. The point is that the company has an enormous amount of cash that continues to grow each and every quarter. As of this quarter, Apple noted a decline in cash to $151 billion, but that includes the addition of $13.5 billion from net profits, as well as $21 billion given back to shareholders in dividends and share buybacks.
"We generated $13.5 billion in cash flow from operations and returned almost $21 billion in cash to shareholders through dividends and share repurchases during the March quarter," said CFO Peter Oppenheimer. "That brings cumulative payments under our capital return program to $66 billion."
That is an amazing amount of shareholder return. The fundamentals support even more for the foreseeable future.
A relatively puny dividend payout ratio of 29%.
Current gross margins are close to 30% plus an anticipated increase in 2014 to roughly 37%-38% as noted in the earnings conference call.
"Now, as we move ahead into the June quarter, I'd like to review our outlook which includes the types of forward-looking information that Nancy referred to at the beginning of the call. We expect revenue to be between $36 billion and $38 billion compared to $35.3 billion in the year ago quarter. We expect gross margins to be between 37% and 38%"....stated Luca Maestri, VP of Finance and Corporate Controller.
An extremely low forward PE ratio of 12.01.
Over 62% institutional ownership of all outstanding shares.
The 7:1 Stock Split Explained
From a dollar for dollar standpoint, stock splits mean nothing since the total of an investor's holdings stays the same in terms of value on the day of the split. At current prices, however, a split of 7:1 will bring the share price down to roughly $80.00/share.
The psychological impact of this cannot be denied however. Many investors might like to put $8k in shares of Apple but for a round lot of 100 shares, not just 15. Let me reiterate, this split means nothing in dollars, but with a share price of around $80.00, more folks will be apt to pick up shares to open a position, and existing shareholders could possibly add more shares to round off their holdings to the nearest 100 after the split.
While it might sound silly, people DO think that way, and the potential for Apple to rise in share price from the combination of an increased dividend AND a meaningful stock split is more than likely to occur in my opinion.
I can actually see the share price of Apple rise to all-time highs at over $100/share in the near term, just by the company making these two moves. That is roughly a 25% increase in capital appreciation on top of the 8% dividend increase.
Are there any other reasons that a dividend income seeking investor needs to see that this stock is now a must own?
The Bottom Line
Apple might not be the growth phenomenon of several years ago, but given that the company continues to churn out products to keep its legacy business intact, and has shown the desire to be shareholder friendly, with the enormous sums of money it brings in, it would be a mistake to overlook this stock for any prudent dividend investor.
Disclaimer: The opinions of the author is not a recommendation to either buy or sell any security. Please do your own research prior to making any investment decisions.
Disclosure: I am long AAPL, JNJ, XOM. I wrote this article myself, and it expresses my own opinions. I am not receiving compensation for it (other than from Seeking Alpha). I have no business relationship with any company whose stock is mentioned in this article.