Seadrill (NYSE:SDRL) shares have had a tough 2014, as have the shares of most other offshore lessors. The S&P 500 has been flattish in 2014, but Seadrill has declined by over 15% on concerns of rig oversupply in 2015 and beyond. From listening to various conference calls, one can tell that anxiety abounds in the analyst community regarding rig leasing day rates. Management, for its part, has done everything it can, short of speculation, to reassure investors. Most significantly, management explicitly assured investors that the current dividend of $0.98 per quarter would be a 'floor' until 2016.
Apparently, nobody cared. Since November 2013, the date on which that assurance was made, Seadrill has lost about a quarter of its share price. Recent price action shows that Seadrill may have hit a bottom just a few days ago. Even if shares haven't bottomed, Seadrill still represents a great value right here, not to mention a dividend yield of 11.25%. This article will look at the recent price action in Seadrill and the relative value which shares now represent.
Value proposition
In the offshore lessor industry, Seadrill carries a unique set of strengths and weaknesses which have been discussed in two previous articles, here and here. In a nutshell, Seadrill's balance sheet is more complicated and carries more debt than that of its peers. On the flipside, Seadrill has been very successful at leasing its newbuild rigs and obtaining longer-term agreements, hence the dividend visibility until 2016. Seadrill also has a very young, deepwater-oriented fleet in a market demanding exactly that. As long as day rates remain stable and above $525,000 or so, management believes that earnings will continue to grow.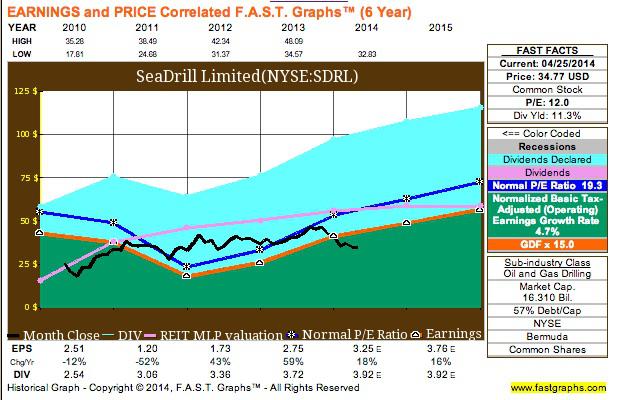 With that all out of the way, look at Seadrill's value proposition. For those unfamiliar with FAST Graphs, the solid black line represents price. The green area bounded by the orange line represents the Graham "Fair Value" number, and the solid blue line represents the company's normal P/E ratio. Right now, Seadrill is well below both its average PE and Graham "Fair Value." Not only that, the dividend yield (which is secure) is near an all-time high. Reaching just its Fair Value, Seadrill has a potential upside of 35%.
The bottom?

YCharts
Notice in the above chart a recent spike in price. Normally this would be no big deal, but I think this represents an important move. In fact, this spike came at a time when the market did the exact opposite.

This chart represents Seadrill versus the S&P 500 over the last three days. On Thursday, the market ended down, yet Seadrill vaulted higher by over four percent. And check out Friday. While the S&P dropped by nearly one percent, Seadrill gained about another 1.5, all on little to no recent news. I believe that either some market mover, or a few institutional buyers, are getting in the stock right now. Volume was good, too. On Thursday, over 5 million shares changed hands, which is very near Seadrill's high for the month. On Friday, volume stayed high at over 4 million. Right now, shares sit at $34.77, but would need to clear $35.30 or so to get that higher level of support.
Final thoughts
Many on Seeking Alpha, myself included, are not fans of technical analysis. But in the case of Seadrill, the fundamentals are there, too. Seadrill is cheap any way one looks at it, and I believe that recent price action is pointing to some better days.
Disclosure: I am long SDRL. I got long Seadrill for my personal account on April 21st. I wrote this article myself, and it expresses my own opinions. I am not receiving compensation for it (other than from Seeking Alpha). I have no business relationship with any company whose stock is mentioned in this article.