"Thinking: the talking of the soul with itself." - Plato
I've been at the writing game for some time now. Since late 2010, I've written for numerous websites like SeekingAlpha, Marketwatch, and Minyanville. I've had the privilege to have my analysis featured by Marc Faber of the Gloom, Boom, and Doom Report, and Barry Ritholtz of the Big Picture. If there is one truth when it comes to getting attention, it's a headline that uses the word "crash" in it. Clearly the word is thrown around a lot and generates an emotional response. However, it is important to really define what a crash is, and identify if market dynamics are crashing not just in absolute price, but also in underlying investor thinking. While some may use the word crash to get headlines, I use it to bring attention to what's actually happening from an intermarket standpoint.
What defines a crash is generally a swift and sudden decline that few see coming and many get caught in. There is no magic percentage decline that defines a crash. A highly volatile stock that drops sharply may not be crashing since it may simply be a function of that volatility. Rather, one needs to consider how much time is given back in an investment over a short period of time. For example, the Summer Crash of 2011, which was my breakout call in terms of media attention, was a sharp decline in August which erased around 8 months worth of stock market gains. The Crash of 1987, while far deeper in magnitude, also erased around 9 months of performance.
Time matters in really understanding what a crash is. While large-cap indices are still sitting around all-time highs, there is a crash happening which no one is talking about. That crash is the alpha crash in US small-cap stocks. Take a look below at the price ratio of the Russell 2000 ETF (NYSEARCA:IWM) relative to the S&P 500 (NYSEARCA:SPY). As a reminder, a rising price ratio means the numerator/IWM is outperforming (up more/down less) the denominator/SPY. A falling ratio means the opposite.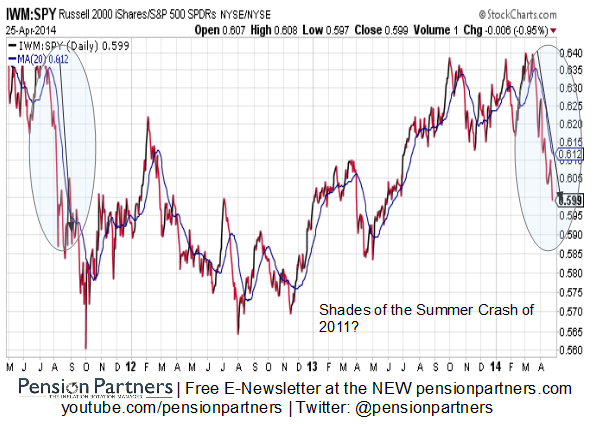 This looks a lot like the collapse in small-caps relative to large-caps that occurred during the Summer Crash of 2011. The last few weeks in small-caps have erased essentially all of 2013's outperformance of small-caps against the S&P 500. That's a crash no one seems to be talking about.
Is this a harbinger of bad things to come? Maybe. Note that small-cap stocks are most sensitive to domestic growth and inflation expectations. The decline has nothing to do with the weather or Russia. Rather, a severe change in mentality is underway. Combined with the behavior of Treasuries and defensive sectors like Utilities, all of us should pause and ask: are things really resilient when looking at the markets as opposed to within them?
Perhaps this is the market resolving excesses last year and prolonged leadership in defensive sectors. Utilities have been on fire so far in 2014, and as Charles V. Bilello, CMT and I wrote in the 2014 Dow Award winning paper, volatility and corrections tend to happen when Utilities leadership is already underway. Our ATAC absolute return and sector rotation mutual funds and separate accounts remain in defense mode. Given that we are entering a weak period in the cycle for high beta gains overall, it is worth considering if the moment has passed for another big move higher in the short term.
Disclosure: I have no positions in any stocks mentioned, and no plans to initiate any positions within the next 72 hours. I wrote this article myself, and it expresses my own opinions. I am not receiving compensation for it (other than from Seeking Alpha). I have no business relationship with any company whose stock is mentioned in this article.
Additional disclosure: This writing is for informational purposes only and does not constitute an offer to sell, a solicitation to buy, or a recommendation regarding any securities transaction, or as an offer to provide advisory or other services by Pension Partners, LLC in any jurisdiction in which such offer, solicitation, purchase or sale would be unlawful under the securities laws of such jurisdiction. The information contained in this writing should not be construed as financial or investment advice on any subject matter. Pension Partners, LLC expressly disclaims all liability in respect to actions taken based on any or all of the information on this writing.