As the smartphone market develops, a stream of new entrants has joined the fray. Apple (NASDAQ:AAPL) and Samsung (OTC:SSNLF) have been the most successful in the arena, with both making the bulk of their income by offering "premium" smartphones with prices over $500 earning margins as high as 50% or more. Samsung has tried to differentiate its premium Galaxy series of smartphones by using the best available components and adding features while Apple has been focused on the total user experience and developing its very popular iPhones with more middle of the road componentry to preserve relatively low costs.
Neither Apple nor Samsung offer a truly premium smartphone at a modest price, creating an opening for those able to offer fully featured smartphones at a more affordable price point.
A number of competitors have tried to fill that gap to carve out a customer base by offering very high performing devices for lower to mid-range prices - Google (NASDAQ:GOOG) with its Nexus line; Xiaomi with its "Red Rice" phones which have been very well received in China; Microsoft (NASDAQ:MSFT), formerly Nokia, with its affordable but powerful Lumia phones; and, Motorola with its Moto X.
But each of the competitors has found it necessary to compromise on some element of their offering to meet their price point and none has really made a dent in either Samsung's or Apple's hegemony at the high end of smartphone features and performance - despite often higher device costs arising from higher end components.

In many respects, the failure of these competitors to displace Samsung or Apple in any meaningful way is in some part related the strength of the Apple and Samsung brands and in part to the omission of a key feature the leaders provide, giving their loyal users a reason to stay put.
A new competitor in the smartphone arena wants to take advantage of those omissions by introducing an affordable but beautifully designed smartphone that does not compromise on specifications or quality - that competitor is Chinese company OnePlus, started by ex-Oppo executive Pete Lau.
The OnePlus One smartphone is simply gorgeous and starts at $299 U.S.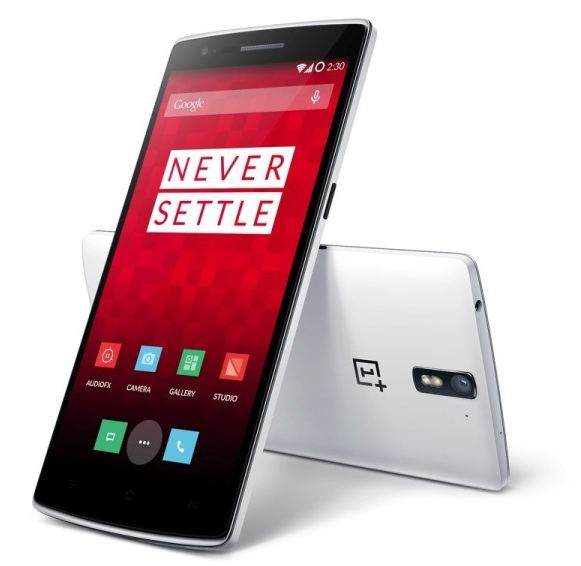 Photo: Engadget
The question of how disruptive it might be starts with a how it compares to an iPhone 5S or a Galaxy S5.
Comparison to iPhone 5S
A comparison of the OnePlus One specification to the iPhone 5S shows just how far OnePlus has gone to offer its uncompromising feature set.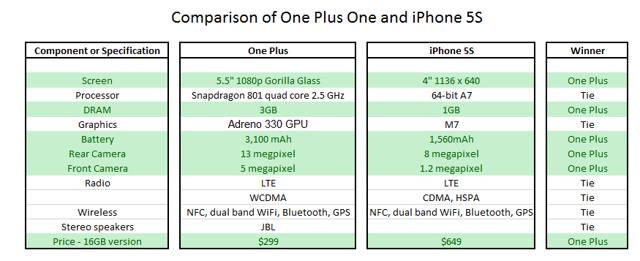 There are Apple fans out there who will swear that the 64-bit A7 with its 1GB of RAM will outperform the 32-bit Snapdragon 801 with 3GB of RAM, and they may be right although some independent observers will choose to disagree. Regardless of the debate they are pretty evenly matched.
The OnePlus One provides a larger and higher resolution screen; higher performance cameras both front and back; a larger battery; and, one third the price. With the OnePlus One able to take advantage of the rich Android ecosystem, the iPhone's claim to more or better applications has faded to gray and most users would find little to choose between them despite strong views in both the iOS and Android camps.
Apple's internal documents from the Samsung litigation show that even Apple executives see the game changing writing: "Competitors have drastically improved their hardware and in some cases their ecosystems".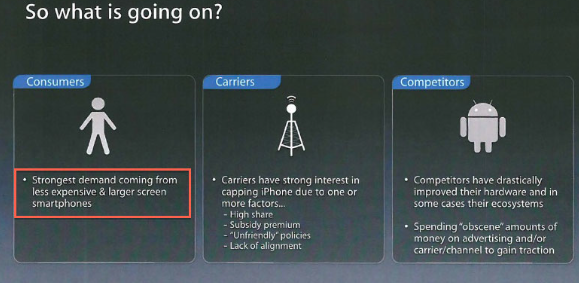 Source: Macrumors.com
The Apple executives recognized what is inescapable - that consumers want smartphones that cost less than $300 with screens larger than 4 inches. OnePlus One is delivering on those desires.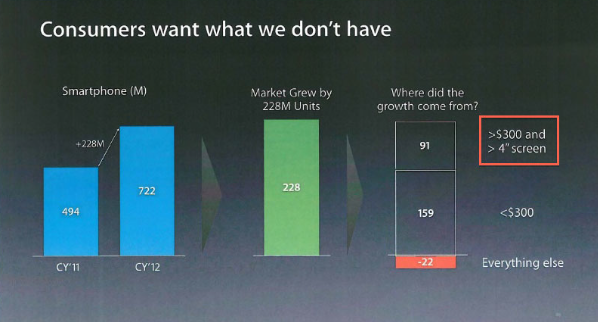 Source: Macrumors.com
Apple's expected iPhone 6 will address the screen size issue. With Apple negotiating with carriers for a $100 price increase, the new iPhone will do little to alleviate the pricing issue and many consumers will continue to want what Apple does not have.
Whether that is a OnePlus One remains to be seen.
Comparison to Galaxy S5
The OnePlus One is a direct attack on the Galaxy S5 with features that pretty well match or exceed the S5 on every line except the slightly higher resolution rear camera on the Galaxy model.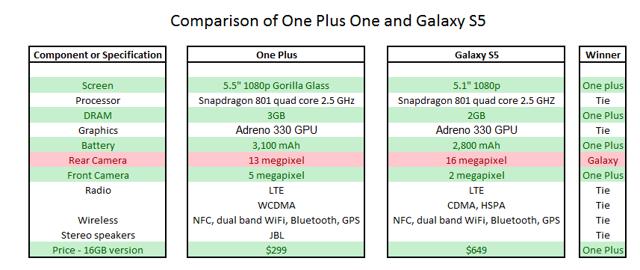 Source: Galaxy specs from GSM Arena
While the iOS customer loyalty is seen by most as very strong, the OnePlus One could so some serious damage to Samsung with its device half the price but seemingly every bit as capable. With both accessing the Android ecosystem more or less identically, the Samsung device has not much to support the price premium it charges.
Conclusion
The success or failure of a new entrant may be a sideshow. The question is whether any new entrant can upset the applecart that has been so profitable for Apple and Samsung. OnePlus looks like it has a chance. If it fails, others will follow.
The leaders have put a price umbrella over a maturing market and that price umbrella is attracting competition. In my opinion, the willingness of consumers to pay a premium price for a commodity product has rarely ended well for the high priced competitor. Apple and Samsung need to continue to innovate to offer features that cannot be easily replicated if they are to continue to ride their gravy train. They might - but the risks of a disruptor are clearly present.
I remain short Apple stock but have an offsetting long position through options.
Disclosure: I am short AAPL. I wrote this article myself, and it expresses my own opinions. I am not receiving compensation for it (other than from Seeking Alpha). I have no business relationship with any company whose stock is mentioned in this article.
Editor's Note: This article discusses one or more securities that do not trade on a major U.S. exchange. Please be aware of the risks associated with these stocks.