In my recent article "What is 'Quality' in a Stock?" I identified 24 companies as high-quality using various approaches to defining quality. A reader asked whether any of them are good values at the moment. This article is meant to answer that question.
Measuring Valuation
There are a multitude of ways to measure valuation. In this article, I will use the following:
Morningstar's star ratings
FASTGraphs' default valuations
FASTGraphs' valuations adjusted by the "normal" P/E ratio of each company
I will illustrate the approach once in detail to show how it works, then present the results for all of the stocks.
In the first article, Johnson & Johnson (NYSE:JNJ) was identified as high-quality under all five methods used. Let's look at its valuation in three steps.
Step 1. Morningstar's star ratings
Here is how Morningstar determines their star ratings for stocks.
The Morningstar Rating for Stocks is calculated by comparing a stock's current market price with Morningstar's estimate of the stock's fair value. Our rating system also includes an uncertainty adjustment, so that it's more difficult for a company to earn a 5-star rating the more uncertain we are of our fair value estimate.

Under our system, 3-star stocks are those that should offer a "fair return," one that adequately compensates for the riskiness of the stock. Three-star stocks should offer investors a return that's roughly comparable to the stock's cost of equity. (The cost of equity is often called a "required return" because it represents the return an investor requires for taking on the risk of owning the stock.)

Five-star stocks, of course, should offer an investor a return that's well above the company's cost of equity. Conversely, low-rated stocks have significantly lower expected returns.

The Morningstar Rating for Stocks also includes a small buffer around the cutoff between each rating, to reduce the number of rating changes produced by random market "noise." If a $50 stock moves up and down by $0.25 each day over a few days, the buffer will prevent the star rating from changing each day based on this insignificant change.
Having worked with Morningstar's ratings for a few years, I believe that their approach to determine fair value is sound. It is, at its core, a classic NPV approach, and they add sophistication by using proprietary elements such as moat ratings, grades for management effectiveness, and so on.
Here is their rating for JNJ:

The 3 stars indicate fair value on their 5-star system.
I will use 5 categories to score all three of the valuation approaches. That will put everything on a level footing and allow us to derive a blended valuation score for each stock. Obviously, Morningstar's star ratings translate easily to a five-category system.
| | |
| --- | --- |
| Rating | Points |
| Very undervalued | 5 |
| Undervalued | 4 |
| Fairly valued | 3 |
| Overvalued | 2 |
| Very overvalued | 1 |
Thus, JNJ earns 3 points from Morningstar, indicating fair valuation.
Step 2. FASTGraphs default valuations
I assume that most readers are familiar with FASTGraphs. If not, here is where you can find detailed information about them.
I like to use the graph called the "Estimated Earnings and Return Calculator." One reason I like it is because it shows valuation bands around the central orange line that represents fair valuation.
There are 10 bands drawn, so if you take them two at a time, you get 5 categories, the same as with Morningstar. So FASTGraphs also translates easily to a 5-category system.
The two central bands around the orange line (one above and one below) equal "Fair valuation" for me. Each two bands above and below that category go upwards to "Overvalued" and "Very overvalued," and downward to "Undervalued" and "Very undervalued."
Counting the bands from the bottom up, here is how I use the graphs:
| | | |
| --- | --- | --- |
| Bands | Valuation | Points |
| 1 & 2 (lowest or below) | Very undervalued | 5 |
| 3 & 4 | Undervalued | 4 |
| 5 & 6 (central) | Fairly valued | 3 |
| 7 & 8 | Overvalued | 2 |
| 9 & 10 (highest or above) | Very overvalued | 1 |
Here is the FASTGraph for JNJ.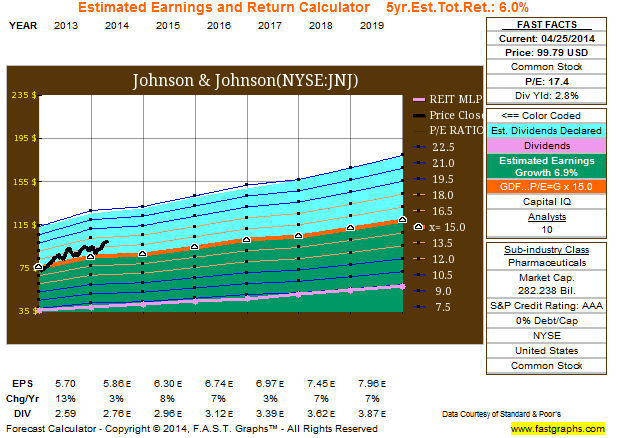 As you can see, FASTGraphs applies a P/E of 15 to JNJ as the default ratio for determining fair value. The default P/E is based on JNJ's growth rate. For most high quality stocks, 15 is what is used. A P/E ratio of 15 is the generally accepted long-term historical ratio for the market as a whole.
FASTGraphs indicates that JNJ is overvalued right now. Its black price line falls above the central 2 bands around the orange fair-value line. That is "Overvalued." JNJ earns 2 points here.
Step 3. FASTGraphs adjusted valuation
In two articles last year (here and here), I discussed stocks that are "always" overvalued or undervalued. Some companies' valuations always seem to be above FASTGraphs' fair value, while others seem always to be below it.
That brings up this question: How is JNJ normally valued? FASTGraphs displays a blue "Normal" valuation line to answer that question, as seen here on the main graph for JNJ.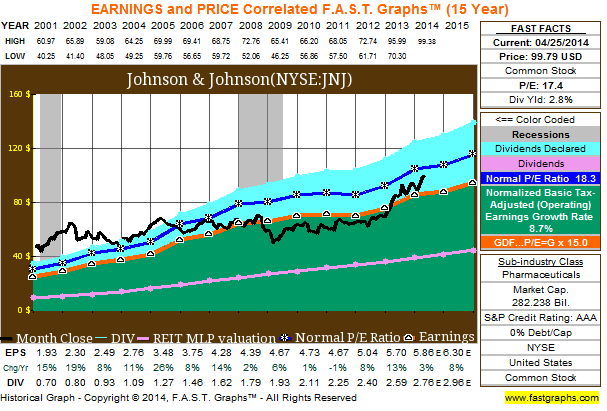 You can see that JNJ is one of those companies that is "always" overvalued. In the blue legend to the right of the graph, it shows that JNJ's P/E ratio over the past 15 years has averaged 18.3, not 15.
If we use the override feature in FASTGraphs, we can see what JNJ looks like if the fair value line is drawn at a P/E of 18.3 instead of 15.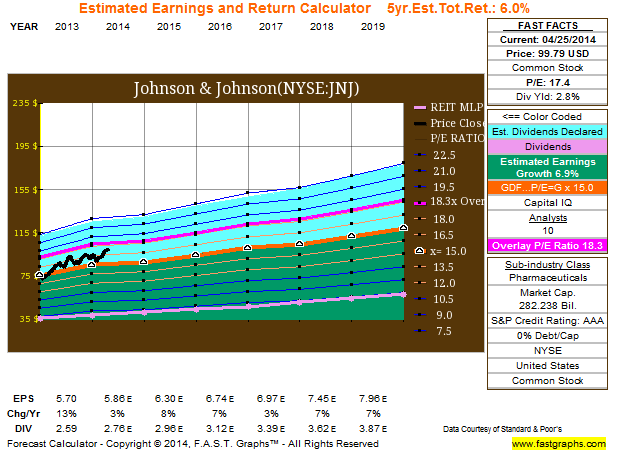 The override line is the purple line. We see that JNJ's current price is a little below what might be called its "normal valuation." The price is in the first narrow band beneath the purple line. That places it in the central region, meaning "Fairly valued."
Thus JNJ gets 3 points using this approach.
Step 4. Total score
JNJ's total valuation score is 3 + 2 + 3 = 8 points out of 15 possible points.
To characterize the outcome of these three steps, I will use the following curve for grading:
| | |
| --- | --- |
| Total Valuation Points | Value Characterization |
| 14-15 | Very undervalued |
| 11-12-13 | Undervalued |
| 8-9-10 | Fairly valued |
| 5-6-7 | Overvalued |
| 3-4 | Very Overvalued |
Obviously, different investors might want to interpret the scores differently, or to use other valuation methods altogether.
Under my approach, I consider JNJ to be fairly valued at its current price. Naturally, I would prefer a better valuation to purchase the stock.
Scoring All 24 Stocks
I used the approach described above for each high-quality stock from the earlier article. In a few instances, I had to eyeball the adjusted FASTGraphs' valuation, as the black price line was outside the defined ranges.
The outcomes are presented in the following table. The table is sorted in order from best valuations to worst.
Company

Ticker

Quality Mentions

Val. Step 1

Val. Step 2

Val. Step 3

Val. Total

Points

Value Characterization

Cisco

(NASDAQ:CSCO)

2

4

4

5

13

Undervalued

Apple

(NASDAQ:AAPL)

2

3

4

5

12

Undervalued

International Business Machines

(NYSE:IBM)

2

3

4

5

12

Undervalued

Chevron

(NYSE:CVX)

3

4

4

3

11

Undervalued

Intel

(NASDAQ:INTC)

2

3

3

5

11

Undervalued

Microsoft

(NASDAQ:MSFT)

2

3

3

5

11

Undervalued

Oracle

(NYSE:ORCL)

2

3

3

5

11

Undervalued

Wal-Mart WMT

(NYSE:WMT)

4

3

3

5

11

Undervalued

ExxonMobil

(NYSE:XOM)

3

4

4

3

11

Undervalued

Eli Lilly

(NYSE:LLY)

2

3

3

4

10

Fairly valued

Coca-Cola

(NYSE:KO)

4

4

1

4

9

Fairly valued

Procter & Gamble

(NYSE:PG)

4

4

2

3

9

Fairly valued

Biogen Idec

(NASDAQ:BIIB)

2

2

1

5

8

Fairly valued

Google

(NASDAQ:GOOGL)

2

3

1

4

8

Fairly valued

Johnson & Johnson

5

3

2

3

8

Fairly valued

Lockheed Martin

(NYSE:LMT)

2

2

3

3

8

Fairly valued

McDonald's

(NYSE:MCD)

2

3

2

3

8

Fairly valued

3M

(NYSE:MMM)

3

2

2

3

7

Overvalued

Abbott Labs

(NYSE:ABT)

3

3

1

1

5

Overvalued

Bristol-Myers Squibb

(NYSE:BMY)

2

3

1

1

5

Overvalued

Colgate-Palmolive

(NYSE:CL)

4

2

1

2

5

Overvalued

Nike

(NYSE:NKE)

2

2

1

2

5

Overvalued

Wisconsin Electric

(NYSE:WEC)

2

1

2

2

5

Overvalued

Hormel

(NYSE:HRL)

2

2

1

1

4

Very Overvalued
Disclosure: I am long JNJ, CVX, KO, AAPL, MCD, MSFT, PG. I wrote this article myself, and it expresses my own opinions. I am not receiving compensation for it (other than from Seeking Alpha). I have no business relationship with any company whose stock is mentioned in this article.