Value investing requires the ability to go against the herd and sometimes that means you must avoid natural human tendencies and focus on your instinct instead. Warren Buffett has made a lot of money by not following the herd and he explains that strategy in a famous and often-used quote:
We simply attempt to be fearful when others are greedy only when others are fearful.
In the world of investing there is a natural tendency to "follow the herd" and become fixated on the irrational exuberance of the market. When the stock market is going down, your natural tendency is to want to sell.
Conversely, when the stock market is going up every day, your natural tendency is to want to buy. So to follow Buffett's sentiment, in a bubble you probably should be a seller and in a bust you should probably be a buyer. Not following the herd means that you must have that kind of a discipline.
Of course discipline means thinking long term. The "herd" mentality is simply the reaction of Mr. Market and the whims of short-term trading prices that are affected by many things - most of which have nothing to do with the value of the company. Value investors recognize that there is simply no way to accurately and consistently time short-term market movements and, by investing in companies with long-term predictability, the stocks will offer the highest potential returns.
STAG: A Small-Cap REIT Flying under the Radar
As most of you know, I have researched many REITs over the years and in recent months we have witnessed an explosion in the Triple Net REIT sector. Specifically, American Realty Capital Properties (ARCP), Realty Income (NYSE:O), and W.P. Carey (NYSE:WPC) have all been increasing market share in the free-standing space.
Fueled by an appetite of high and dependable dividends, the triple net sector has become an increasingly attractive asset sector with a broad range of property type offerings. Many of the larger triple net REITs have broadened their portfolio composition to include a variety of asset classes, including office, industrial, retail, education and even wineries.
While the larger triple net REITs have been catalysts for substantial consolidation, STAG Industrial (NYSE:STAG) has stayed close to home by investing in one primary asset class. As an active owner and landlord of industrial buildings, STAG has a market capitalization of just over $1 billion.

STAG owns 209 buildings with the majority (84%) leased to warehouse-related tenants and the remaining leased to light manufacturing (13.3%) and flex/office (2.7%). STAG has over 36.4 million square feet and over $139 million of annualized base rental revenue.

STAG's differentiated, "against the herd"-thesis is rooted around its attractive current and total returns that offer less historic volatility. Accordingly, STAG's focuses on Class B (secondary markets) industrial investments allowing the company to enjoy low capital expenditures and lower tenant improvement costs (relative to other property types).
STAG's Class B tenants tend to stay longer since moving costs and business interruption costs are expensive relative to relocating a "critical function" facility. Consequently, these stable occupancy metrics make STAG less volatile with more predictable cash flow generators.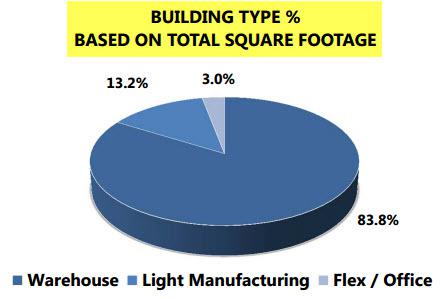 Since going public just over three years ago (April 15, 2011) STAG has improved diversification by continuing to expand into new markets as evidenced by the snapshot below (total annualized rent by building geography):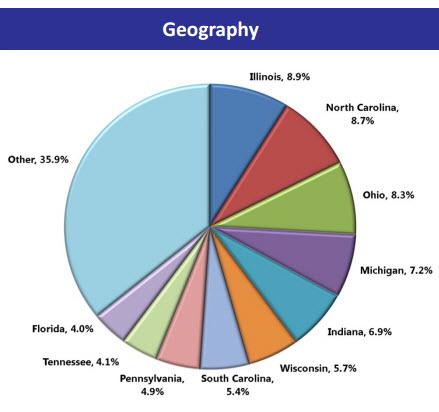 In 2013 STAG began to expand west of the Mississippi (now in 34 states). By not "following the herd", STAG has developed its unique template for success as Ben Butcher, CEO of STAG, explained on a recent earnings call:
We are agnostic as to markets. So we don't follow some macro prognosticators determination of the best markets to be in and then rush out to try and buy an asset in one of those markets - likely too much competition. We're really looking for the best deals on a fully considered and underwritten basis for our shareholders. So we're spread out across the map based on where we find the opportunities.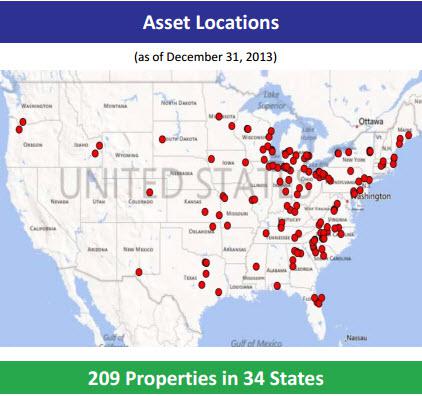 In addition, to expanding geographically, STAG has also increased overall tenant composition. The REIT performs like a "well-diversified virtual industrial park" (source: Investor presentation), as evidenced by the increased diversification in STAG's tenant industry makeup: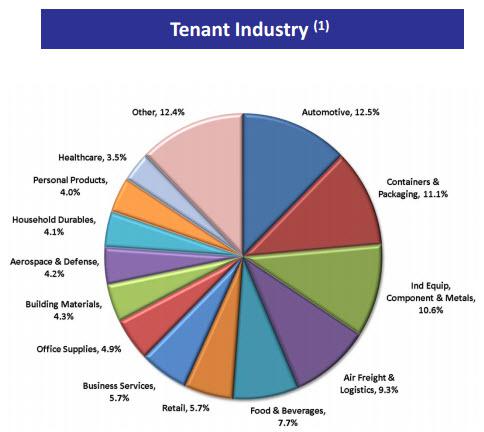 As of the latest reporting period, STAG does not have any tenant accounting for more than 3% of gross revenue. Solo Cup Company is STAG's largest tenant representing 2.7% of total revenue and the top 10 tenants account for only 16.7% of gross rents.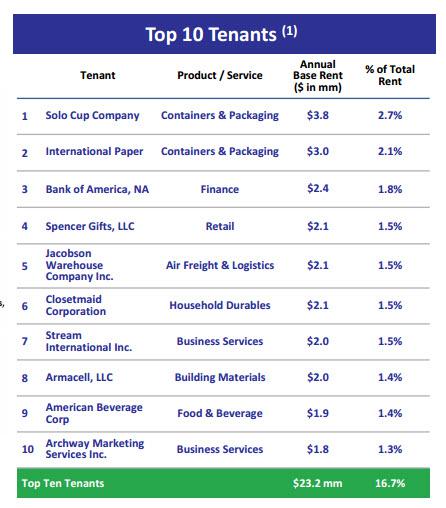 STAG Knows How to Move the Needle
On April 1st STAG announced it had acquired two warehouse and distribution buildings, containing a total of 347,984 square feet for approximately $13.5 million. Both of the buildings are located in Ohio, one in Cleveland and one in Columbus. The buildings are 100% leased with a weighted average remaining lease term of just under five years. Also, STAG said that in the first quarter of 2014 it had acquired a total of four industrial buildings consisting of approximately one million square feet for approximately $37 million.
From Q2-11 through Q4-13, STAG acquired more assets on a net basis than many of its peers since going public. During that period, STAG acquired over $853 million of assets: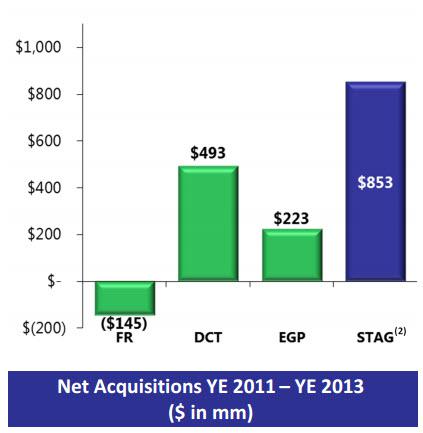 Since December 31, 2010 STAG has increased the size of its portfolio by over 154%.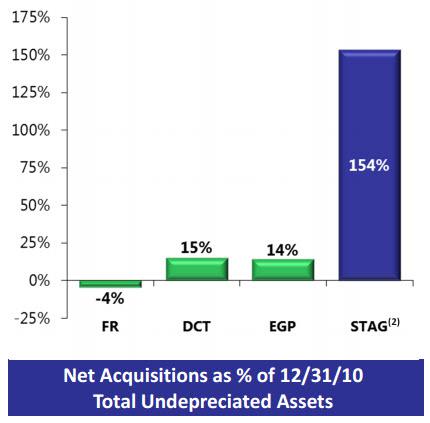 A few months ago, Ben Butcher (CEO of STAG) mentioned (in a Seeking Alpha interview) that STAG seeks "to buy these kinds of assets which goes against the 'traditional wisdom' of institutional RE investors - only recently has there been much discussion of the desirability of pursuing assets in secondary markets". By "not following the herd" of the larger triple net REITs, STAG has been able to acquire properties at higher cap rates (average of 9%). Here is a snapshot of STAG's acquisition activity since IPO: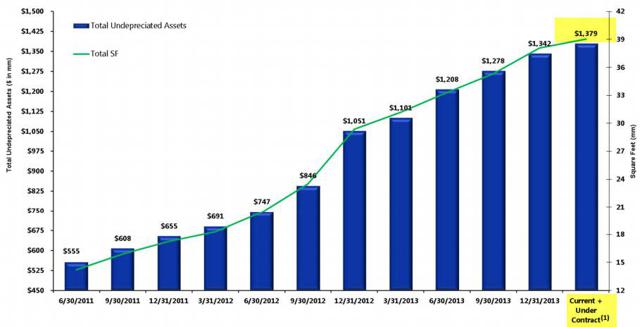 Let's Explore STAG's "Don't Follow the Herd" Metrics
For those new to STAG, let me remind you that STAG is not a male deer, it's a REIT. In fact, STAG (the REIT) is an acronym for Single Tenant Acquisition Group.

As explained above, STAG is a smaller (but growing) REIT with a total enterprise value of approximately $1.75 million. The company's balance sheet consist of $1.05 billion of equity, $226 million of mortgage debt, $250 million of unsecured loans, $81 million of unsecured credit, and $139 million of preferred shares. As of the latest quarter (Q4-13), STAG had $1.13 billion of assets.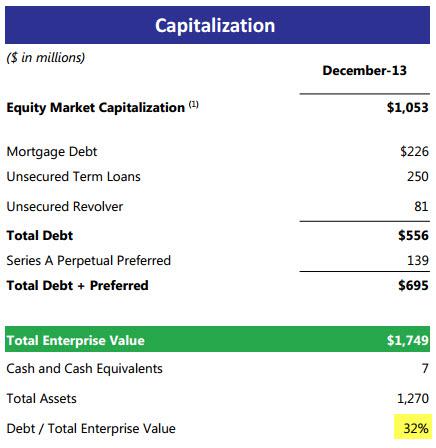 STAG achieved a BBB- rating by Fitch last year. The company sought this rating to efficiently approach the bond private placement market - the investment grade rating would make any privately issued bonds rated NAIC-2, ensuring advantageous risk capital treatment for the investors. It's expected that STAG will obtain additional ratings soon. Here's a snapshot of STAG's debt statistics: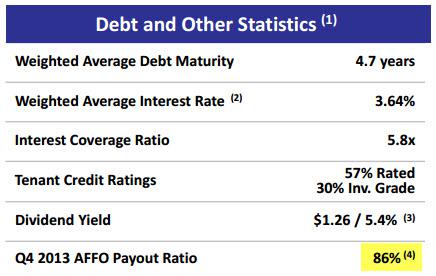 STAG has no debt maturities in 2014 and 2015.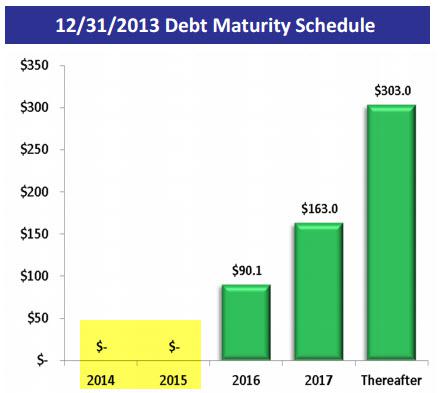 STAG's debt metrics continue to be quite strong. Net debt-to-annualized adjusted EBITDA was 4.6x at quarter end and interest coverage was 5.8 times. Total debt-to-total assets was 44% and debt-to-enterprise value was 32%, all very strong metrics.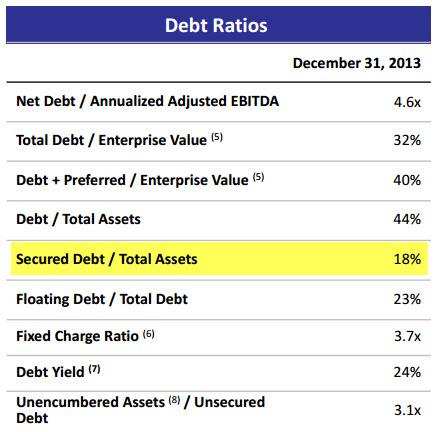 STAG's debt-to-recurring EBITDA of 4.6x is much better than the peer average of 6.8x.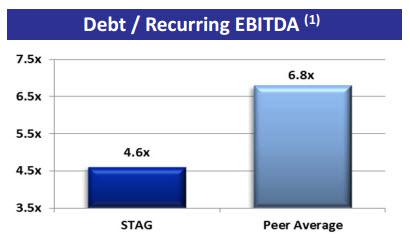 STAG's occupancy was 95.6% at the end of this quarter compared to 94% at the end of third quarter of 2013. Sequential same-store occupancy was up from 93.6% to 95%. Because of STAG's low near-term rollover and high tenant retention the company has been able to generate predictable and stable cash flow. As illustrated below, STAG has only 33% tenant rollover through 2016.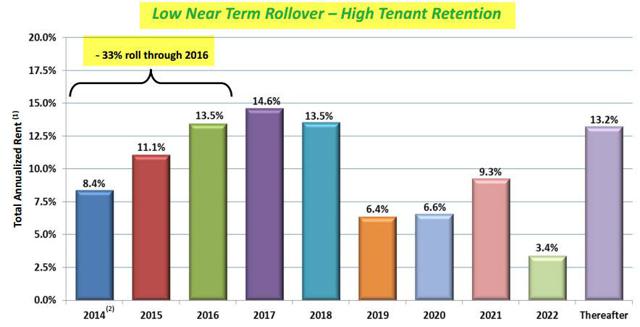 That compares favorably to the peer average rollover of approximately 48% over the same time period.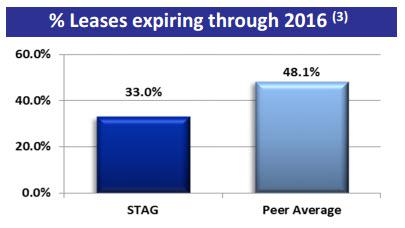 STAG's acquisitions growth in 2014 should drive FFO (Funds from Operations) growth by around 25%. The investment pace should remain robust in 2014 with plans to again expand the portfolio by another 25%+. Backed by an active $900 million pipeline (up $300m y-o-y vs. 2013) of opportunities, STAG should again be able to drive strong external growth (with going-in cash yields of 9%+).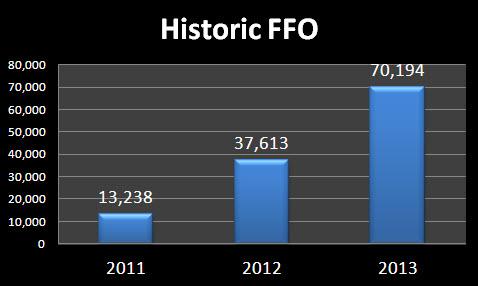 Given the continued pace of STAG's acquisition pipeline, it's likely the company will be able to maintain and grow outsized-earnings.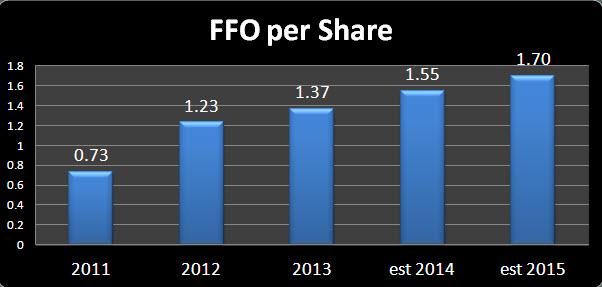 Last year STAG's Board of Directors approved a 5% increase in the company's annual common stock dividend from the current annual rate of $1.20 per share to a $1.26 per share commencing with the January 2014 dividend. As evidenced by the company's dividend policy, the company is committed to paying out 90% of AFFO (in dividends).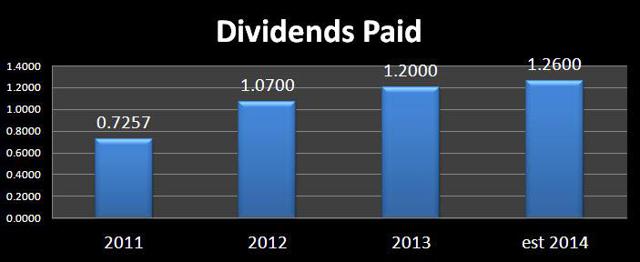 Given STAG's strong growth prospects and having switched to a monthly distribution, it seems likely that the company's dividend expansion will grow in frequency. The dividend chart above represents the current annualized dividend in 2014; however, I expect that STAG's dividend will reach $1.30 before year-end 2014. The current dividend yield is 5.32%.

Are You Going To Follow The Herd?
Last week STAG shares fell by over 5%, from $24.99 to $23.70.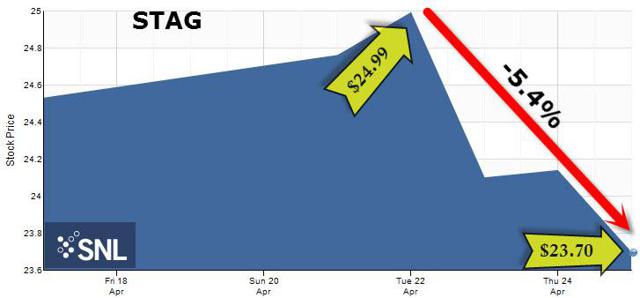 As evidenced by the snapshot below it appears that the decrease in share price was due to a large trade (sell) with an abnormal number of shares (over 2+ million) traded in one day (and a block trade late in the day on April 22nd).

By following the herd, some market timers may look at the one-time slide last week as weakness. After researching STAG in detail, it's clear (to me) that STAG remains a fundamentally safe REIT and I see no reason to unload shares. In fact, I believe STAG represents a strong buying opportunity and I'm moving my TARGET price to $25.00. I believe that STAG remains highly competitive as compared with the peer group (based on P/FFO) and strong (FFO) growth prospects.

Since initiating a purchase in STAG (on September 3, 2013), I have been very pleased with the stock's performance - a total return of 24.08% versus the S&P 500 average of 15.12%.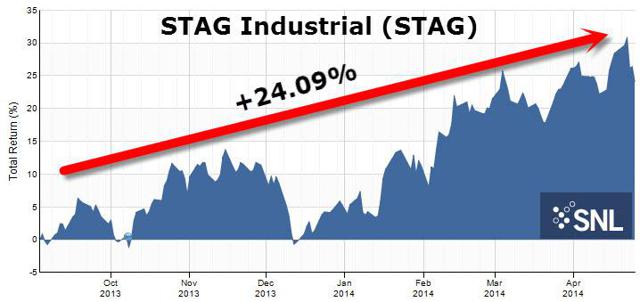 Driving the performance of my STAG investment has been the strong appreciation in price - up 18.92% since September 3, 2013.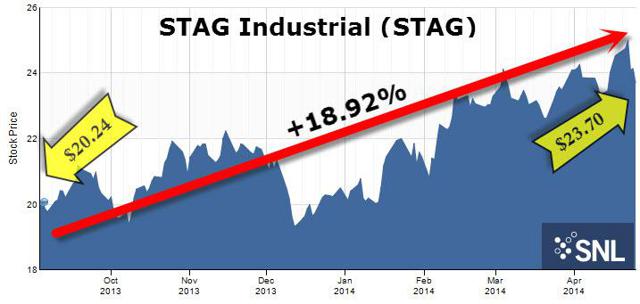 In conclusion, I'm not following the herd. I'm buying STAG instead. As explained, STAG is a triple net REIT with a differentiated value proposition - buying in secondary markets with large positive investment returns. The company has grown from highly diversified portfolio that offers stable and predictable cash flows. By utilizing a conservative debt strategy and prudent underwriting standards, STAG should continue to deliver superior and fully covered dividends (Q4 2013 AFFO payout ratio was 86%).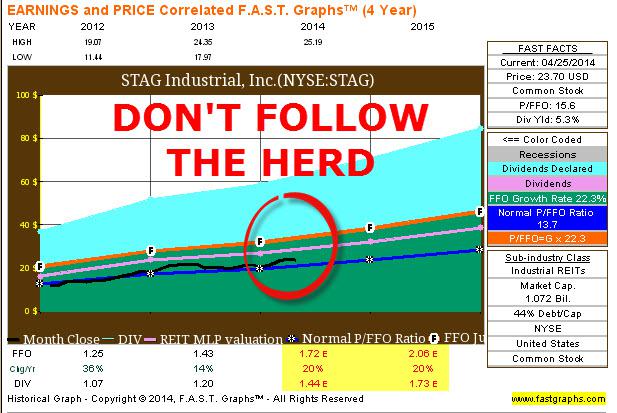 When Warren Buffett was describing his friend and mentor, Ben Graham, he explained:
He was not swayed by what other people thought or how the world was feeling that day or anything of the sort.
After carefully researching STAG, I have concluded that this REIT is a solid BUY. It's not a screaming bargain by any stretch; however, I believe that the dividend is sound and the shares are likely to appreciate providing investors with a sound margin of safety. STAG's first quarter earnings results will be released on May 5th.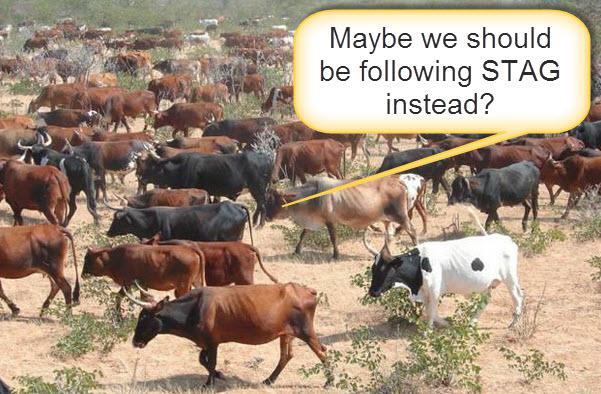 For more information on STAG and other recommended REITs, subscribe to my monthly newsletter HERE.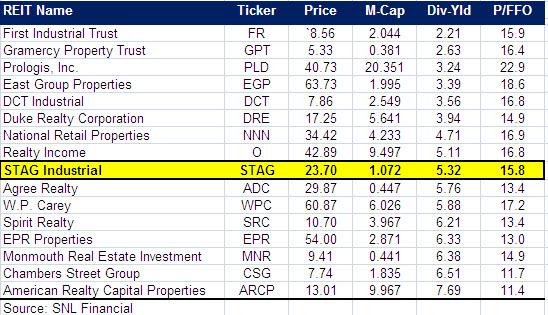 Source: SNL Financial, FAST Graph, Morningstar, and STAG Investor Presentation.
REITs mentioned: (NYSE:GPT), (NYSE:FR), (NYSE:PLD), (NYSE:EGP), (NYSE:DCT), (NYSE:DRE), (NYSE:NNN), (NYSE:ADC), (NYSE:CSG), (NYSE:MNR), (NYSE:SRC), and (NYSE:EPR).
Disclaimer: This article is intended to provide information to interested parties. As I have no knowledge of individual investor circumstances, goals, and/or portfolio concentration or diversification, readers are expected to complete their own due diligence before purchasing any stocks mentioned or recommended.
Disclosure: I am long O, DLR, VTR, HTA, STAG, UMH, CSG, GPT, ARCP, ROIC, MPW, HCN, OHI, LXP, KIM, WPC. I wrote this article myself, and it expresses my own opinions. I am not receiving compensation for it (other than from Seeking Alpha). I have no business relationship with any company whose stock is mentioned in this article.