Equity research is fairly simple if you know what to look for. For example, instead of getting lost in too much data or worrying about its 5-year, 10-year, or 20-year track record (backward thinking), work towards understanding how much the company is worth in assessing its future opportunities (forward-looking thinking). Instead of accepting what others view of the company, assess its growth prospects on your own. Are they feasible? Is there even upside potential beyond that growth forecast? Instead of reading the latest media buzz from news outlets, assess for yourself the biggest concerns to the downside? What about competition and other threats others may be overlooking? Are they material -- or does it just make for a good story? All of these considerations and more are included in our assessment of McDonald's (NYSE:MCD) intrinsic value calculation. Let's take a look at how we derive McDonald's valuation in this article.
But first, a little background to help with the understanding of some of the terminology in this piece. At our research firm, we think a comprehensive analysis of a firm's discounted cash-flow valuation, relative valuation versus industry peers, as well as an assessment of technical and momentum indicators is the best way to identify the most attractive stocks at the best time to buy. We think stocks that are cheap (undervalued) and just starting to go up (momentum) are some of the best ones to evaluate for addition to the portfolios. This process culminates in what we call our Valuentum Buying Index, which ranks stocks on a scale from 1 to 10, with 10 being the best.
Most stocks that are cheap and just starting to go up are also adored by value, growth, GARP, and momentum investors, all the same. Though we are purely fundamentally-based investors, we find that the stocks we like are the ones that are soon to be liked by a large variety of money managers from value through momentum. We think this characteristic is partly responsible for the outperformance of our ideas -- as they are soon to experience heavy buying interest. We liken stock-selection to assessing the qualities that the judges of a beauty contest (money managers) use to select the contestant (stock) that they think will win. The contestant that is liked the most by the judges will win. In a similar respect, the stock that is soon to be liked by the most money-managers will win. Some investors know no other way to invest than the Valuentum process. They call this way of thinking common sense.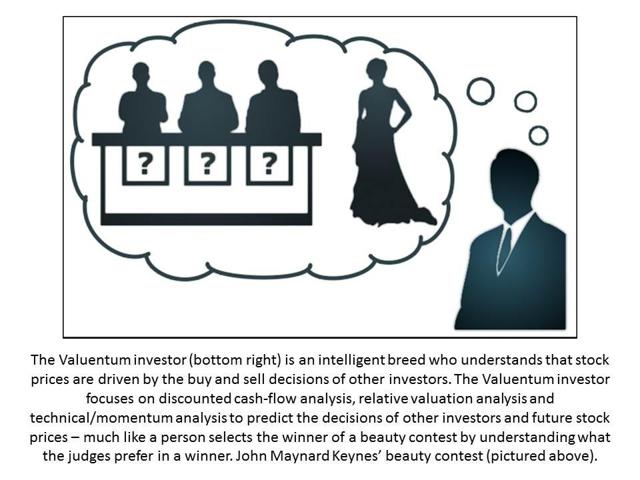 At the methodology's core, if a company is undervalued both on a discounted cash-flow basis and on a relative valuation basis and is showing improvement in technical and momentum indicators, it scores high on our scale (it is liked by a variety of judges/money managers). McDonald's posts a Valuentum Buying Index score of 7, reflecting our 'fairly valued' DCF assessment of the firm, its attractive relative valuation versus peers, and bullish technicals. We think a 7 is fairly good, though we only view companies that score 9 or 10 on our scale as new opportunities for consideration. If we were holding McDonald's, we'd only look to consider removing it from our portfolio if it registered a 1 or 2 on the index (a "we'd consider selling" rating). A 7 is equivalent to a "we'd consider holding" rating. For relative valuation purposes, we compare McDonald's to peers Chipotle (NYSE:CMG), Starbucks (NASDAQ:SBUX), and Yum! Brands (NYSE:YUM). With that said, let's now dig in.
McDonald's Investment Considerations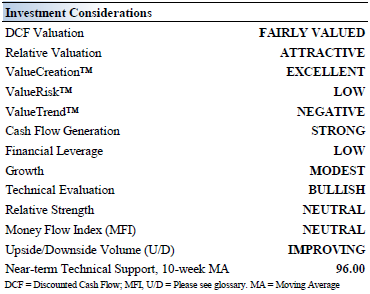 Investment Highlights
McDonald's business quality (an evaluation of our ValueCreation™ and ValueRisk™ ratings) ranks among the best of the firms in our coverage universe. The firm has been generating economic value for shareholders with relatively stable operating results for the past few years, a combination we view very positively.
McDonald's is not creating menu innovations at the pace it was just a few years ago. It will be hard for the firm to pull another gem out of its hat to the same success as McCafe. As it looks for the next blockbuster idea, the company is engaged in a massive breakfast war with Taco Bell and Burger King.
McDonald's has an excellent combination of strong free cash flow generation and low financial leverage. We expect the firm's free cash flow margin to average about 19.5% in coming years. Total debt-to EBITDA was 1.4 last year, while debt-to-book capitalization stood at 46.9%.
McDonald's focus on market share and value has made it difficult for franchisees to achieve solid returns, making it plausible that these entrepreneurs will look to put their money to work elsewhere (or simply invest less in the company). Franchisee dissatisfaction could dissipate in the event that commodity costs ease, however.
The firm sports a very nice dividend yield of 3.3%. We expect the firm to pay out about 55% of next year's earnings to shareholders as dividends. Still, we prefer Bob Evans (NASDAQ:BOBE) and Cracker Barrel (NASDAQ:CBRL) as dividend growth ideas in the restaurant space. Learn more about our reports here.
Recent Industry Trends
The fast-food (quick-service) breakfast wars have intensified. It has become a high-stakes game for all participants, and most have gone all-in to capture market share, to use poker parlance. The NPD Group, a leading global information firm, noted that the pace of expansion for fast-food breakfast across the restaurant industry has been a key bright spot, and executives across the industry are taking note:
Quick service, which accounts for about 80 percent of total restaurant morning meals, showed the strongest increase in breakfast visits of all restaurant segments with a 4 percent increase in the year ending December 2013 period compared to year ago, reports NPD CREST, which every day tracks how consumers use restaurants and other foodservice outlets. Morning meal visits to midscale/family dining restaurants declined by 3 percent.
Breakfast continues to be a bright spot for the restaurant industry as evidenced by the number of chains expanding their breakfast offerings and times…A restaurant morning meal serves a variety of needs. In addition to helping us jump start our day, it satisfies the need for convenience, is less costly than other restaurant meals, and is readily available to us.
McDonald's has been evaluating whether it can efficiently capture more of the early-morning eaters by expanding its breakfast hours. The firm is in the early stages of this evaluation, but market research clearly indicates the weekend cutoff at 10:30am doesn't resonate very well with people in their 20s and 30s. The Egg McMuffin maker understands the significant importance of breakfast to its future comp growth, particularly as traffic across much of the restaurant space faces pressure for lunch and dinner, according to NPD. Morning meals only account for about 20% of all visits, but they represent the area with the greatest untapped potential for organic expansion.
It should be no surprise then that McDonald's is fighting tooth-and-nail to retain its 30%+ share position in this lucrative and growing $30+ billion market. The company launched its first-ever national Free Coffee Event, where it offered a freshly-brewed small coffee for free during breakfast hours from March 31 to April 13. Perhaps to no surprise, this unprecedented promotion coincided with the introduction of breakfast food at Yum! Brands' Taco Bell, which is now offering a morning menu of Waffle Tacos, egg burritos, Cinnabon Delights, and the bacon A.M Crunchwrap. Taco Bell's price points are a bit higher than McDonald's, with the Waffle Taco and A.M. Crunchwrap costing $1.99 and $2.49, respectively, versus sausage burritos and sausage biscuits that go for $1 each at McDonald's.
Brewed coffee at Taco Bell is $1.49 compared to $1 at McDonald's, and while Taco Bell will launch more sophisticated coffee offerings down the road, we don't think its coffee will be an immediate threat to participants. Over the long run, however, that may be different. Nonetheless, McDonald's is not taking any chances. The company has made coffee its top strategic priority in the US through 2016 because it's well-aware of the importance of "coffee-driven breakfast visits." The fast-food giant is battling Starbucks and Dunkin Brands (NASDAQ:DNKN) in an effort to attain the "gold standard" status in premium coffee, something that may be out of its reach given the company's legacy past and consumer perception. The coffee and snack business is expanding at a faster rate than the quick-service breakfast industry, but it's going to be difficult for McDonald's to keep up with competitors in both areas.
Business Quality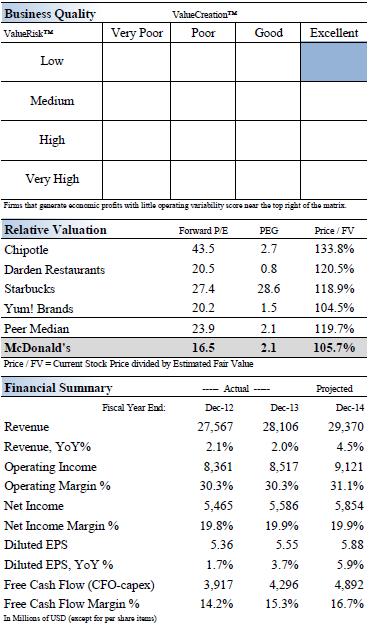 Economic Profit Analysis
The best measure of a firm's ability to create value for shareholders is expressed by comparing its return on invested capital with its weighted average cost of capital. The gap or difference between ROIC and WACC is called the firm's economic profit spread. McDonald's 3-year historical return on invested capital (without goodwill) is 25.2%, which is above the estimate of its cost of capital of 10%. As such, we assign the firm a ValueCreation™ rating of EXCELLENT. In the chart below, we show the probable path of ROIC in the years ahead based on the estimated volatility of key drivers behind the measure. The solid grey line reflects the most likely outcome, in our opinion, and represents the scenario that results in our fair value estimate.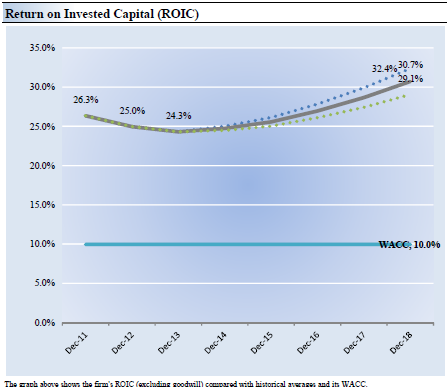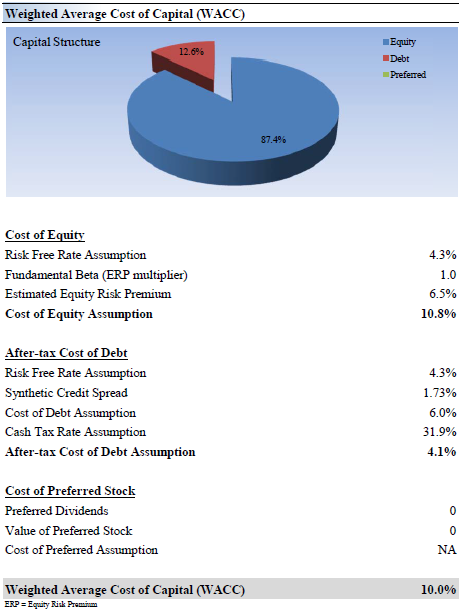 Cash Flow Analysis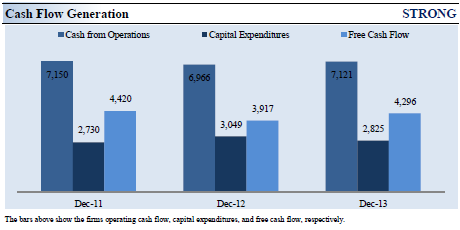 Firms that generate a free cash flow margin (free cash flow divided by total revenue) above 5% are usually considered cash cows. McDonald's free cash flow margin has averaged about 15.3% during the past 3 years. As such, we think the firm's cash flow generation is relatively STRONG. The free cash flow measure shown above is derived by taking cash flow from operations less capital expenditures and differs from enterprise free cash flow (FCFF), which we use in deriving our fair value estimate for the company. For more information on our discounted cash-flow process, please view our YouTube page here. At McDonald's, cash flow from operations is about flat from levels registered two years ago, while capital expenditures expanded about 3% over the same time period.
Valuation Analysis
Our discounted cash flow model indicates that McDonald's shares are worth between $74-$110 each. Shares are trading at over $100 each. The margin of safety around our fair value estimate is driven by the firm's LOW ValueRisk™ rating, which is derived from the historical volatility of key valuation drivers. McDonald's is a fairly stable firm with a powerful brand, but we still believe that investors should use a margin of safety around any calculated fair value estimate. We're not interested in buying a firm at fair value -- we're interested in buying a firm at a discount to its fair value estimate, and the fair value range sets that discount. So, we'd grow very interested in McDonald's in the low-$70s, a level that is not too far away (even if it seems so at this juncture).
The estimated fair value of $92 per share represents a price-to- earnings (P/E) ratio of about 16.6 times last year's earnings and an implied EV/EBITDA multiple of about 10.3 times last year's EBITDA. McDonald's is trading above our point fair value estimate range. Our model reflects a compound annual revenue growth rate of 5.2% during the next five years, a pace that is lower than the firm's 3-year historical compound annual growth rate of 5.3%. Our model reflects a 5-year projected average operating margin of 32.3%, which is above McDonald's trailing 3-year average. Beyond year 5, we assume free cash flow will grow at an annual rate of 3% for the next 15 years and 3% in perpetuity. For McDonald's, we use a 10% weighted average cost of capital to discount future free cash flows.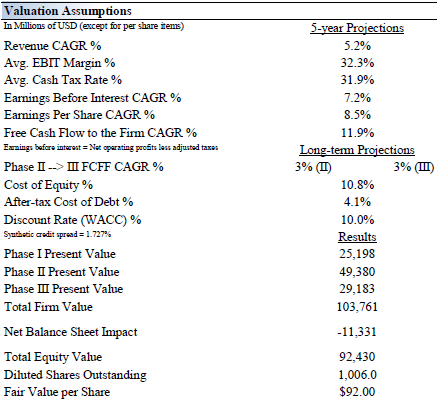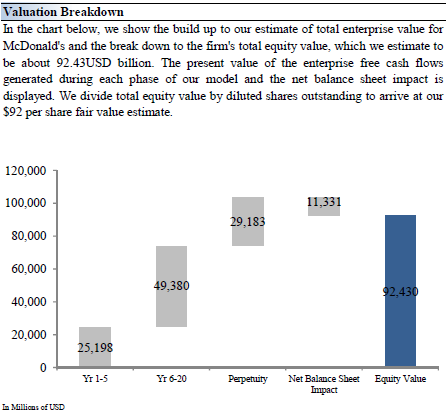 Margin of Safety Analysis
Our discounted cash flow process values each firm on the basis of the present value of all future free cash flows. Although we estimate the firm's fair value at about $92 per share, every company has a range of probable fair values that's created by the uncertainty of key valuation drivers (like future revenue or earnings, for example). After all, if the future was known with certainty, we wouldn't see much volatility in the markets as stocks would trade precisely at their known fair values. Our ValueRisk™ rating sets the margin of safety or the fair value range we assign to each stock. In the graph below, we show this probable range of fair values for McDonald's. We think the firm is attractive below $74 per share (the green line), but quite expensive above $110 per share (the red line). The prices that fall along the yellow line, which includes our fair value estimate, represent a reasonable valuation for the firm, in our opinion.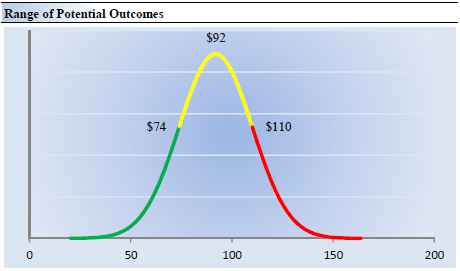 Future Path of Fair Value
We estimate McDonald's fair value at this point in time to be about $92 per share. As time passes, however, companies generate cash flow and pay out cash to shareholders in the form of dividends. The chart below compares the firm's current share price with the path of McDonald's expected equity value per share over the next three years, assuming our long-term projections prove accurate. The range between the resulting downside fair value and upside fair value in Year 3 represents our best estimate of the value of the firm's shares three years hence. This range of potential outcomes is also subject to change over time, should our views on the firm's future cash flow potential change. The expected fair value of $114 per share in Year 3 represents our existing fair value per share of $92 increased at an annual rate of the firm's cost of equity less its dividend yield. The upside and downside ranges are derived in the same way, but from the upper and lower bounds of our fair value estimate range.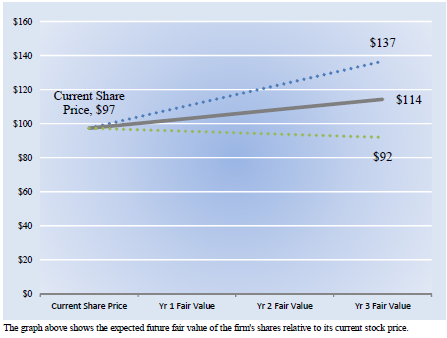 Pro Forma Financial Statements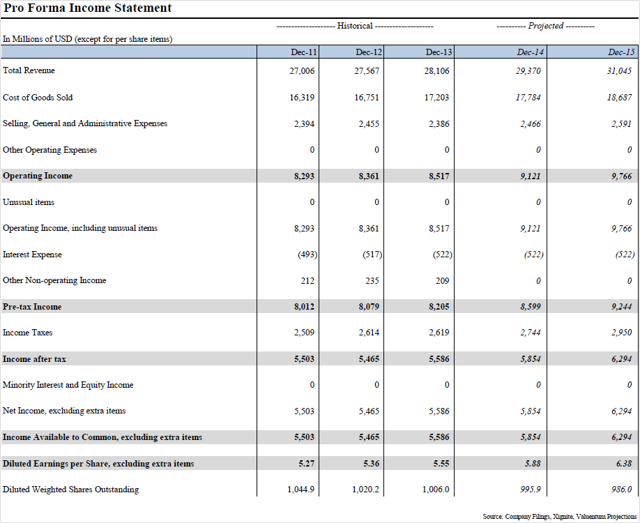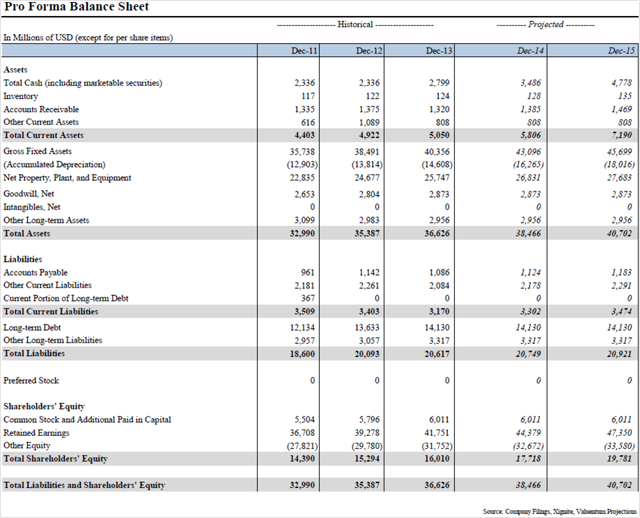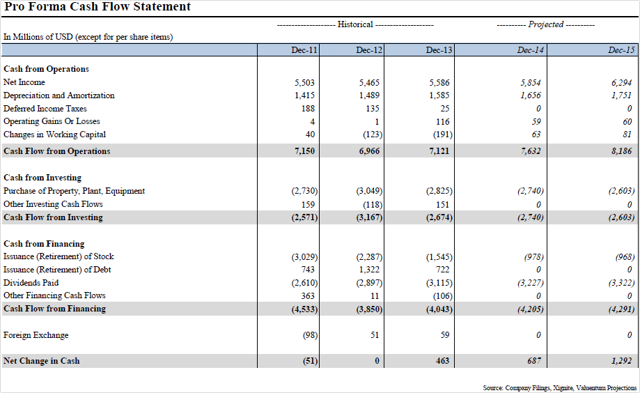 Valuentum's Take
Our fair value estimate of McDonald's is $92 per share at the time of this writing. Though we like the firm's strong brand name and solid dividend, the company doesn't score the highest of ratings on the Valuentum Buying Index. As such, we don't consider it one of our best ideas. In the spirit of transparency, we show how the performance of the Valuentum Buying Index has stacked up per underlying score, as it relates to firms in the Best Ideas portfolio. Past results are not a guarantee of future performance.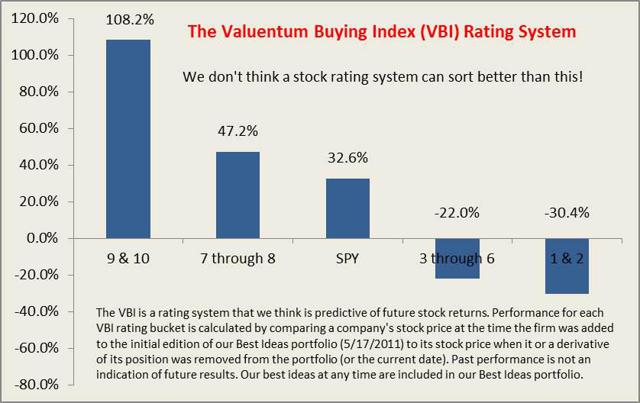 Disclosure: I have no positions in any stocks mentioned, and no plans to initiate any positions within the next 72 hours. I wrote this article myself, and it expresses my own opinions. I am not receiving compensation for it (other than from Seeking Alpha). I have no business relationship with any company whose stock is mentioned in this article.