It is time to buy Facebook (NASDAQ:FB) on the dip. Despite the better-than-estimated earnings results last April 23, the sell-side team helped Facebook drop to $57.71. I'm hoping the downturn will continue this Monday so I can buy more FB shares. Facebook was very good to me last March where I was able to unload majority of my shares for $68++.
Facebook delivered stellar Q1 numbers so the post-earnings sell off is likely due to outgoing CFO David Eberman's cautionary statement that ad sales growth will likely slow down this year. Many FB investors ignored the impressive Q1 achievements and gave Zuckerberg's company a bearish run last April 25.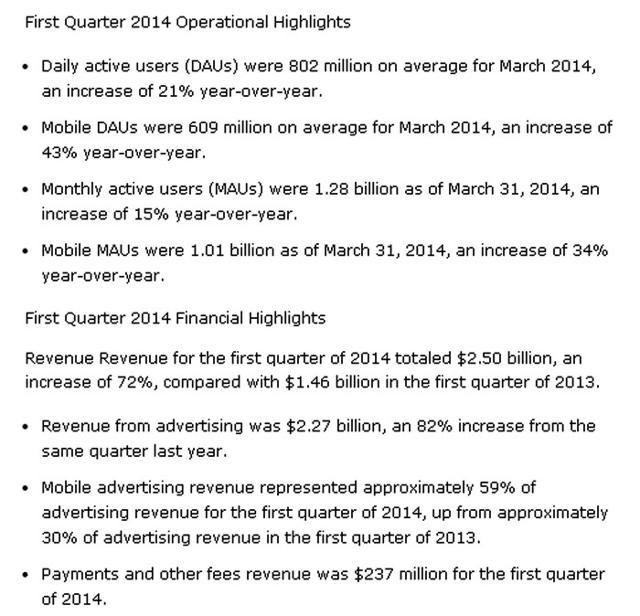 Source: Seeking Alpha
Facebook's consistent ad revenue growth for the last two years is the driving force behind the stock's impressive run since last year.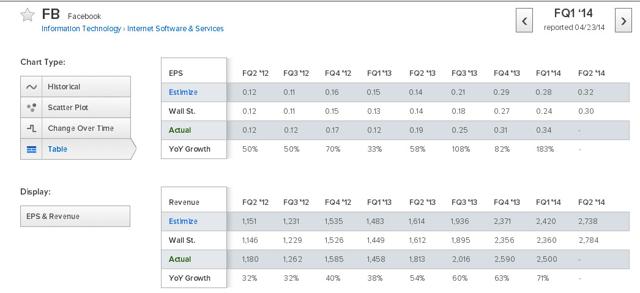 Source: Estimize
The mobile-first campaign has helped Facebook beat the Street estimates since Q2 2013. Mobile ads now account for 59% of Facebook's ad sales. Eberman's warning of downturn in ad sales is therefore a big market turn-off.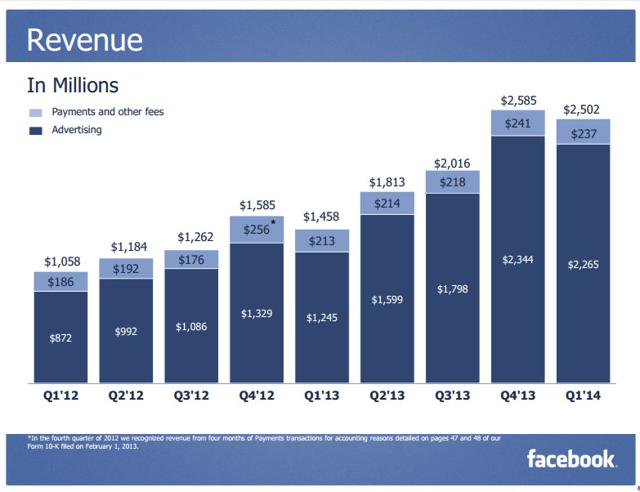 The Quarter-over-Quarter -3.5% dip in advertising sales for Q1 2014 compared to Q4 2013 validates Eberman's warning. I'm still happy that compared to the same period last year, advertising revenue is 82% higher. I am also noting that for FY 2012 and 2013, Q2 revenue (including ad sales) historically goes up.
The company's overall profitability is hostage to its ad sales performance. Weakness in ad revenue delivers lower Facebook operating income.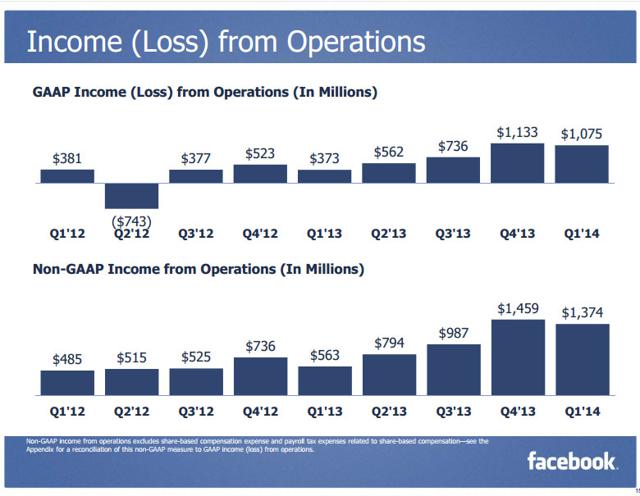 The decline in ad sales for Q1 2014 also delivered a -6.2% decrease in non-GAAP operating income. FB will definitely recover its stock price once Q2 delivers better ad sales numbers. The recent downside movement should be exploited by ardent FB believers. It is time to raise some cash to buy Facebook this week.
Facebook is a Buy-on-the-dip Bet
Alpha Omega Mathematica (AOM) rates FB a Buy. AOM's Growth Strategy Model gives Facebook a Strong buy and its Balanced Strategy puts Facebook a Buy compared to its Market, Industry, and Sector peers.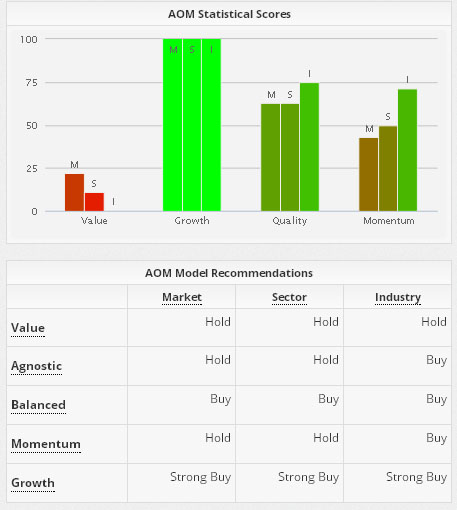 |
Source: Alpha Omega Mathematica
Facebook's most compelling reasons are found in its Growth Indicator chart. Compared to its sector and industry peers, FB is a monster growth ticker for the previous five years. AOM's modeling algorithm also predicts that Facebook will continue beating its peers for the next five years on both EPS and sales growth.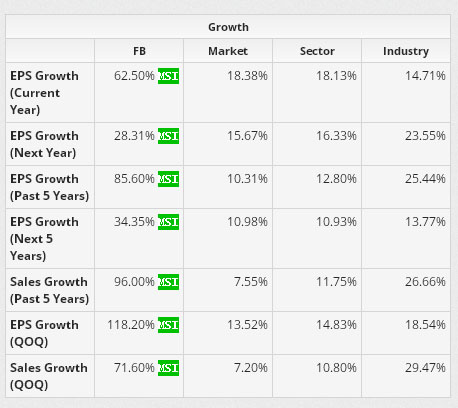 Source: Alpha Omega Mathematica
The Growth-fueled bullish call of AOM is supported by Finviz's data.

Looking at the chart above, Facebook is definitely in the bubble-stock category. It has very high P/E, P/S and P/B ratios. On the other hand, Facebook's exemplary margins, quick/current ratios, and debt-free, cash rich status makes it a worthy bet.
Most of the FB gains from March divestment were used to increase my position in Apple (NASDAQ:AAPL) and 3D Systems (NYSE:DDD). DDD is still horrible. However, Apple's monster iPhone sales beat last week means I can do some profit taking on AAPL this week to finance a re-buy on Facebook.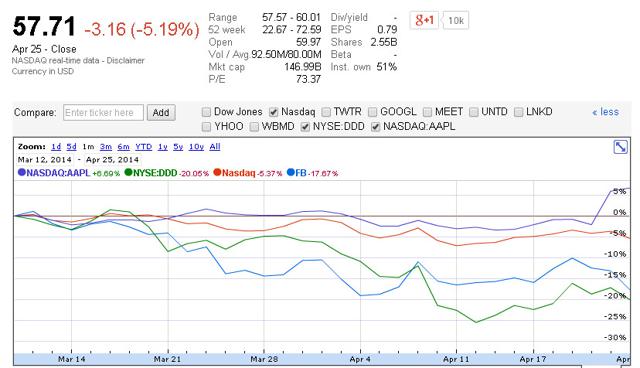 Source: Google Finance
I'm a very small investor from the Philippines. I have to do portfolio realignment whenever the need arises. AAPL is almost 20% of my portfolio and I felt that reducing it to 10% while it is still north of $565 is prudent profit-taking. I'm still bullish on AAPL for its premiere fundamentals and new found glory. On the other hand, I'm gambling that FB's recent fall from grace presents a strategic opportunity.
The $85 PT Endorsement from Deutsche Bank
Deutsche Bank reiterated its Buy rating for Facebook and increased the price target from $76 to $85 last April 24. Other investment houses also reiterated their Buy or Outperform ratings for Facebook after the April 23 earnings report. Five influential firms all raised their price targets for FB.
The multiple endorsements still failed to deter the sell-side players from beating FB down south of $58 last Friday.

Source: Finviz
The average price target from those five endorsers is $80.40. I'm more inclined to support the $85 PT from Deutsche Bank because of recent developments. It is a realistic forward valuation for FY 2014. Contrary to Eberman's assessment, I still see Facebook's mobile advertising sales to grow by double-digit for the next three quarters.
The $85 PT is within probable reasons. It can be achieved through new monetization efforts this year. Facebook is setting up its own mobile advertising company to compete with established players like Millennial Media (NYSE:MM) and Google (GOOG, GOOGL). The said new venture will let Facebook offer ad services to third-party companies outside Facebook's social app for mobile.
The new advertising unit of Facebook is expected to debut during the F8 conference this April 30. It will be a direct challenge to Google's AdSense program for mobile. Increasing the advertising reach outside Facebook's own ecosystem makes me believe that Facebook's overall advertising sales this year will greatly improve.
Mobile advertising is the new growth area for digital advertising and Facebook's pervasive presence in smartphones and tablets makes it better-positioned than its rivals. Facebook's Mobile Monthly Active Users has increased to more than a billion people.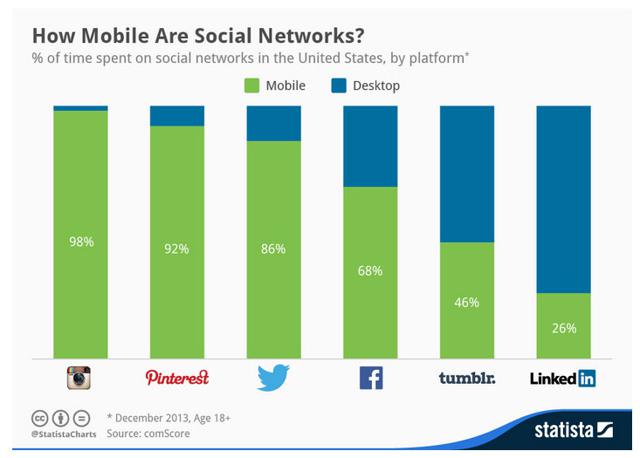 The increased focus on mobile advertising bids well for the company's main source of advertising sales. The North American market still accounts for most of Facebook's ad sales.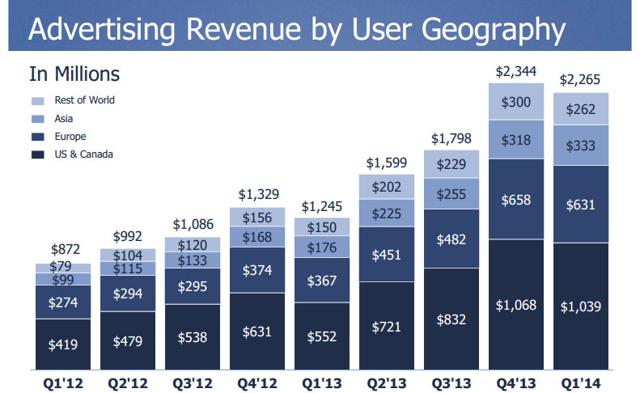 Source: Facebook
U.S. residents are increasingly more exposed to mobile-based advertising.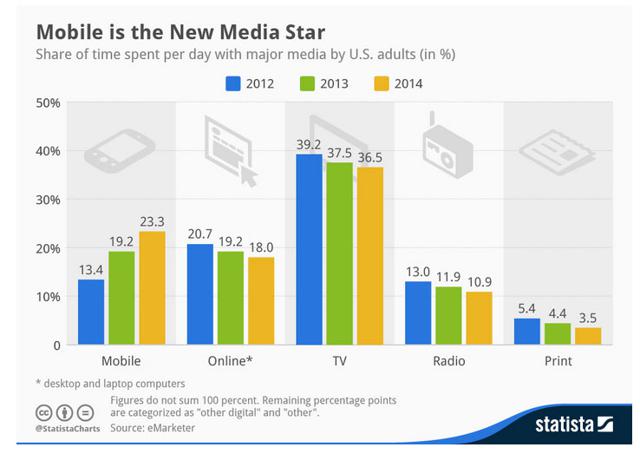 An autonomous mobile advertising unit for customers to place ads in non-Facebook applications will help FB steal more business from Google. Business Insider is predicting that Facebook will more than double its global mobile ad sales this year to $6.8 billion. This prediction is highly credible with the help of the new mobile ad advertising division.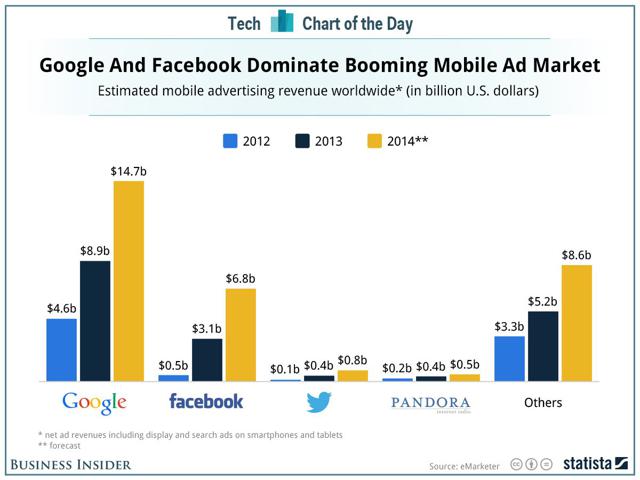 Source: Business Insider
Facebook, with Instagram and WhatsApp's huge pool of eyeballs, is strongly positioned to take away the mobile advertising crown from Google within the near future. The future of mobile advertising is estimated to be worth almost $60 billion by 2017.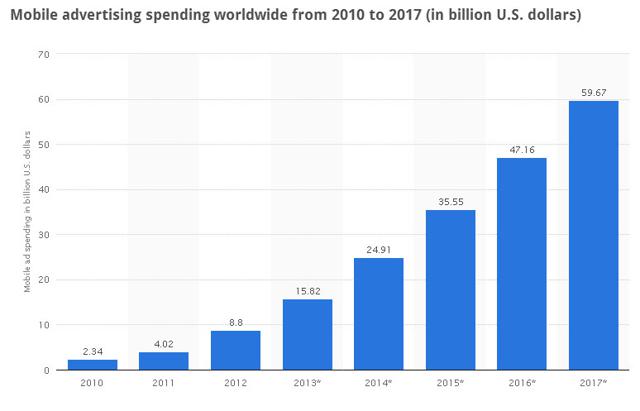 Source: Statista.com
Another reason why I believe that FB can hit $85 this year is the new pilot prepaid SIM program of WhatsApp for the German market. WhatsApp is leveraging its almost half-a-billion users by issuing prepaid SIM cards. Germans can pay 10 Euros for the e-Plus SIM which gives free WhatsApp data, messaging, and calling services.
This venture hints that Facebook can gradually become a Mobile Virtual Network Operator (MVNO). If the prepaid SIM program gets expanded to other countries, I see at least 30 million WhatsApp addicts availing of the said product within a year's time. It's a new monthly subscription-based revenue stream for the company.
Last but not the least, I also believe that Facebook's new venture into e-money transfer services in Ireland is another pilot project for the company's future entry into global money transfer. It's another credible tailwind towards the $85 price target.
Facebook's more than 1.27 billion monthly active users is a rich customer base for money transfer solutions. Facebook can give its users cheaper transfer rates than what Western Union (NYSE:WU), MoneyGram (NYSE:MGI), and Xoom (NASDAQ:XOOM) currently offer.
Conclusion
Facebook is a buy. The $85 price target is within reason. The company's entry into full-blown mobile advertising, money transfer, and prepaid SIM are compelling tailwinds towards a 40% or more upside potential for the rest of 2014.
Disclosure: I am long FB, GOOG, AAPL, MM, DDD. I wrote this article myself, and it expresses my own opinions. I am not receiving compensation for it (other than from Seeking Alpha). I have no business relationship with any company whose stock is mentioned in this article.