Fannie Mae (OTCQB:FNMA) and Freddie Mac (OTCQB:FMCC) continue to be extremely interesting investments with asymmetric payoff profiles. News about the government-owned entities have been sparse lately, but both companies are facing a vital deadline which is likely to have extraordinary consequences for the share prices of both companies.
On April 29, 2014 a panel of the Senate Banking Committee will hold a markup hearing that will give vital clues to stockholders about how Capitol Hill will pursue the restructuring of the mortgage finance market (see here for legislative details of the Johnson/Crapo reform bill). The current proposal basically suggests a wind-down of the GSEs, which, naturally is not good news for common stockholders. Similarly, a bipartisan agreement on the reform proposal and on actual measures to push the reform bill through the House and the Senate are bad news for common shareholders.
However, thanks to the institutional dysfunction of the American democracy, I consider it highly unlikely (though not impossible) that the proposed reform bill with potential amendments will find bipartisan support for a simple reason: 2014 is an election year. Election years are characterized by vigorous campaigning in which both sides are concerned with differentiating themselves from their political opponents -- which, in turn, does not create a good atmosphere for constructive, hands-on problem solving.
I have previously argued that any serious reform bill focusing on a wind-down of Fannie Mae will likely be dead on arrival and will most likely not be considered in 2014. Also, it is no big secret that enthusiasm for housing market reform is not very high among lawmakers. As Bloomberg reported on April 8, 2014:
Brown, an Ohio Democrat and a member of the Senate Banking Committee, said a bipartisan bill to replace Fannie Mae and Freddie Mac is too complicated and doesn't do enough to address too-big-to-fail concerns or provide assistance for affordable housing. The panel will consider the measure on April 29. Fannie Mae and Freddie Mac shares rose.

"It's not going to pass this year," Brown said today at a Bloomberg Government breakfast in Washington. "If anything, it can get out of committee, I think it probably will."

Brown said he didn't know if Senate Majority Leader Harry Reid, a Nevada Democrat, would schedule the measure for full Senate consideration as the legislators deal with other business this year. There is also no serious effort to act on housing finance in the House of Representatives, he said.

Senate Banking Committee Chairman Tim Johnson, a South Dakota Democrat, and Republican Senator Mike Crapo of Idaho are pushing a measure that would phase out Fannie and Freddie in five years and replace them with a government re-insurer. Support is needed from key Democrats, including Brown, on the banking panel to pass the bill and move it to a Senate floor vote.
Analysts also basically agree with a low probability of reform progress this year (Source: MarketWatch):
Now there's a less than 5% chance that Congress will pass a housing bill this year, according to Monday research notes from analysts Edwin Groshans of Height Analytics and Isaac Boltansky of Compass Point Research & Trading. Previously, Groshans had estimated a 10% chance.

"The delay in holding a markup hearing on the [Senate's] housing finance reform bill until after the Easter break basically puts a nail in the coffin for housing finance reform in 2014," Groshans wrote.
Even when U.S. Senate elections are behind us at the end of the year, political focus is likely to shift to U.S. presidential elections in 2016 fairly quickly. The U.S. housing market accounts for nearly 20% of the U.S. economy: Reforming this giant won't be easy considering that Capitol Hill can't even reform the most trivial of things.
Also, let's not forget that Ralph Nader is busy lobbying for shareholder rights and stockholders are getting more and more organized in Washington.
Technical picture
The chart of Fannie Mae displays how volatile the stock has been over the last twelve month. Two events in particular are eye-catching: The spike in buyer interest in May 2013 when Fannie Mae reached $5 per share and another surge in February/March 2014 which drove the share price up to $6.35 -- Fannie Mae's current 52-week High.
Volatility certainly has been extreme and has thoroughly tested the nerves of investors (and speculators). It is noteworthy, that after substantial increases in Fannie Mae's share price, forceful corrections erupted which shook a large part of speculators out of the market. However, Fannie Mae's stock price quickly leveled off each time and buyer interest returned quickly -- a result of a variety of factors: Bill Ackman's purchase of Fannie Mae's common stock was regarded a positive catalyst just as Bruce Berkowitz's endorsement of a Fannie Mae investment was in 2013.
The latest decline in Fannie Mae's share price came after the U.S. Banking Committee announced a bipartisan plan to wind down both government-controlled mortgage finance companies in March 2014 and effectively disregard common shareholder value. After news about the senate proposal were disseminated, Fannie Mae lost 40% of its market value in a single trading session.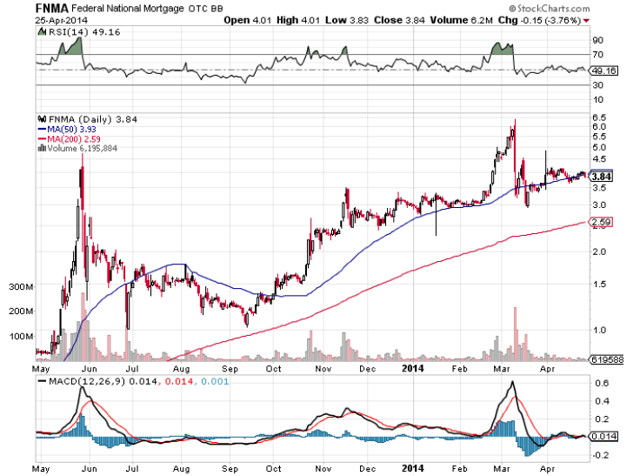 (Source: StockCharts.com)
Love it to have Berkowitz on my side
Say about Bruce Berkowitz what you want, but I believe this investment manager is one of the best in the field. The reason for this is, that he makes a conscious effort to be ahead of the curve and many investments in his Fairholme Funds over the years were investments that most investors shied away from. In other words: I think Bruce Berkowitz has an extraordinary talent in spotting investment opportunities with asymmetric return profiles. Most noteworthy is probably his investment in American International Group (NYSE:AIG) which he bought when the company was the most hated and despised in the market. While ridiculed at the time -- as usual when one takes a chance contrary to the prevailing public opinion -- Berkowitz's portfolio returns are now being driven by his once eyebrow-raising investment.
Both Berkowitz and Ackman are investors not speculators and not in for a quick trade. Both have publicly voiced their support for a sustainable long-term solution for both the government as a majority shareholder, the mortgage finance market and, of course, common shareholders. Berkowitz and Ackman have invested billions of dollars to follow through with their investment thesis and I find it highly comforting to have high-profile, successful investment managers on the same side as me.
Major catalyst: April 29, 2014
Going forward, extremely high volatility around major news events, such as markup hearing on April 29, 2014, are almost a certainty. Investors who don't have the stomach for volatility and feel uncomfortable with an extraordinary amount of downside risk, should rigorously utilize stop limits to protect their portfolio.
Conclusion
Fannie Mae's volatility was literally extreme as the Senate Panel disseminated its Fannie Mae reform proposal back in March 2014. If this volatility is any indication of what will happen to the stock price if the Senate Panel is actually able to push its anti-shareholder reform agenda forward on April 29, then investors are looking at serious volatility on Tuesday, and probably throughout the week. This might also be an interesting week for traders who see short-term asymmetric potential with respect to the markup hearing. Attempts to push the reform bill as it is, are likely to have hugely negative implications for Fannie Mae's stock price. On the other hand, if dissent among committee members becomes visible or shareholder rights are being particularly considered (though unlikely), Fannie Mae's stock price could soar on Tuesday.
Disclosure: I am long FNMA, AIG. I wrote this article myself, and it expresses my own opinions. I am not receiving compensation for it (other than from Seeking Alpha). I have no business relationship with any company whose stock is mentioned in this article.