Introduction
In December I wrote an article, Noodles & Company: Proven Leadership, Track Record of Growth, And Accelerating Expansion, where I laid out my reasoning for buying Noodles & Company (NASDAQ:NDLS) at its then current market price of $33.90. I discussed why Noodles' leadership will bring the company to new heights as the company attempts its aggressive growth strategy. Since then, Noodles released earnings that were slightly less than analysts' expectations and are again set to announce earnings this week. Thus, giving me reason to revisit Noodles & Company's stock (as well as the restaurant which was delicious but that's another discussion…) and reevaluate its validity as an investment choice for the restaurant industry.
Earnings Review (2/26/14) & Preview (4/29/14)
Noodles & Company released its last earnings report on February 26, 2014. The company announce EPS of $0.11 per share (missing analysts' expectations of $0.115 by $0.005 or -4.3%) and revenue of $91.5M (missing analysts' expectations by $1.02M or -1.1%). As you could image the company's stock didn't react too much to this slightly disappointing report. The market price sat at $39.55 on the day of the report and has since been as low as $35.25 (-10.87%) and as high as $41.35 (+4.55%). The current market price is $37.70. A few highlights for the last earnings report may explain why the stock price didn't take a huge hit after its miss last quarter:
Highlights
18 straight quarters of comparable restaurant sales growth.
Comparable restaurant sales increased 3.9% system-wide
4.3% for company-owned restaurants.
1.5% for franchise restaurants
66% increase in adjusted net income for the quarter.
Total revenue increased 17.4%
12 new restaurants opened system-wide
Lowlights
Incurred approximately $696,00 in costs and expenses related to the secondary offering during the fourth quarter of 2013.
Restaurant contribution margin decreased 30 basis points to 21.0%.
The Company is set to release first quarter earnings on April 29, 2014. The company and analysts expect EPS to come in at $0.055 per share. This number is lower than originally expected because of the severe weather the nation experienced this year. Nearly 80% of the company's restaurants are located in areas severely impacted by atypical weather resulting in an anticipated 300 to 350 bps negative impact to revenue and $0.03 impact to diluted earnings per share. Even with the severe weather impact, management still expects to reach its 25% annual adjusted earnings per share growth goal for 2014
2014 Outlook
42 to 50 new company-owned restaurant openings, reflecting 13% to 16% unit growth
10 to 15 new franchise restaurant openings, reflecting 16% to 24% unit growth
2.5% to 3.0% comparable restaurant sales growth.
Total revenue between $406 million and $412 million
Approximately 25% adjusted diluted earnings per share growth.
An estimated tax rate between 39% and 40%

Noodles & Company vs Its Peers
There is no doubt that Noodles is a superstar in the restaurant industry but what does deserve questioning is the company's valuation. Noodles has an exorbitant price-to-earnings multiple as compared to its peers, which currently sits at 156.3 (over 3 times as expensive as Chipotle's P/E of 48.1). There is no typo there, it's really a 156 P/E multiple for a restaurant. At first glance, this daunting P/E gives one a reason to not even consider NDLS as an investment choice but with further analysis this high valuation seems justifiable.
| | | | | | |
| --- | --- | --- | --- | --- | --- |
| | NDLS | CMG | PNRA | MCD | YUM |
| P/E | 156.3 | 48.1 | 25.5 | 17.9 | 32.8 |
| Forward P/E | 56.0 | 31.6 | 20.7 | 15.3 | 18.4 |
| Rev Growth (3yr avg) | 16.7% | 20.53% | 15.63% | 5.3% | 4.87% |
| Net Income Growth (3yr avg) | 41.0% | 22.3% | 20.59% | 4.14% | -1.97% |
| Operating Income (3yr avg) | 55.0% | 22.78% | 18.73% | 5.46% | 0.54% |
| EPS Growth (3yr avg) | 35.2% | 30.36% | 23.69% | 9.25% | 2.77% |
| ROA (2yr avg) | 1.98% | 1.76% | 15.57% | 15.75% | 15.11% |
| ROE (2yr avg) | 29.75% | 23.9% | 24.64% | 36.26% | 65.41% |
| WACC | 6.51% | 9.48% | 12.04% | 5.08% | 8.41% |
Note: Due to a lack of information, NDLS' EPS Growth is a 2 year average.
Price-to-Earnings
Breaking down some of the company's key ratios as compared to its peers will give a better understanding into why investors are paying so much for NDLS. To give a more robust comparison, NDLS will be compared to some of its fast causal peers ((NYSE:CMG) and (NASDAQ:PNRA)) as well as its less similar fast food peers ((NYSE:MCD) and (NYSE:YUM)). Since I believe that Chipotle is Noodles' most similar peer, it will be used primary for comparison.
Starting with Price-to-Earnings which was briefly discussed previously. NDLS had its IPO less than a year ago so as one would expect its P/E is unusually high as investors speculate its future. The company's P/E of 156.3 is much higher than the rest of its peers. Of the company's being compared, NDLS is anywhere from being 3.25-8.73x more expensive. Is this an overvaluation or an optimistic symbol of Noodles future growth?
Figure 1: Valuation
Comparing P/E to forward P/E may shine more light into the answer of that question. As is shown in figure 1, Noodles' P/E is soaring over all it peers but as we analyze 12 months ahead the company's valuation becomes far more attractive. Its P/E drops from a staggering 156.3 to a projected 56. Given analysts' expectations, NDLS, CMG, PNRA, MCD, and YUM are expected to have a 12 month EPS growths of 179.33%, 52.21%, 23.19%, 16.99%, and 78.26%, respectively. Explaining why Noodles' valuation may not be so out of this world. Its earnings are expected to grow over 3x faster than fast causal superstar, Chipotle. Giving it a justified reason to be valued 3x higher than Chipotle.
Profitability
A more enticing metric that justifies Noodles high valuation is its profitability ratios, ROE and ROA. Noodles has a 2 year average ROA of 1.98% and a 2 year average ROE of 29.75%.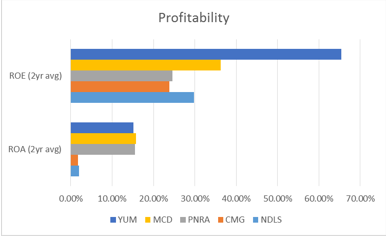 Figure 2: Return on Equity and Return on Assets.
As shown in Figure 2, NDLS's Return on Assets is greater than that of its most similar peer, Chipotle. It is however much lower than the rest of the peers in this comparison. A low ROA is not uncommon in a new, rapid growing company as many of its assets are in the development stage and not actually producing any revenue. It is an optimistic sign for the company's future that it has a higher ROA than Chipotle. The two companies are rapidly expanding by opening new restaurants but Noodles is expanding faster in terms of new restaurants compared to total restaurants. Because of this Noodles should have a lower ROA as it has greater portion of total restaurants under construction, yet it doesn't. Noodles is able to produce more income from its assets than Chipotle. This could be explained by Noodles strategy of opening restaurants where Chipotle has already found success. Noodles lets Chipotle take on the cost of researching the best locations and piggybacks their findings.
Return of Equity is probably one of the most important ratios as it shows how much profit a company generates with the money shareholders have invested. Noodles' 2 year average ROE of 29.75% is greater than its fast casual peers Chipotle and Panera Bread with their 2 year averages being 23.90% and 24.64%, respectively. Suggesting that if you isolate just ROE, Noodles is one of the most profitable fast casual restaurants and should be view as one of the best investment choices in the industry. Pairing this metric with weighted average cost of capital, Noodles profitability becomes even more attractive. The company has a WACC of 6.51% which is the lowest of all the peers being compared besides McDonald's. Meaning that Noodles cost of borrowing money is one of the lowest in the industry and they are capable of returning more on that borrowed money than most of their peers.
Growth
Noodles & Company triumphs all of its peers' growth ratios such as net income growth, operating income growth, and EPS growth and it only barely lags Chipotle in revenue growth.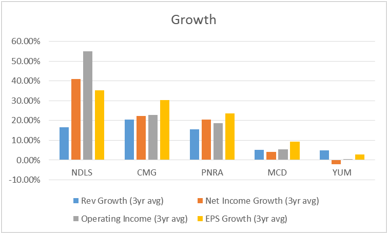 Figure 3: Growth Metrics
Noodles has a 3 year average revenue growth of 16.70%, higher than Panera, McDonald's and Yum Brands with revenue growths of 15.63%, 5.30%, and 4.87%, respectively. Chipotle has an impressive revenue growth of 20.53% but with Noodles' new round of funding from its IPO its revenue growth could easily match this in the near future as its expands more aggressively. The company has by far the highest 3 year average operating income and net income growth. Noodles, Chipotle, Panera Bread, McDonald's and Yum brands have an average net income growth of 41.00%, 22.30%, 20.59%, 4.14% and -1.97%; respectively, and an average operating income growth of 55.00%, 22.78%, 18.73%, 5.46%, and 0.54%, respectively. Indicating that Noodles manages its costs of sales, and expenses far better than the rest of its competitors. EPS growth was briefly discussed early when forward P/E was compared to P/E showing that future EPS are expected to grow 179.33% in the next 12 months. An outstanding growth rate that has past data backing it up. A 2 year average shows that the company has been growing earnings at an annual rate of 35%, which should only increase as the company utilizes funding from its IPO for expansion.
Conclusion
Investing in the restaurant industry can be very lucrative if you get into the right company at the right time. The industry can be split up into many different sections but the main two I'm concerned with are fast food and fast casual. Money can be made investing in both groups but it appears that the fast casual restaurants are the best place for investors currently. Fast casual has several promising prospects for investors but Noodles seems to be one of the most attractive even with its high price-to-earnings valuation. The company is one of the most profitable and rapid growing companies in the restaurant industry and it has yet to catch on as a Wall Street top pick. Once Wall Street recognizes its potential, its chart should look fairly similar to that of Chipotle's last 5 years. The upcoming earnings report shouldn't reveal anything too exciting and I don't see much happening in the next few months but I do think Noodles is at one of the lowest points it will ever be at. I don't think it will stay below $40 a share for much longer. The next few years should be very exhilarating for the company and all of its investors. Getting in now should prove profitable for investors in the coming years with little downside risk as the company's growth strategy is very tangible in nature. A pretty low risk strategy of building new restaurants in locations that Chipotle has already paid to research.
Disclosure: I am long NDLS. I wrote this article myself, and it expresses my own opinions. I am not receiving compensation for it (other than from Seeking Alpha). I have no business relationship with any company whose stock is mentioned in this article.