Netflix surprises the market
Netflix (NASDAQ:NFLX), the TV streaming service that introduced a new trend in TV entertainment, has once again given an earnings surprise for the sixth straighter quarter in a row. NFLX delivered 86 cents compared to the consensus analyst estimate of 83 cents.
NFLX managed to win 4 million new subscribers to its member pool and analysts were expecting 3.85 million new subscribers in Q1. NFLX managed to secure more than the expected amount of new members during a time when competition is becoming more and more intense.
NFLX reached its highest level at $454.98 on March 4th this year when it saw a massive sell off but then fell to its lowest level for current year at $326.71. Now the stock is rebounding from these lows after the earning release. NFLX is trading at a price to produce a return of 99.86% in one year and a negative return of -3.95% YTD.
For the first time ever NFLX has earned $1 billion in revenue from a single quarter. Revenue from the quarter was $1,066 million. Contributed profit over the quarters is improving and reached $166 million. Contribution margins have significantly improved over the last five quarters and doubled at 15.6% compared to 7% in Q1 last year. NFLX expects its margins to further increase to 18.5% in the next quarter. With the growing operations, NFLX is experiencing scale advantage.
On the domestic front, NFLX secured 2.25 million new members. Revenue earned was $799 million and contributed profit was $201 million. The contributed margin of the US operations is improving rapidly quarter over quarter and has reached 25.2%. NFLX expects its margins to further improve to 26.7% in the next quarter.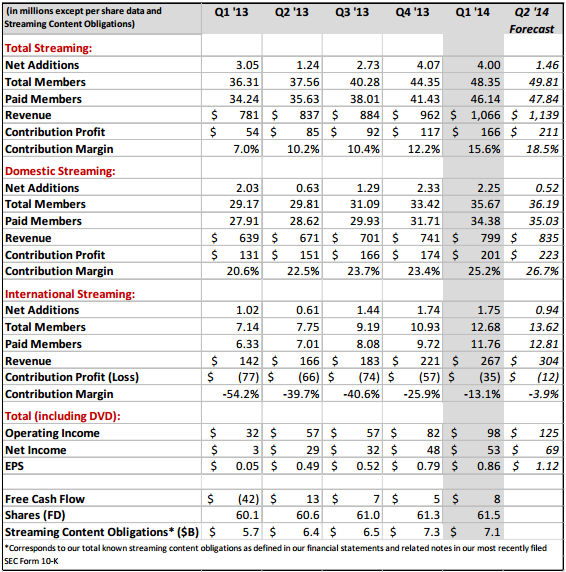 Presently, 25% of the total streaming revenue is coming from international operations but NFLX anticipates revenues from this segment to surpass the US segment's revenue in the coming years. The international market presents a huge growth opportunity for Netflix that is set out to change the face of entertainment.
NFLX's focus on international markets to create and capture demand from online streaming is yielding results. NFLX is rapidly increasing its penetration in about forty countries and it has added 1.75 million new members in Q1. So far its international operations have contributed negative margins but it is moving rapidly towards profitability. The Q1 negative contribution of -13.1% is expected to decrease to -3.9% in the next quarter.
NFLX expects its international operations to turn to profit this year. So it won't be long before the international operations see growth in positive contributed margin at a similar rate at which its negative margin has recovered. Once the international operations begin generating profit we can expect a rapid increase in the EPS that has so far been partly offset by the loss from international operations.
Increasing Price
NFLX has announced it would increase its fess in its earnings release. Price increases will be in the range of $1-$2 and will be introduced some time before July for new customers. The company's current 36 million subscribers will continue to pay $8 per month for at least one year.
In 2011, when NFLX increased its rates there was a strong reaction from the US subscribers. NFLX lost about 800,000 subscribers after the price change and its stock price fell by over 80% before it started to recover in August 2012. This was a terrible blow to NFLX at that time. The situation has changed a lot for NFLX since 2011 and the company will not suffer such a blow this time around.
NFLX has proven itself as a strong equivalent of HBO that once refused to consider NFLX a threat for its business. Its rapidly growing membership pool is showing its rapidly growing popularity. NFLX has extended its grace period to its existing members to pay the existing levels of fee to avoid backlash from its existing members. Additionally, the economy is in better state so people are likely to be less irritated by the price hike.
NFLX has wisely chosen the correct time to announce the price rise. With the announcement of better-than-expected results in its Q1 earnings release NFLX has given its stock protection from the possible negative reaction of the price hike. It is not difficult to understand that Netflix's investors are convinced that NFLX needs to increase its revenue in order to continue its growth and profitability.
Financial pressure is increasing on NFLX as it is trying to control its growing costs of licensing the best available TV shows and movies for its members. Moreover, NFLX is also spending more not only to compete with traditional cable TV such as HBO but it also has to spend to compete with technology companies like Amazon (NASDAQ:AMZN), Microsoft (NASDAQ:MSFT), Hulu.com and Yahoo (YHOO) that are investing heavily to acquire more internet programing from Hollywood studios.
NFLX's investment in its original content is paying off and this venture is expected to continue to pay off as the popularity of its original series such as "House of Cards" and "Orange is the New Black" is increasing. Increases in revenue from the price hike would mean more money to invest in this successful venture and in turn more profit. This price hike was also expected as NFLX has agreed to pay Comcast (NASDAQ:CMCSA) a fee to increase the service speed to Comcast subscribers.
Conclusion
Netflix is changing the face of entertainment and it is in a much stronger position than ever. Its continuously growing member base and earnings surprises are strong evidence that Netflix is going to produce great return for its investors. With rapidly improving margins and growth prospects in international markets, Netflix is expected to produce strong EPS growth. The announcement of the price hike was correctly timed and it is not expected to disturb its members and investors. Investors should consider including Netflix in their portfolio.
Disclosure: I have no positions in any stocks mentioned, and no plans to initiate any positions within the next 72 hours. I wrote this article myself, and it expresses my own opinions. I am not receiving compensation for it (other than from Seeking Alpha). I have no business relationship with any company whose stock is mentioned in this article.