The share price of Union Pacific Corp. (NYSE:UNP) has trended upward in the last five years with little volatility, as shown in the exhibit above. UNP produced a return of about 284%, outperforming the S&P 500, Dow Jones Industrial average, and Nasdaq. None of these indices produced a return higher than 150%.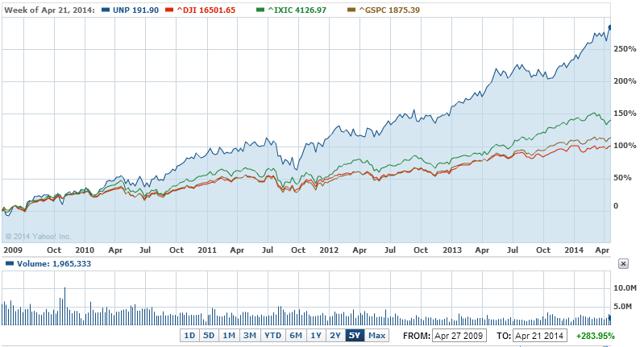 This reflects the fact that UNP is a strong company operating in a stable rail business with little threat of competitors and alternative modes of transportation. The following is an analysis of UNP's financial performance that was reflected in the consistent performance of its share price.

The company's revenue grew at a CAGR of 6.7% over the past decade. Revenue grew steadily each year, with the exception of 2009, in which revenue fell owing to tough economic challenges. Gross margins have improved over the years, from 59.5% in 2004 to 67.9%. The operating margins also improved substantially, from 10.6% to 34.4%. The company has improved its operational efficiency over time, and this is depicted in the improvement of its margins.
Earnings per share also increased at a very healthy CAGR of 26.3% over the past decade since 2004. The dividend grew by over 19% throughout the same period. UNP repurchased its shares, reducing its count from 524 million to 462 million over the same period.
Demand Growing With Economic Recovery
As the US economy recovers, the demand for goods increases. UNP experienced a growth in demand for many of the goods that it transports. In 2013, there was a growth in volume by 41% in grain, 6% in grain products, 7% in finished vehicles, and 13% in auto spare parts compared to 2012. There was a decrease in volume of food and refrigerated items by -4%. The auto industry is also expecting a growth in the demand for vehicles, and with it, the demand for the freight services provided by UNP will also increase.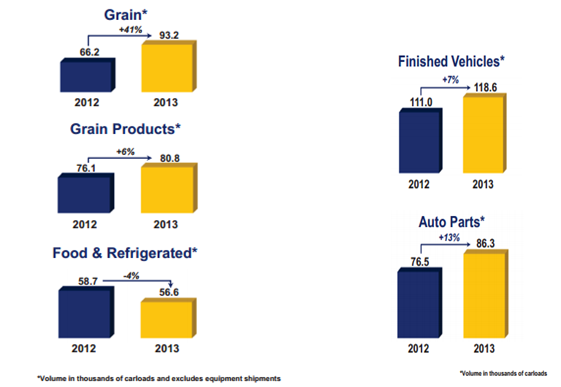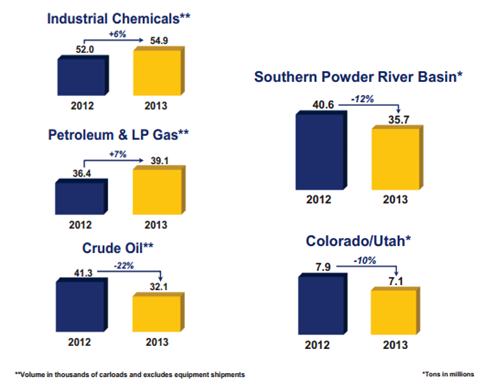 Volume increased by 6% in industrial chemicals, 7% in petroleum and LP gas, but there was a reduction in the volume transported of crude oil by -22%. There was a reduction in volume by -12% from the southern Powder River basin and -10% FROM Colorado/Utah.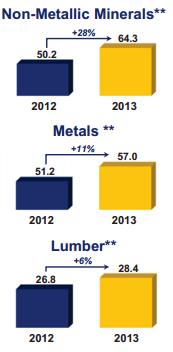 With the recovery in the housing and manufacturing sectors, an increase in the volume of minerals and lumber is expected in the coming years. In 2013, there was an increase in volume by 28% of the metallic minerals, 11% of metals, and 6% of lumber. On a whole, there is an increase in the volume of goods transported by UNP, and this trend is expected to continue, since the US economy is expected to continue to recover and grow in the coming years.
The US Economy can't Function Without Railways
Union Pacific Corp.'s (UNP's) main operating company is Union Pacific Railroad Company, that links 23 states across the western two-thirds of the US by rail, providing a vital connection to the global supply chain.
UNP is part of the rail transport industry that forms the backbone of the US economy. From the food we eat to the clothes we wear, raw materials that make up these products, and the finished form of these products, most of it is transported through railways. Railroads carry the goods that the people of the US depend on. Railroads transport more intercity freight volume than any other mode of transportation. Almost 40% of the US intercity freight is served by railroad. This is because the railroad is the most efficient and affordable freight service in the world.
Very Little Rivalry
In the rail business, UNP doesn't have to compete with its peers the way other business do to capture market share. Railway companies have licenses to operate on a route, and there is no direct competition as such from other railway businesses that can take away the revenue from them. This allows rail companies to concentrate on other matters, such as improving operational efficiency to improve their profitability.
Other Modes of Transportation can't Compete with Railways
Other modes of transportation can't compete with the railways. Air freight is the most expensive mode of transportation, and can't compete with the railway's huge volume freight ability. Land transportation is also expensive compared to the railways. The volume of goods that require around 200 truck drivers to deliver can be delivered by just about 2 train drivers. There is a short supply of truck drivers, even when unemployment is high, and this is because not many people want the kind of lifestyle that truck drivers have to lead. This obviously saves a lot of cost for railways. The railway is also greener and more fuel efficient compared to road transport. Sea transport is less expensive, but that can't be used inland in intercity transportation and within land-locked locations that are not near to the sea.
The rail business has a very low risk of new entrants, since railroads are not financially or legally viable to be constructed in present day. Existing railway operators already have thousands of miles of tracks that were built decades or centuries back, when unused land was abundant and acquiring land for rail construction was easier than today.
Relative Valuation
When compared to the P/E ratios of the industry, sector, and S&P 500, UNP's P/E ratio doesn't give a clear indication about its relative valuation. UNP's P/E ratio is 17.61, which is higher than 14.43 P/E ratio of the S&P 500. However, it is lower than the industry's P/E ratio of 18.76 and the sector's P/E ratio of 28.91. Around two weeks back, the gap between P/E of UNP and S&P 500 was negligible. P/E of UNP was standing at 16.67, while S&P had a P/E of 16.52. Over the past two weeks, S&P 500 has become cheaper, while UNP has become more expensive.
In order to clarify the situation, we can employ PEG ratio, that is considered a better measure of relative valuation. UNP's PEG ratio is 1.20, and that is lower than the PEG ratio of the sector, industry, and S&P 500. Long-term investors seeking to add the stock of a stable business to their portfolio should consider investing in UNP, since the stock price looks quite attractive on PEG, that scales the P/E ratio with the expected growth rate.

Conclusion
Investors who want to decrease the volatility of their portfolio should consider a stable business that is efficient, profitable, and continuously creates value for its shareholders. UNP is a part of a very stable railway business that forms the backbone of the US economy. There are high economic moats that give the railway business stability. UNP is a good long-term investment at its current price level.
Disclosure: I have no positions in any stocks mentioned, and no plans to initiate any positions within the next 72 hours. I wrote this article myself, and it expresses my own opinions. I am not receiving compensation for it (other than from Seeking Alpha). I have no business relationship with any company whose stock is mentioned in this article.