A few weeks ago I wrote an article on one my largest REIT holdings, Ventas, Inc. (NYSE:VTR). I'm very pleased with the stock performance of Ventas; since I purchased shares on December 3rd (2013) at $56.05, the price is up over 15%, with a total return of almost 18%.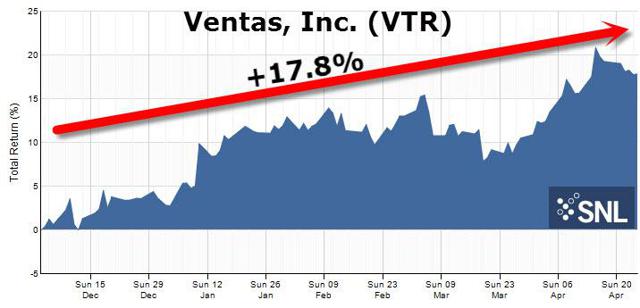 After the broad REIT sell-off last May, it seems that Mr. Market has finally begun to recognize Ventas for its "blue chip" credentials, and undoubtedly, the shares will continue to respond. Last week, Ventas released its first-quarter results, and in this article, I will summarize the performance.
1. Normalized Funds From Operations (or FFO) for the quarter increased 7% to $323.4 million, from $301.6 million for the comparable 2013 period. Normalized FFO per diluted common share was $1.09 for the quarter, a 6%increase from $1.03 for the comparable 2013 period.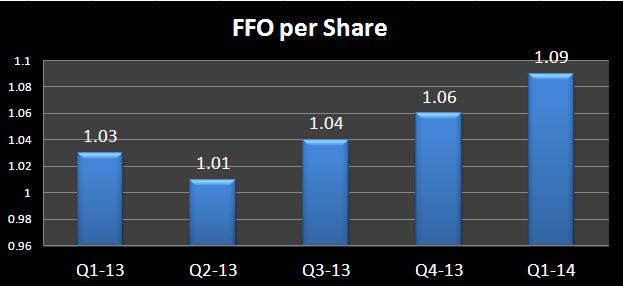 2. Net income attributable to common stockholders for the quarter was $121.0 million, or $0.41 per diluted common share, including discontinued operations of $3.0 million. Net income attributable to common stockholders for the quarter was $112.2 million, or $0.38 per diluted common share, including expense associated with discontinued operations of $8.4 million. This $8.9 million increase in net income attributable to common stockholders in 2014 over the prior year is primarily the result of the company's continued growth and receipt of fees and other payments.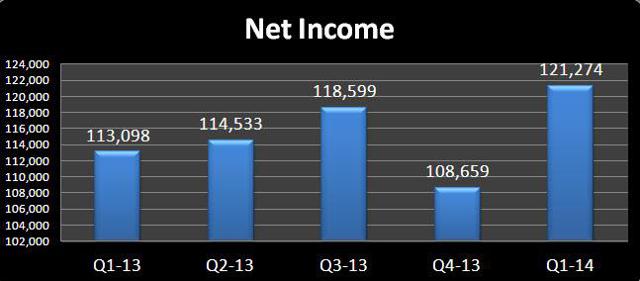 3. During the first quarter, Ventas invested $208 million, of which $183 million was spent on three private pay hospitals located in the United Kingdom. These assets are subject to long-term triple-net leases, and they represent Ventas's first investment in the UK. The tenant, Spire, is the second-largest private hospital operator in the UK. Current cash flow coverage of rent exceeds 2x, and annual rent escalators are at least three percent. Debra Cafaro, CEO of Ventas, remarked:
We intend to build on our investment in the U.K. over time because the health care and senior housing real estate market there is highly active and evolved.
4. Ventas has over $100 million of additional investments under contract that it expects to close in the second quarter. Cafaro clarified that none of the "$100 of additional investments" mentioned in its earnings release relates to Spire (Healthcare), the lessee of the three U.K. hospitals. She left open the prospect of making forays into other English-speaking countries, as she explained:
I would say that, in general, some of the countries that are … under the historic British empire would have traditional systems and, in many cases, have similar drivers to their current operating profiles and funding sources.
5. Ventas's balance sheet remains very solid, with debt-to-total capitalization currently 34% and net debt-to-Adjusted Pro Forma EBITDA of 5.5x. Ventas has available substantially all $2 billion of liquidity under its revolving credit facility and approximately $260 million of cash on hand.
6. Cafaro also addressed (on the earnings call) the 60 skilled-nursing assets leased by Kindred Healthcare Inc., whose lease terms are set to expire this year. She said the company's expectations have "improved," and the company is on schedule to complete the transactions by Oct. 1. Ventas has signed leases on 55 of the 60 (Kindred) buildings, and four of the five remaining buildings are under contract to be sold. In combination with the agreements reached with Kindred last fall, these transactions, when completed, will fully replace the 2015 rent Ventas would have otherwise received, had Kindred renewed the entire portfolio.
7. In the latest quarter, Ventas increased its cash flow by over 23% (since last year), and as a result, the stalwart healthcare REIT paid shareholders a dividend of $.725 per share, up over 8% from the dividend paid in the first quarter. In addition, Ventas has an impressive dividend payout ratio of 67%, meaning that there's plenty of room for growth ahead. As Debra Cafaro remarked:
We are proud of our 14 year compound annual dividend growth rate of 9% and pleased to share the company's success through a reliable growing dividend.
Cafaro went on to say:
We are highly confident that we can extend our long track records of being excellent capital allocators and disciplined successful investors.
What's Ahead for Ventas?
Ventas said on the earnings call that it was maintaining its 2014 normalized FFO per diluted share guidance at $4.31 to $4.37. The guidance, if achieved, represents 5.5% to 7% per share growth, excluding non-cash items estimated at a dime per share.
The current guidance range includes the net accretive impact of $200 million of investments closed in the first quarter. The completion of $100 million of pending acquisitions and the repayment of $200 million in mortgage debt, financed by a $700 million bond deal.
Due to a lower average REIT multiple as a result of a broad decline in sector share prices and based up Ventas's long-term earnings estimates (with a mid-point FFO guidance of $4.35), I believe shares could reach $75 by the end of 2014. I'm not adding more at the current price ($64.35), but I'm tickled that I was able to get in with a reasonable "margin of safety."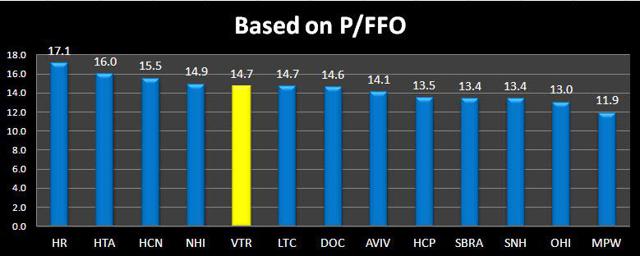 Also on the earnings call last week, an analyst prompted Cafaro to reply to the recent CEO departures in REIT-dom (see my article last week HERE). Prompting the question, Cafaro briefly addressed the matter, saying she has no plans to leave her post. She added:
We all, as executives in public companies, serve at the pleasure of our boards and our shareholder constituents. And I think that, over time, that will change - and does change as we've seen over the last 12 months in our space. We at Ventas are very serious about our team, and I think we are distinguished by the long-tenured team we have, and the very deep bench … that's one of our great strengths. And I would say that, in all companies, all of our successes are a product of a lot of people's efforts. And I feel very good about where we stand at Ventas - although I have no intention to leave at the present time.
Earlier in the day, Ventas announced that CFO Richard Schweinhart plans to retire at the end of the year. The company has initiated a national search for his replacement, and will also consider internal candidates.
In closing, Ventas remains one of my favorite REITs today. I would recommend buying shares on market weakness (under $60). The dividend yield of 4.51% is not as attractive as HCP, Inc.'s (NYSE:HCP) dividend yield of 5.35%. For an investor looking for "big 3" healthcare REIT exposure today, I believe that HCP represents the best opportunity (based on price alone). See my article on HCP I wrote last week HERE.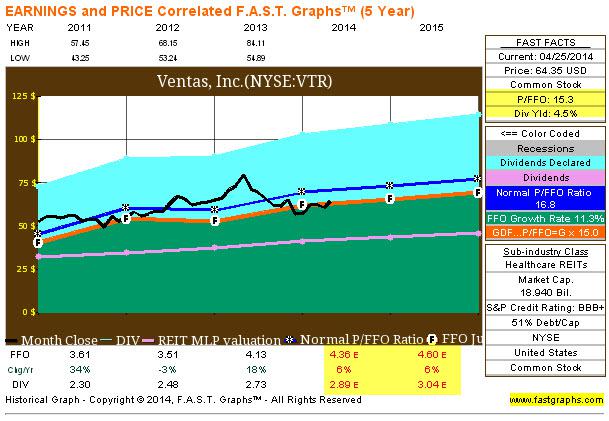 For more information on REITs, check out my monthly newsletter HERE.
Source: SNL Financial and FAST Graphs.
REITs mentioned: (NYSE:NHI), (NASDAQ:SBRA), (NYSE:HR), (NYSE:HTA), (NYSE:LTC), (HCN), (NYSE:UHT), (NYSE:AVIV), (NYSE:OHI), (NYSE:MPW), (NYSE:DOC), (NYSE:SNH), and (NASDAQ:HCT).
Disclaimer: This article is intended to provide information to interested parties. As I have no knowledge of individual investor circumstances, goals, and/or portfolio concentration or diversification, readers are expected to complete their own due diligence before purchasing any stocks mentioned or recommended.
Disclosure: I am long O, DLR, VTR, HTA, STAG, UMH, CSG, GPT, ARCP, ROIC, MPW, HCN, OHI, LXP, KIM, WPC. I wrote this article myself, and it expresses my own opinions. I am not receiving compensation for it (other than from Seeking Alpha). I have no business relationship with any company whose stock is mentioned in this article.