Google Inc. (NASDAQ:GOOG, NASDAQ:GOOGL) reported this week that the company had signed a large renewable energy contract with MidAmerican Energy in Des Moines, Iowa.
This marks the seventh such contract, and it involves wind-powered generators. The announcement coincided with Earth Day, and the deal provides as much as 407 megawatts of electricity to supply Google's data center located in Council Bluffs. MidAmerican Energy is largely owned by Berkshire Hathaway (BRK.B) Warren Buffett's (BRK.A) holding company.
Why Wind Energy?
407 megawatts of wind energy equals the capacity of a large natural gas plant or a mid-sized coal plant. This quantity of electricity could power more than 100,000 standard American homes. The agreement includes renewable energy permits from other wind projects and the direct purchase of wind energy from MidAmerican's own wind farms.
The agreement provides renewable energy supplies for the first phase of the data center, and it allocates additional power as Google expands. With this contract, Google pays a premium for the renewable energy permits that are connected to electricity generated by the Wind VIII program at MidAmerican. The program is slated to generate over 1,000 megawatts of power by the end of 2015.
The energy certificates are retired after use, essentially swapping the equivalent energy created by nonrenewable sources and decreasing carbon dioxide emissions. Google did not disclose the financial details of the contract.
Google began construction on the data center in 2007, anticipating the supply of renewable energy available in Iowa. The company has been purchasing electricity from MidAmerican for the last several years.
Google Encourages Clean Power On Earth Day
Google's director of global infrastructure, Gary Demasi, stated the organization expects the agreement "will inspire all of our utilities to work with us in finding ways to increase the supply of clean power." Google reported that its renewable energy contracts now supply over 1,000 megawatts.
Based in Mountain View, California, Google launched its first data center on a 200-acre parcel of land in Lake Manawa, Iowa in 2009. Later, Google opened an additional data center in Council Bluffs on a 975-acre lot slightly east of the energy plant at MidAmerican. Last year, the company reported plans for another investment of $400 million in the new center, increasing its total investments in its Iowa plants to over $1.5 billion.
President and CEO of MidAmerican Energy, Bill Fehman, stated the latest contract reduces energy expenses for MidAmerican customers, and the growth of Google in Iowa has been a critical element to the firm's renewable energy expansion.
In 2007, Google implemented a "commitment to carbon neutrality." Since then, the company has invested over $1 billion in renewable energy agreements worldwide.
Will The Acquisition Give Google A Boost?
Google recently announced disappointing first quarter results from declining prices on smartphones and tablets and expensive acquisitions.
The company earned $6.27 per share prior to costs on gross revenue of $15.4 billion. Net revenue reached $12.19 billion after subtracting expenses paid to partners in generating Web traffic. However, the expectations on Wall Street were for earnings of at least $6.33 per share.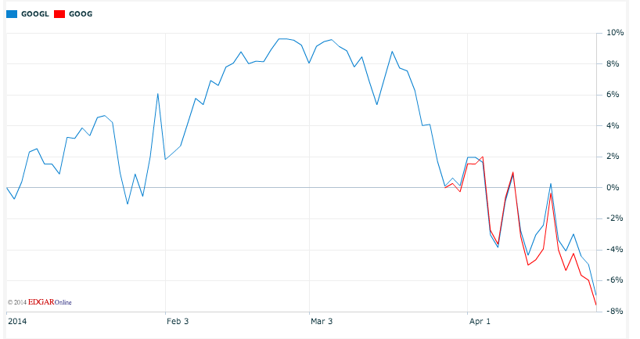 (Nasdaq.com)
In addition, Google lags behind Amazon (AMZN) in the crucial cloud computing business. However, the company has focused on strengthening its market position in this sector.
Devising ways to consume energy in a less expensive manner could certainly support Google's growth long-term. In addition, relying on wind energy eliminates certain risks, including possible regulatory, business, capital, and environmental risks down the road.
As shareholders increasingly call for transparency with regards to environmental practices (see our previous article on ExxonMobil's announcement of its disclosure of carbon risk), Google will not likely face criticism in this regard.
Recommendation for Investors
Although the financial details of this contract are not yet known, investors should see this as a bright spot amid cloudy news for the company recently - a measure of hope for long-term success.
We recommend investors consider taking modest profits in Google during the stock's current dip but remaining positive on the company long term.
We invite readers wishing to read and join the discussion about Google to click the +FOLLOW button above the title of this article.
Disclosure: I have no positions in any stocks mentioned, and no plans to initiate any positions within the next 72 hours. I wrote this article myself, and it expresses my own opinions. I am not receiving compensation for it (other than from Seeking Alpha). I have no business relationship with any company whose stock is mentioned in this article.