On the bright side, last week, the Moody"s/REAL All Property Type Aggregate Index showed a 3.6% increase in commercial property prices in May. And even brighter: This is the second consecutive monthly increase. But prices are still down 38.9% from their peak in 2007. And Moody's is quick to warn,
We expect commercial real estate prices to remain choppy in the coming months. The positive news of increasing prices over the past two months is tempered by low transaction volumes, forecasts for slowing macroeconomic growth and the rising risk of a double dip recession.
Click to enlarge: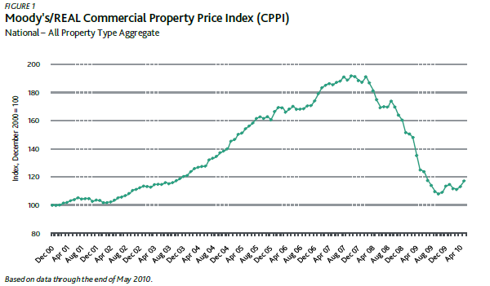 Source: realindices.com
Properties considered distressed have increased as a percentage of repeat sales over the last two years, from 4.9% in 2008 to 19.9% in 2009. And for the first five months of 2010, they made up 26.8% of repeat sales. This is in itself bad news. But the upside is that as distressed properties are able to move through the market, prices will eventually find a bottom.
Furthermore, last month the National Association of Realtor"s Commercial Real Estate Quarterly Market Survey showed little in the way of positive news. Sales volumes were down 6% in the first quarter of this year, on a yearly basis. And rental rates declined 10%. Sales prices? Down 16%.
Weighing heavily on the commercial property market were vacancies and declining rental rates. According to the National Association of Realtors, vacancies in the first quarter of this year read as follows:
Multifamily: 12.1%
Industrial: 18.8%
Retail: 20.8%
Office: 21.2%
Hotel: 26.0%
Development: 38.6%
And the really bad news: Vacancies aren"t expected to peak until early 2011. As for rental rates, both 2010 and 2011 will prove difficult:
2010 2011
Office -2.3% -2.1%
Industrial -6.3% -1.5%
Retail -1.5% +.4%
Multifamily -1.5% +1.2%
Yes, multifamily rental rates will see improvement. But the problem is that residential foreclosures are driving rental demand. And what"s more, banks and homeowners are turning existing homes into rental properties in response to the conditions in the housing market.
Of course, all of this adds up to one thing: Defaults. In the first quarter of this year, defaults on apartment building mortgages reached a record 4.6%, according to Real Capital Analytics. And on retail, industrial and office properties, defaults hit 4.2%.
The bottom line from Moody"s:
Commercial real estate markets continue to face substantial headwinds and…the market struggles to establish a true bottom in a period of very low transaction volumes.
We haven"t seen the bottom of the commercial real estate market yet. And it appears investors don"t think so, either.
iShares FTSE NAREIT Industrial/Office Index (NYSE:FIO) is down 11.8% in the last three months.
Click to enlarge: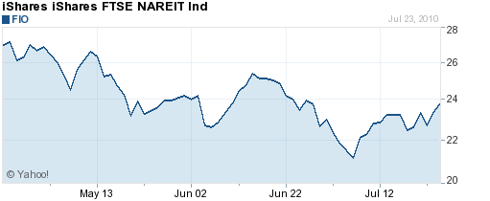 Source: finance.yahoo.com

Disclosure: FIO