Warren Buffett has numerous times stated the importance of a company having long term prospects to be an attractive investment. In order to be a prosperous long term investment, a company must be competitive in the long run and the industry should have safe future prospects.
Most readers would agree that the uncertainty about the existence of an iPod in 30 years from now is pretty big - If it has not already been replaced by the iPhone. One simple example would be the transformation from using VHS to Blu-ray and CDs - and probably soon a full digitization. On the other hand it is very hard to imagine that insurance will disappear with a 100 years! This mindset will, for the most part, be with us whenever we chose an industry to analyze, so that the future will not only look good, but be safe and secure.
In one of our recent latest article (which didn't get published, because the volume on the American ticker was too low) we wrote about a Norwegian shipping company that specializes in transport of rolling cargo, and unless we let global warming accelerate, we would expect the ocean to stay fluid and hence the future prospects of the shipping sector should be safe enough. If you missed the article, you can read it here as an instapost.
Now we will keep our mindset, but move away from the world oceans and towards a less exotic sector, though non less future-proof. Few businesses have the luxury of operating with safer future prospects that those who supply life insurances, if people did not believe that life insurance companies would persist throughout the next half century - they would not sign them. However every day people keep signing these insurances, and thus we have chosen to take a closer look at 35 of the biggest life insurance providers in the world, measured by market cap and total assets. We evaluate the companies on the following criteria:
High ROE
Positive EPS and revenue growth
Number of years with positive growth
Number of years with dividends paid
No payout ratios above 100%
High EBIT margin
High Profit margin
Low debt/equity
Analysis
The fundamental key ratios for all 35 companies sorted by Roe is presented In table 1.
Table 1. Fundamental key ratios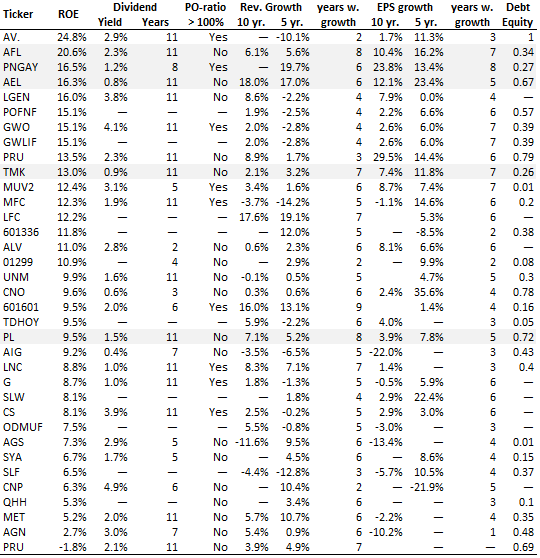 Source: Morningstar.com, tickers refer to the search engine on morningstar's website.
In order to select our candidates we prefer to look at the companies' EBIT margin over the past 6 years. This key ratio is very important to us, just like ROE, since a high and stable (or even growing) EBIT-margin indicates that the company is excellent at keeping its costs down, which is essential in order to be competitive in the long term.
Table 2. EBIT-margin, 2008 - 2013
Source: Morningstar.com, tickers refer to the search engine on morningstar's website.
We find that these five companies excel compared to the restL
We will now examine these companies more closely by looking at the development in their ROE, profit-margin, book value and debt/equity since 2003.
Table 3. Development in selected key ratios, 2003 - 2013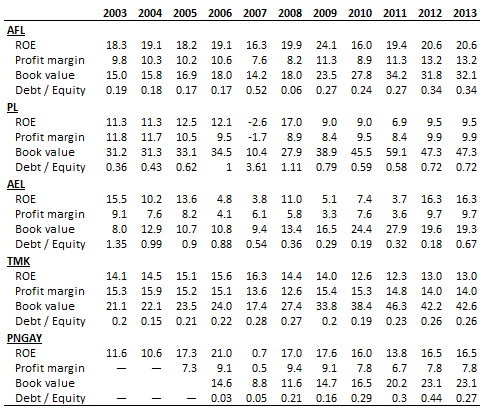 Source: Morningstar.com.
Aflac has the highest ROE, a low debt/equity ratio, a positive trend in both ROE and profit-margin, many years of growth and has paid a rising dividend every consecutive year since 1989. Torchmark has a little higher profit- and EBIT margin, but also a lower ROE and generally not as impressive trends in their other key ratios. Ping An Insurance had a payout ratio in 2008 way above 100%, which is a downside in our opinion, and might witness of a direction with too much focus on pleasing its investors in the short term.
Valuation
Aflac's high ROE together with its low debt, high margins and many record years of growth leads us to the conclusion, that Aflac is the most well run life insurance company in its sector, and thus we go on to look at Aflac's valuation.
Figure 1. Price of Aflac in relation to earnings, 1993 - 2014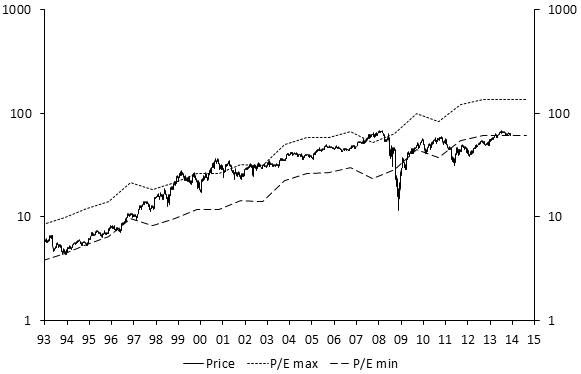 Source: Finance.yahoo.com, morningstar.com, investorshub.
Since the crisis in 2008, Aflac has been trading at a very low P/E most of the time, relative to its historical valuation, and the company is still very cheap. We believe, that Aflac's performance in addition to it's attractive valuation, makes it a great opportunity for investors to become exposed towards the best company in a stable and secure sector.
Conclusion
73% of Aflac's income is generated in Japan and the rest in USA. This insures, in our opinion, that Aflac's future is even more stable, since we have high expectations for both the Japanese and the American economy in the long run.
Aflac seems like a good investment for the patient, long term investor.
Please comment on the analysis and not the ideology, since we have no interest in discussing value investing in general in this article. Instead, we encourage any discussion on either the way we have selected and defined the business sector or our further analysis of the selected companies.
Disclosure: I am long AFL.
Business relationship disclosure: The article has been written by WJ Invest. WJ Invest is not receiving compensation for it (other than from Seeking Alpha). WJ Invest has no business relationship with any company whose stock is mentioned in this article.
Disclaimer: This is not a buying recommendation, but merely an expression of our own opinion. We recommend that every reader do their own research, before drawing any conclusions or perhaps buying one of the stocks mentioned in this article.
Editor's Note: This article discusses one or more securities that do not trade on a major U.S. exchange. Please be aware of the risks associated with these stocks.